VOIVOD Release "Inconspiracy" Video, 7 Inch EP


By Larry Petro, News Monkey
Friday, September 14, 2018 @ 12:54 AM


| | | |
| --- | --- | --- |
| | | European Tour Starts Tomorrow |
Canadian progressive sci-fi metal innovators VOIVOD are soon to release their new studio album The Wake on September 21st, 2018 via Century Media Records worldwide.

Today VOIVOD are releasing the album's third single "Iconspiracy" in a fantastic video clip created by Costin Chioreanu/Twilight 13 Media, to be seen on KNAC.COM HERE.

VOIVOD's Denis "Snake" Bélanger checked in with the following comment about the clip: "What I really like about VOIVOD fans is that they are all able to make their own interpretation of the lyrics or the story of our songs. This video is such a good portrait of "Iconspiracy" and the artist pinpoints awesome visuals in regards to the meaning and representation of the story itself. Thanks to Costin, an amazing artist who did really great work for us in the past and still blows my mind every time again. Question everything! Iconspiracy!!!"

And video director Costin Chioreanu added: "The most difficult task of an illustrator is to work for his all-time favourite bands. Then he becomes extremely exigent with what he creates and wants to get beyond any known limit. Obviously, this type of experiences are priceless by all means at the same time, because everything goes utterly intense and he feels like a starship exploring the Universe at full warp speed and experiencing several amazing unseen worlds per second. The Wake is the album of the year 2018 for me and the video I literally built from scratch for "Iconspiracy" follows the song lyrics and the spaces between them. At the same time, both the story and video fight to remain alive while trying to keep up with the infernal dynamics of the song, which represent another musical proof of the VOIVOD's genius. Other than that, this video speaks by itself, just like the music, therefore who is prepared to be awaken, will be!"

Most recently, VOIVOD have made a 7" EP available for the album's second single "Always Moving", which features "Order Of The Blackguards (Live 2018)" as B-Side and is limited to a total of 1000 copies, available in the following editions:
Black 7Inch: 500x copies / CM Distro Europe
Lilac 7Inch: 100x copies / CM Webshop Europe (Sold out!)
Clear 7Inch: 200x copies / CM Distro Europe (Sold out!)
Transparent red 7Inch: 200x / Band edition on tour
Get the 7" EP from CM Distro HERE while supplies last.

The album's standard track-listing reads as follows:
"Obsolete Beings"
"The End Of Dormancy"
"Orb Confusion"
"Iconspiracy"
"Spherical Perspective"
"Event Horizon"
"Always Moving"
"Sonic Mycelium"
Next to a standard jewelcase CD edition and a Digital Album release, The Wake will also be available as limited 2CD Mediabook edition with a bonus disc of 11 tracks featuring the 5 songs off 2016's Post Society EP as well 6 live tracks from 2018's 70000 Tons Of Metal cruise, alternate artwork, an expanded booklet of 32 pages and a set of 3 stickers. This is the track-listing for that edition's bonus disc:.

VOIVOD – "Bonus Disc"
Post Society - EP:
"Post Society"
"Forever Mountain"
"Fall"
"We Are Connected"
"Silver Machine"
Live at 70000 Tons Of Metal Cruise 2018:
"Inner Combustion" (Live 2018)
"Order Of The Blackguards" (Live 2018)
"Psychic Vacuum" (Live 2018)
"Lost Machine" (Live 2018)
"Fall" (Live 2018)
"Voivod" (Live 2018)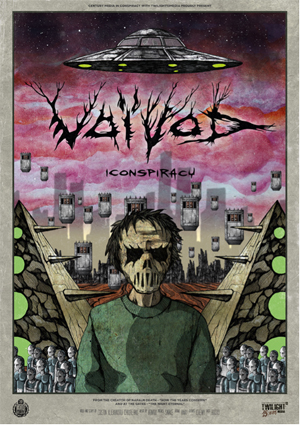 The 2LP release of The Wake will come on 180gr. vinyl with an etching design on Side D, packaged in a gatefold sleeve and with a double-sided poster. Next to standard black vinyl, the album will also be available in the following limited coloured editions:
Black 2LP: Unlimited
Pink 2LP: 100x copies / CM Webshop Europe (Sold out!)
White 2LP: 200x copies / CM Webshop Europe
Red 2LP: 300x copies / CM Distro Europe
Silver 2LP: 200x copies / Nuclear Blast
Golden 2LP: 200x copies / Season Of Mist
Transp. sun yellow 2LP: 100x copies / CM Webshop USA
VOIVOD, who are currently celebrating their 35th band-anniversary, are currently successfully touring across Europe to launch The Wake. Here is a list of the remaining dates coming up:

VOIVOD – European Tour 2018:
14.09.2018 Belgrade (Serbia) – Elektropionir *
15.09.2018 Budapest (Hungary) – Durer Kert *
16.09.2018 Vienna (Austria) – Szene *
18.09.2018 Bologna (Italy) – Locomotiv **
19.09.2018 Rome (Italy) – Largo **
20.09.2018 Milan (Italy) – Santeria **
21.09.2018 Winterthur (Switzerland) – Gaswerk **
22.09.2018 Seyssinet Pariset (France) – Ilyade **
24.09.2018 Barcelona (Spain) – Boveda **
25.09.2018 Madrid (Spain) – Nazca **
26.09.2018 Porto (Portugal) – Hard Club **
28.09.2018 Vitrolles (France) – Salle Guy Obino *** / New location!
29.09.2018 Paris (France) – Petit Bain ***
30.09.2018 Nantes (France) – Ferrailleur ***
02.10.2018 Southampton (UK) – The Joiners ***
03.10.2018 Cardiff (UK) – The Globe ***
04.10.2018 Leeds (UK) – Temple Of Boom ***
05.10.2018 Glasgow (UK) – Cathouse ***
06.10.2018 Manchester (UK) – Rebellion ***
07.10.2018 London (UK) – Underworld ***
09.10.2018 Brussels (Belgium) – Magasin 4 ***
10.10.2018 Amstelveen (The Netherlands) – P60 ***
11.10.2018 Eindhoven (The Netherlands) – Dynamo ***
12.10.2018 Cologne (Germany) – Luxor ***
13.10.2018 Hamburg (Germany) – Logo ***
14.10.2018 Copenhagen (Denmark) – Pumpehuset ***
15.10.2018 Stockholm (Sweden) – Klubb Nalen ***
17.10.2018 Helsinki (Finland) – Tavastia ***
18.10.2018 Tampere (Finland) – Klubi ***
20.10.2018 Oslo (Norway) – John Dee ***
Support bands:
* Maggot Heart (from 7th until 16th Sept)
** Nightrage (from 18th until 26th Sept)
*** Bio-Cancer (from 28th Sept until 20th Oct)

Look out for VOIVOD's The Wake coming up next week…




Please log in to view RANTS

If you don't have a username, click here to create an account!