STONE BROKEN Ain't Always Easy


By Peter Atkinson, Contributor
Wednesday, September 19, 2018 @ 7:20 AM


| | | |
| --- | --- | --- |
| | | |
STONE BROKEN
Ain't Always Easy
Spinefarm Records




As can happen from time to time, this one got lost in the shuffle. And I mean really lost. I have had STONE BROKEN's second album on my plate since it was released – last spring. D'oh! But as I have been about to get to it, something more immediate – or more up my alley – would come along, and back on the backburner it went. Well, for better or worse, time's finally up.

In case you haven't heard - over the, umm, past six months – STONE BROKEN is a "modern rock" quartet from England whose sound is decidedly middle of the road North American. Ain't Always Easy recalls the likes of SHINEDOWN, ALTER BRIDGE, HINDER, POP EVIL or even the dreaded "N"-word – and by that I mean NICKELBACK – sounding pretty much like what you might find crowding the bill at your Rock On The Range or Carolina Rebellion-type extravaganzas, as opposed to the heavier Download or Bloodstock festivals of their home country.

Ain't Always Easy is modestly punchy and calculatingly, insidiously catchy. Every tune is a carefully constructed anthem with riffy, richly melodic verses and buoyant, arena-ready choruses, but without much of the abrasive edge or heft of full-on metal, the reasonably beefy opening track "Worth Fighting For" and "Follow Me" being notable exceptions. There's even an earnest power ballad scattered about to get them Bics a flicking, like "Home", "Anyone" or the countrified "The Only Thing" And while that's all good and fine, there's just precious little here to set STONE BROKEN apart from the acts that have inspired it, or with whom it will inevitably be touring or performing alongside at the aforementioned "rock fests". As listener friendly as it is, Ain't Always Easy is also more than a bit formulaic, not to mention safe.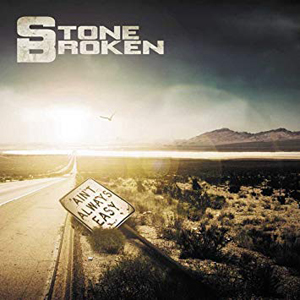 The album really never seems to aspire to be anything more than middle of the road and inoffensively crowd pleasing, despite the initial promise of "Worth Fighting For". The songs feature roughly the same construction, thudding tempo and dramatic build up, ultimately leading to the money-shot chorus. Lather, rinse, repeat. And that's disappointing.
If STONE BROKEN had only taken a few more chances here, or dared to show some extra muscle, or something, anything – like building on the tasty, stinging main riff on "Otherwise" - Ain't Always Easy could have at least had a personality of it own. And though not as dreadfully turgid as the work of many of its contemporaries, thanks to its undeniable tunefulness, this is still a big ole loaf of Wonder Bread hard rock - faceless and bland, which may have something to do with why it kept getting shuttled to the backburner.
2.0 Out Of 5.0




Please log in to view RANTS

If you don't have a username, click here to create an account!