DRAGONLORD Dominion


By Peter Atkinson, Contributor
Thursday, September 20, 2018 @ 10:15 AM


| | | |
| --- | --- | --- |
| | | |
DRAGONLORD
Dominion
Spinefarm Records




This is one album I think a lot of people figured they might never see. Although DRAGONLORD main man Eric Peterson hinted of new material from his symphonic black metal side band way back in 2009 — after two semi-legendary releases in 2001's Rapture and 2005's Black Wings of Destiny — the project kind of went sideways not long after thanks to lineup turnover, label trouble, etc., and the question of "when" became more a question of "if".

And as it languished, Peterson grew ever busier in his full-time gig with TESTAMENT, which has been going flat out since issuing its "reunion" album The Formation of Damnation a decade ago. So DRAGONLORD seemed pretty much an afterthought. Well, not quite.

Peterson obviously has been chipping away betwixt and between, albeit methodically, and here we are, 13 years later, with a third DRAGONLORD offering. But is it worth the wait? Again, and unfortunately, not quite.

The "band" might be different – though Lyle Livingston returns on keyboards/orchestrations, TRIVIUM's Alex Bent is new on drums here and Celtic metal chanteuse Leah McHenry joins in to provide additional vocals, reciprocating for Peterson's work on her recordings — but the sound remains decidedly familiar on Dominion. At its core, the album revels in millennium-era black metal pomp, a la DIMMU BORGIR's Enthrone Darkness Triumphant or Spiritual Black Dimensions, but it is flavored with a surprising amount of very TESTAMENT-like accents.

At times here, DRAGONLORD sounds more like vintage DIMMU than DIMMU itself does these days — given the Norwegian troupe's boundless affinity for orchestras and choirs — albeit with some more assertive guitar soloing from Peterson, who played a guest lead for DIMMU guitarist Galder's long-dormant band OLD MAN'S CHILD on 2005's Vermin. Six degrees of separation, indeed.

Anyway, the title track follows the instrumental intro, fittingly titled "Entrance", with gritty, careening riffs and Peterson's feral, Shagrath-approved snarl studded with regal piano, chirpy strings, breathy choral vocals and ethereal synth effects to give it a malevolent opulence. "Northlands" boasts a steady, full-frontal chug punctuated by battle horns that echoes DIMMU's "Vredesbyrd" — though without the Norwegian lyrics — while "The Discord of Melkor" is more epic and "black" with its bracing guitar tremolo and classical grandiosity.

When things break from the black metal mold, it's with the traditional metal/thrash passages — and sometimes entire songs — that don't stray very far from Peterson's day job. "Ominous Premonition" and "Lamia" sound pretty much like "symphonic TESTAMENT" with their big, crunching hooks and straight-ahead tempos contrasted, in the case of "Lamia", by harpsichord-like keys and Leah's operatic warble and on "Ominous Premonition" by a less prominent sweep of backing chorale and synths. "Love of the Damned", on the other hand is a bona fide ballad, recalling "The Ritual" or "Return To Serenity", though with a much eerier vibe thanks to the melancholy horn and string accompaniment.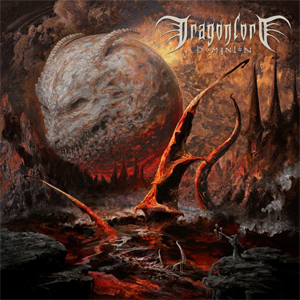 Perhaps the truest fusion of black and thrash metal elements is the sprawling finale "Serpents of Fire". Here, Bent's double-bass gallop propels Peterson's slashing riffs under a full arsenal of symphonic weaponry and sounds truly monumental — despite a last three minutes that feels as if someone tacked on a chunk of a lost TESTAMENT tune for no good reason. Curious ending, that.
But it kind of symbolizes Dominion's major sticking point. With its mish-mash of nostalgia, repurposed ideas and fanciful flourishes, the album feels rather stitched together and aimless. It's almost as if Peterson just wanted to get the fucking thing over and done – and who can blame him given it took 13 years of stops and starts to complete – and fused parts from here and there then draped it in classical finery.
Where the arguably derivative Rapture nevertheless had immediacy and spark going for it, and Black Wings was more refined and distinct, Dominion takes a step back, lacking both personality and effervescence. And while there are certainly genuinely inspired moments here, the album overall really doesn't seem all that special — at least not 13 years of waiting's worth.
2.5 Out Of 5.0

Please log in to view RANTS