UNLEASH THE ARCHERS, STRIKER, HELION PRIME In Houston, TX W/Photos!


By Larry Petro, News Monkey
Tuesday, September 25, 2018 @ 10:38 AM


| | | |
| --- | --- | --- |
| | | Canadian, NorCal Invasion Levels Scout Bar On September 19th |
All Photos By Larry Petro/Petrofyed Photography
Additional UNLEASH THE ARCHERS Photos By Lauren Cohen Photography
SHRED: verb - play a very fast, intricate style of rock lead guitar. See Also - UNLEASH THE ARCHERS, STRIKER or HELION PRIME
Ok, so maybe I added that last part, but when it comes to the North American tour that features Canadian metal acts UNLEASH THE ARCHERS and STRIKER as well as Northern California's HELION PRIME, that one word could be used to sum up the bands performances at Scout Bar in Houston, Texas on September 19th. Even though the calendar showed late September, the heat and humidity were in full force as this rock triumvirate made their way to the south side of the Bayou City for what was arguaby one of the best shows I've seen all year!
Opening the show was local band MASQUED, a band with a nice symphonic, progressive style. Fronted by Steffany Johnston and surrounded by a cast of seasoned Houston musicians from such known outfits as Z-LOT-Z and OUTWORLD, brought their 'A' game to the show. Though the band has been around since 2014, their debut album, The Light In The Dark, was released just late last year. Johnston carries herself very well out front and with bassist Shane Dubose, guitarists Eric Halpern and Drew Creel, drummer Wes Murrell and Adam Rawlings on keys represented Houston proud with a brief set of tracks from the debut release including "The Call" and "Rise Up".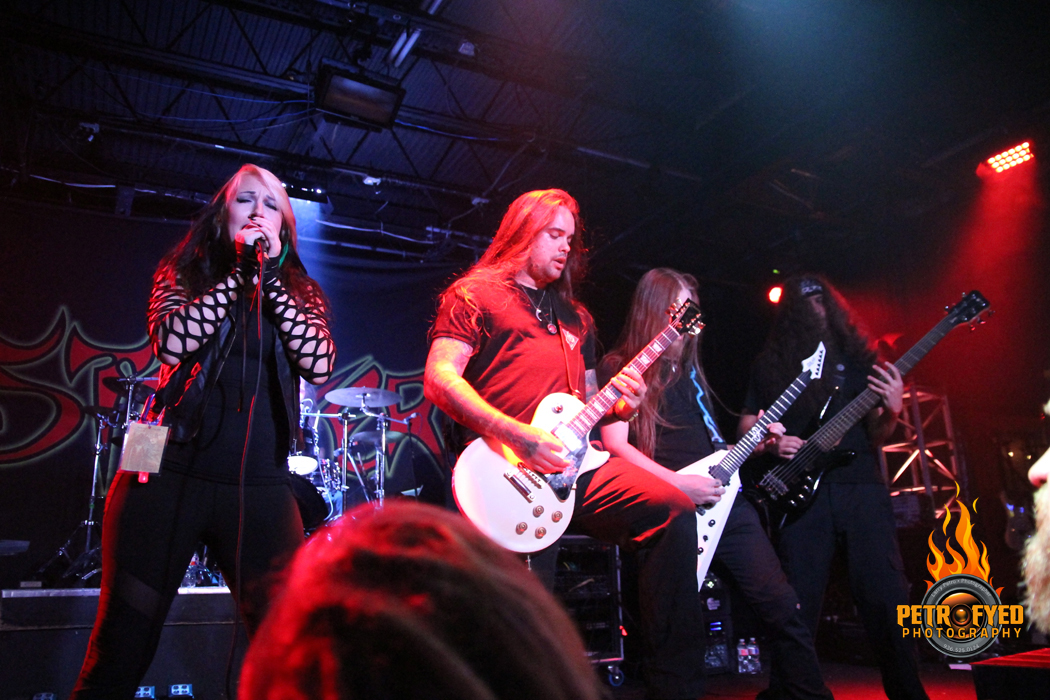 Next up was Sacramento metallers HELION PRIME, a band that I probably would have never heard of had it not been for my job at KNAC.COM. Having caught the video for the single "Silent Skies" from their new album, Terror Of The Cybernetic Space Monster, I was hooked and then completely stoked to see the band added to an already killer lineup. I was a bit disappointed that new European vocalist Sozos Michael could not make the tour due to not being able to obtain the necessary visas in time, but fill-in replacement Mary Zimmer (SANTA MARTA) was completely up to the task. With soaring vocals and a charasmatic stage presence, those that had never heard of HELION PRIME before could have easily believed that she was the vocalist of the band. Guitarists Jason Ashcraft and Chad Anderson brought the shred first and along with bassist Jeremy Steinhouse and drummer Alexander Bosson, they whipped the crowd into a frenzy with a set featuring tracks "The King Is Reborn", "Bury The Sun", first single "Silent Skies" and set closer "Ocean Of Time". This definitely a band to check out!
Though it wasn't really advertised as such, this was really a co-headline tour with STRIKER playing first and UNLEASH THE ARCHERS finishing off the night. Like they'd been shot out of a cannon, Edmonton's STRIKER exploded onto the stage with their song about aliens, "Phoenix Lights". Having seen this band a few times now I knew what to expect in terms of the set but I wasn't prepared for the fury and energy that they brought. Playing before a nice sized crowd (especially for a Wednesday night), which was more people than their previous 3 Texas shows combined, they set the bar extremely high with a kick ass set of material across the band's career. There were no ballads anywhere to be found in their performance which included "Born To Lose", "Lethal Force", "Former Glory", "Too Late" and "Locked In". It was one gut punch after another for the band's entire set as guitarists Tim Brown and returning original member Chris Segger took turns shredding it up for the rabid fans. Bassist William "Wild Bill" Wallace held his own on the low end while drummer and recent Masters Degree recipient Adam Brown was his ever wild self behind the kit, thoroughly enjoying himself as always. Vocalist Dan Cleary was on point as STRIKER pummeled the audience for an hour before closing their show portion with "Fight For Your Life". The band also played a track, "Heart Of Lies", from their new album Play To Win, which arrives in stores October 26th. IF you love old school speed and power metal then you owe it to yourself to check them out.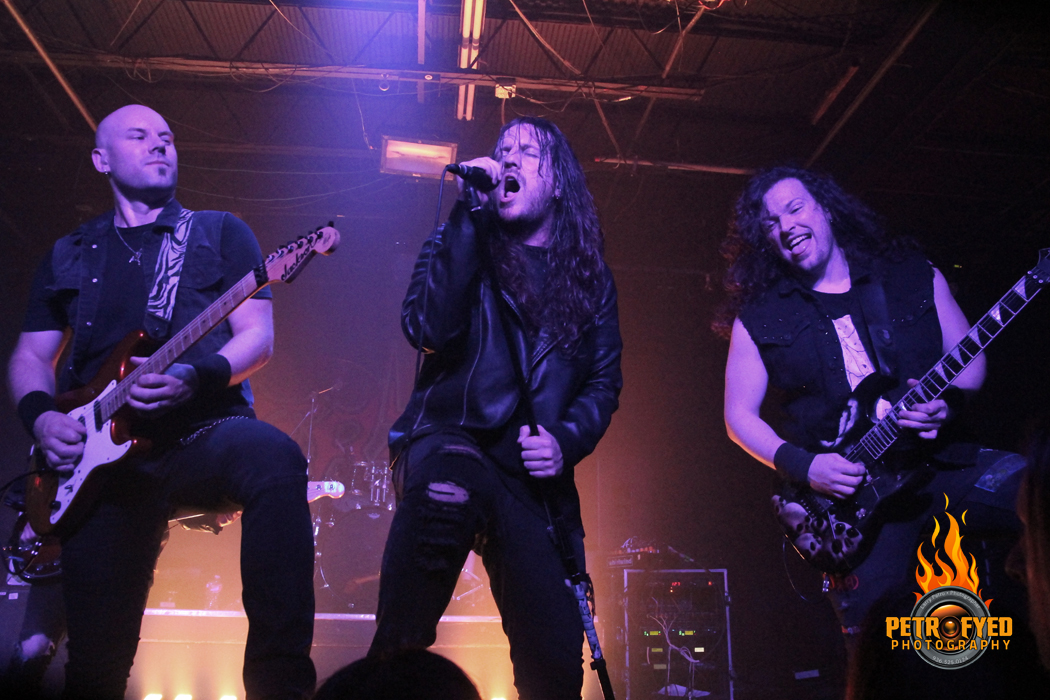 Setlist:
"Phoenix Lights"
"Born To Lose"
"Heart Of Lies"
"Lethal Force"
"Crossroads"
"Former Glory"
"Too Late"
"Out For Blood"
"Pass Me By"
"Locked In"
"Full Speed Or No Speed"
"The White Knight"
"Fight For Your Life"
Following STRIKER's blistering performance I felt that there was no way they could be outdone by UNLEASH THE ARCHERS. Turns out I was wrong. Combining great bands such as these two definitely brings out the best in both and definitely motivates them to give 110%, and that's what UNLEASH THE ARCHERS did. The Vancouver, British Columbia quintet brought their own version of shred to the stage with set opener "Awakening". The band, celebrating 10 years of existence, is another I would have never even known about were it not for KNAC. Their latest opus, the concept album Apex, was well represented in the set, comprising 4 of the band's 9 songs such as the aforementioned "Awakening", "The Matriarch", "Cleanse The Bloodlines" and encore title track "Apex". Vocalist Brittney Slayes (AK Brittney Hayes) did just what her name implies, she slayed the raucous crowd with her piercing performance, complemented only by the unclean vocals of guitarist Grant Truesdell who, along with bandmate and fellow guitarist Andrew Kingsley, brought their own version of shred to the forefront. Touring bassist Nick Miller and drummer Scott Buchanon completed this stellar lineup of musicians. I had no idea that so many people had not only heard of UNLEASH THE ARCHERS, but were so vocal and loyal. Though there might have been maybe 150 people there that night, they sounded like a thousand!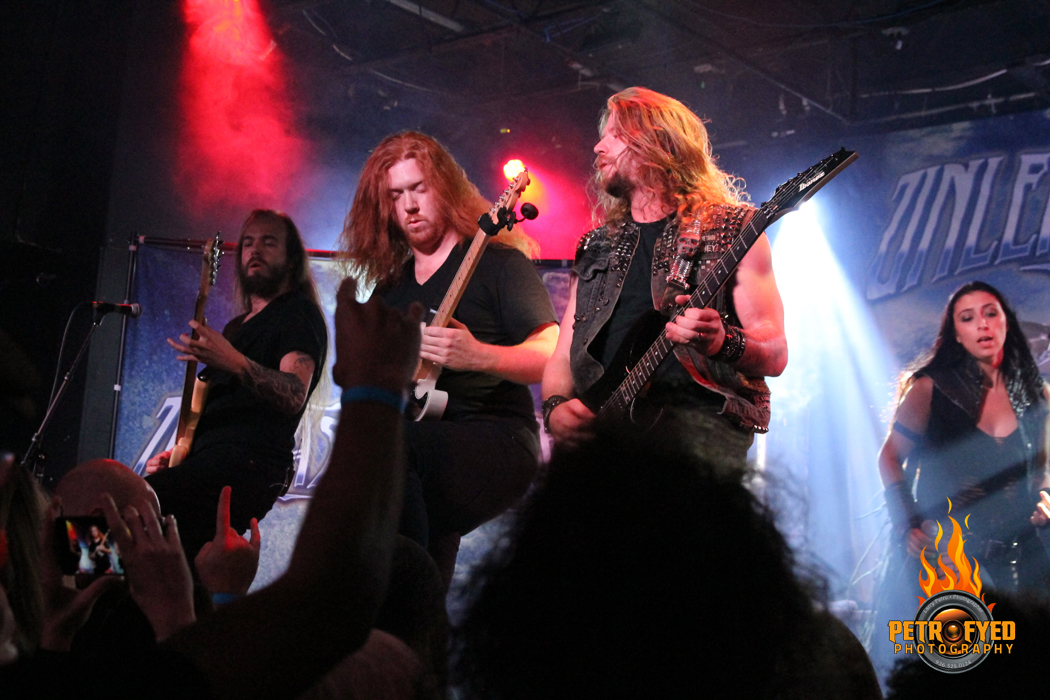 While there are lots of great bands out on the road this year, this tour is most definitely one of the best I've ever witnessed and if they come near you, you'd be doing yourself a great disservice by not checking it out! Trust me, you will NOT be disappointed!
Setlist:
"Awakening"
"The Matriarch"
"Cleanse The Bloodlines"
"Test Your Metal"
"Dreamcrusher"
"Time Stands Still"
"General Of The Dark Army"
"Tonight We Ride"
"Apex"
UNLEASH THE ARCHERS, STRIKER, HELION PRIME Remaining Tour Dates:
9/26: Baltimore, MD @ Sparta Inn
9/27: Brooklyn, NY @ Kingsland
9/28: Rochester, NY @ Montage Hall
9/29: Ottawa, ON @ Mavericks*
9/30: Quebec City, QC @ La Source*
10/1: Toronto, ON @ Velvet Underground
10/5: Chicago, IL @ Reggies
10/7: Denver, CO @ Larimer
10/9: Sioux Falls, SD @ Bigs Bar
10/10: Winnipeg, MB @ Windsor Hotel*
10/12: Calgary, AB @ Dickens*
10/13: Edmonton, AB @ Starlite*
10/14: Vancouver, BC @ Rickshaw*
* No HELION PRIME

Check out some more photos from the show!
All Photos By Larry Petro/Petrofyed Photography
Additional UNLEASH THE ARCHERS Photos By Lauren Cohen Photography

Please log in to view RANTS




YNGWIE J. MALMSTEEN, GLENN HUGHES In Worcester, MA With Photos!

ALICE COOPER Road

RAT ROD Four On The Floor

GIRLSCHOOL WTFortyFive?

DANKO JONES Electric Sounds

AVATAR, ORBIT CULTURE, THE NATIVE HOWL In Houston, TX With Photos!

THE DEAD DAISIES In Hollywood, CA With Photos!

KILL DEVIL HILL Seas Of Oblivion

THE DEAD DAISIES In Ottawa, Canada

MAMMOTH WVH In Santa Ana, CA

UADA Crepuscule Natura

BARONESS Stone

KAMELOT, BATTLE BEAST, XANDRIA In Houston, TX With Photos!

CRYPTOPSY As Gomorrah Burns

RAY ALDER II

GHOST, AMON AMARTH In Houston, TX With Photos!

U.D.O. Touchdown

DETHKLOK Dethalbum IV