BEHEMOTH I Loved You At Your Darkest


By Peter Atkinson, Contributor
Tuesday, October 2, 2018 @ 1:22 PM


| | | |
| --- | --- | --- |
| | | |
BEHEMOTH
I Loved You At Your Darkest
Metal Blade Records




There was an air of finality about the last several albums from Poland's BEHEMOTH – in large part because founder, frontman and creative director Adam "Nergal" Darski essentially declared them as such. This isn't a band that merely "makes" albums, as he is fond of saying, it "gives birth" to them. And I guess the pain of "childbirth" was becoming a bit much for the band.

This was especially true of 2014's fraught The Satanist, which came after Darski battled back from leukemia that brought both the band and himself to the brink. But all of this effort has also meant exponential growth for BEHEMOTH, which is now arguably the biggest band in extreme music. And despite Darski's contentions – as well as his extracurricular activities, which include acting, TV hosting, autobiographying and various entrepreneurial pursuits, from barbershops to beer – the band not only soldiers on, it does so in triumph.

So four years after the magnum opus that was The Satanist, here we are with a new BEHEMOTH album and a lot of the usual bluster surrounding it. This time, though, it's not couched not so much in terms of being the "ultimate" or "climactic" BEHEMOTH album, but its "most blasphemous". So a bit of a different spin, but one you could argue is true of every one of the band's album.

And when you've dubbed something The Satanist – and essentially confessed in it to being as such, given that the album embodied not only the band but Darski as its figurehead – haven't you blasphemed to the nth? Well, obviously not, as BEHEMOTH seems to have plenty more nails left for that cross, as it were.

I Loved You At Your Darkest (or ILYAYD) certainly doesn't hold anything back. It is sacrilege and its most, well, sacrilegious, from the children's choir chanting "Jesus Christ, I forgive thee not" as the album opens with "Solve" - and which is repeated again during "God = Dog" - to Darski's inversion of "The Lord's Prayer" in "Havohej Pantocrator". It opens with "Our father, who art in hell, unhallowed be thy name …" etc., for a bastardization similar to that of "Hail Mary" on The Satanist's "Amen".

In truth, there are a lot of threads that connect The Satanist and ILYAYD, which ultimately come off sounding like companion pieces. At the very least, ILYAYD seems an extension or continuation of The Satanist - or perhaps its conclusion, to add a note of finality here. And not just lyrically or thematically, but sonically, from the rustic, natural production and occasionally recurring riffs and passages to the classic elements that made The Satanist so grand.

Here, that aspect is expanded upon, though less so in the orchestration than in the chorale treatments and background vocals, with the children's choir accompanying several songs and Gregorian chanting punctuating passages on "Sabbath Mater", "Ecclesia Diabolica Catholica", "Angelvs XIII", "God = Dog", etc. This not only adds to the dramatic effect - not to mention making some jarring contrasts, especially given Darski's near ceaseless bug-eyed roar - but helps provide ILYAYD an especially varied sonic palette.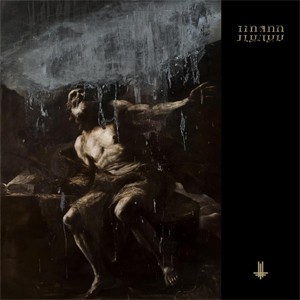 A real curveball comes with "Bartzabel", which ventures in goth rock territory and echoes Darski's efforts with the very out of character side project work he did in 2016. It's certainly the most eerie, yet listener-friendly song BEHEMOTH has ever attempted, and it does take some getting used to. But once the initial shock wears off, it certainly captures the album's blackened heart - "Come unto me Bartzabel, By the word that openeth Hell!" And there are other "rockier" moments here as well, on the surprisingly catchy "Sabbath Mater" and "If Crucifixion Was Not Enough…" or the crunching chug of "Rom 5:8".
That said, ILYAYD still doles out plenty of BEHEMOTH's signature incendiary bludgeon. "Angelvs XIII", "Wolves ov Siberia", "God = Dog" and "We Are The Next 1000 Years" are blackened death metal at its more furious and intense. And "Ecclesia Diabolica Catholica" really works the midsection thanks to drummer Inferno's galloping drums.
So while "most blasphemous" may be a judgment call, given one's own inclinations, ILYAYD is certainly BEHEMOTH's broadest and most daring album. When a band starts to treat each new album as potentially its last, it becomes more willing to take chances and march into previously uncharted musical territory, which BEHEMOTH certainly has done here.
And though it may lack some of the urgency and character that made The Satanist so utterly compelling, and trades some of its introspection for utter scorn, ILYAYD still courses with the fury and venom of which Darski seems to have a limitless well and leaves one with the impression that this band's business is far from over. Though I guess we shall see.
4.0 Out Of 5.0




Please log in to view RANTS

If you don't have a username, click here to create an account!