ANAAL NATHRAKH A New Kind of Horror


By Peter Atkinson, Contributor
Wednesday, October 3, 2018 @ 11:01 AM


| | | |
| --- | --- | --- |
| | | |
ANAAL NATHRAKH
A New Kind of Horror Metal Blade Records




You probably couldn't find a more fitting band to detail the horrors of "the war to end all wars" - and give it a contemporary spin – than veteran noise-mongers ANAAL NATHRAKH. The duo's mix of black metal fury, death metal/grindcore brutality and industrial clangor – punctuated by vocalist Dave "VITRIOL" Hunt's shrieks, screams, growls and wails – is the sound of Armageddon itself.

A New Kind Of Horror certainly continues the band's campaign of musical destruction. The riffs are absolutely thunderous, the tempos at times utterly frantic at others menacingly slow and the electronic sheen calamitous – even before Hunt chimes in. And here, his vocal repertoire expands to include occasionally piercing falsettos as on "The Reek of Fear" that sound like the second coming of KING DIAMOND, though in this case I'm not so sure that's a good thing.

Yet in spite of all the noise, A New Kind Of Horror may be the band's most poignant – in a manner of speaking given the incendiary soundtrack - and, in some cases, poetic work. And by poetic, I mean that literally as Hunt cites the writings of W.B. Yeats, Wilfred Owen, Philip Larkin, D.H. Lawrence and Siegfried Sassoon as among the inspirations for his lyrics here. So there's definitely some method to the band's madness.

"Obscene As Cancer" and "The Reek of Fear" combine these elements to paint a vivid portrait of the new kinds of horror that were unleashed on the battlefields of France and Belgium during "The Great War" - chemical weapons, aerial bombardment and mechanized warfare among them - all of which made the fighting that much more brutal and terrifying. "Forward!" juxtaposes the "No place for cowards, up and over" bravado employed by commanding officers to implore their troops into battle, and perhaps certain doom, with the false confidence and often damnable lies – "It'll all be over by Christmas!" – used to inspire hope on the home front.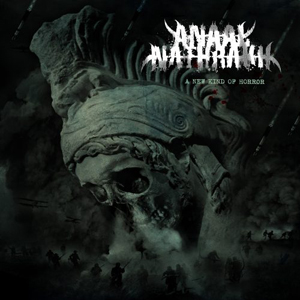 Ultimately, the result is annihilation for one side and bitter victory for the other, and no tangible solution to the issues that begat the slaughter in the first place. "Are We Fit For Glory Yet? (The War To End Nothing)", "The Apocalypse Is About You!" and "New Bethlehem/Mass Death Futures" bring the lessons of World War I forward and show how little has actually changed as those lessons have been forgotten or worse, ignored. Man's inhumanity to man still runs rampant, and new horrors in the name of warfare/jihad/what-have-you continue to emerge, such as the notoriously unstable homemade explosive chronicled in "Mother of Satan", which has become a favorite of the terrorists of today.
The message here perhaps would have resonated a bit more had not the delivery been so unrelentingly assaultive. Hunt's vocals are harsh enough under ordinary circumstances, but when he hits the caterwauling high notes it's like nails across the chalkboard. I realize it's got to be tough trying to be heard over the cacophony of instrumentalist/program/partner in crime Mick Kenney, but where Hunt's occasional soaring cleans offered welcome contrast, the keening here only adds to the bedlam.
Still, for a band to be maintaining this sort of intensity on its 10th album is really saying something. And that the fact that ANAAL NATHRAKH is actually, well, saying something with A New Kind Of Horror makes the occasional discomfort worth enduring.
3.5 Out Of 5.0




Please log in to view RANTS

If you don't have a username, click here to create an account!