BLOODBATH The Arrow of Satan Is Drawn


By Peter Atkinson, Contributor
Thursday, November 1, 2018 @ 12:42 AM


| | | |
| --- | --- | --- |
| | | |
BLOODBATH
The Arrow of Satan Is Drawn
Peaceville Records




BLOODBATH is one of those rare supergroups that not only lived up to the promise of its impressive pedigree, but has managed to keep building on that over what has become a surprisingly extensive library - even as several key players have come and gone.

Originally led by OPETH mainman Mikael Åkerfeldt and featuring members of KATATONIA (Anders "Blakkheim" Nyström and Jonas Renkse) along with prolific producer Dan Swanö (also of EDGE OF SANITY, etc.), the band has been celebrating old-school Swedish death metal since 1998 – when the music was actually still sorta new school. Since then, Åkerfeldt has been in and out, having been replaced for a time by HYPOCRISY/PAIN frontman Peter Tägtgren and more recently by PARADISE LOST singer "Old" Nick Holmes. Then-WITCHERY (and now OPETH) drummer Martin Axenrot came aboard when Swanö switched to guitar, only to later be replaced by KATATONIA's Per "Sodomizer" Eriksson. Eriksson bowed out a year ago and has been replaced by CRAFT guitarist Joakim Karlsson.

Despite all this, BLOODBATH built a semi-legendary reputation over a sporadic series of albums and rare concert appearances. And since Holmes came aboard for 2014's crushing Grand Morbid Funeral, the band has been noticeably more active, even playing some shows in the states – one of which I was fortunate enough to catch at the 2015 Maryland Deathfest. And that legend only stands to grow with BLOODBATH's new fifth studio album, The Arrow of Satan Is Drawn.

Despite the change over at the guitar spot, the band pick things up where it left off on Funeral and takes them just a bit further over the top with some more intensity and loads of distortion that makes for an especially murky, grinding wall of sound. The closing track "Chainsaw Lullaby" pretty much sums up the approach here: "Carving, cleaving, chopping, cutting, ripping, slicing, laceration/ Slashing, fucking, hacking, stabbing, piercing, scraping, mutilation/ Oh here we go again." Indeed.

The almost black metally "Fleischmann" gets things started with a buzz-sawing bang, and the band never looks back. The song's blitzkrieg sprints are punctuated by heaving grooves and a thunderous doomy midsection, essentially capturing the album's mood swings in one song. "Bloodicide" - whose title seems like something out of the METALOCALYPSE cartoon - keeps the grooves coming and features even more death metal royalty on guest vocals as Jeff Walker of CARCASS, Karl Willets once of BOLT THROWER, now of MEMORIAM, and John Walker of CANCER all chime in with their signature rasps and snarls on a couple verses.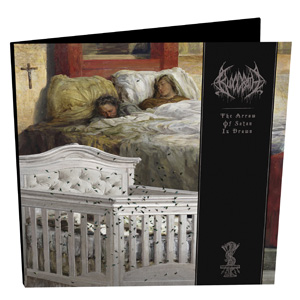 The thrashier "Wayward Samaritan" delivers a cascade of crunching, insidiously catchy hooks before things get low and slow with "Levitator", which recalls PARADISE LOST in its doom/death prime. Holmes' morose growl sounds most at home here and on the less propulsive "March of the Crucifiers" and "Only The Dead Survive", but he seems more comfortable handling the consistently gnarly vocals on Arrow than he did on Funeral. But that came at the end of PARADISE LOST's nearly 20-year gothic/classic metal stretch, during which Holmes' vocals were consistently clean, which would explain any tentative moments on Funeral.
Not so coincidentally, PARADISE LOST has muscled up considerably on its last two albums as well, as it revisited its past. And with Holmes having found his death metal footing once again, he sounds more confident here. There is certainly no lack of conviction as he sings from the gut about blood and guts - and other nasty business – on the likes of "Morbid Antichrist", "Deader" and the aforementioned "Chainsaw Lullaby", which bristle with his sinister personality.
The Arrow of Satan Is Drawn is an impressive, imposing outing by a genuinely "super" group. Though BLOODBATH has been mining vintage Swedeath for two decades now, it has been able to give it a fresh kick in the ass each time out, come what may. And Arrow most definitely kicks ass.
4.0 Out Of 5.0




Please log in to view RANTS

If you don't have a username, click here to create an account!