STEVE GRIMMETT'S GRIM REAPER In Ottawa, Canada


By Andrew Depedro, Ottawa Corespondent
Saturday, November 3, 2018 @ 12:06 AM


| | | |
| --- | --- | --- |
| | | Walkin' The Walk: NWOBHM Underdog Steve Grimmett And His GRIM REAPER Step It Up A Notch In Their Return To The Brass Monkey With Vindicted, Thunder Dome And Machine Messiah, Ottawa, Canada, October 3, 2018 |
Photos By Andrew DePedro
I'd like to tell you a story that not many people know. It'll make you decide where and when you go. Somewhere in between, much metal was played and many goats were tossed. And a veteran of the New Wave Of British Heavy Metal scene also came back from what had originally looked like a career-ending yet vital emergency operation.
Here's how all hell let loose at the Brass Monkey that night – the first concert since six simultaneous Class 4 hurricanes hit the area.
I'd acquired my ticket courtesy of the generosity of one Liam Fullerton of local power metallers VINDICATED – only for a mid-afternoon nap to cause me to miss their performance. I wouldn't make the same mistake again when THUNDER DOME took the stage. The fledgling local quartet – one of many local bands filling in for the previously-announced Leather Leone who were forced to drop off this tour – made the best of their 30-minute slot as they tore through their small yet powerful catalogue of straightforward power thrashing death metal. The bulk of their material came from their debut EP titled The Man Of Rolling Thunder including the slammin' numbers "Lord Of The Riots" and "Get Judged" among them. Credit to their solid performance and high-level energy, and THUNDER DOME don't need to find the way home as they are poised to be the new heroes of the local O-town metal scene and, naturally, beyond.
https://www.facebook.com/thunderdomemetal/
https://thunderdomemetal.bandcamp.com/releases
Touted as "an all original power metal band featuring Bobby Stones as vocalist" according to their bio, inexplicably missing their page on Bandcamp and inspired by many of the powerful vocal greats such as Dio, David Coverdale and Rob Halford among others, local power shredders MACHINE MESSIAH may have made my task in tracking down their music a larger chore than necessary but have otherwise won me over with a performance worth investigating their catalogue. Their originals such as "Hell On High" and "Valley Of The Kings" are certainly powerful and chock full of flashy riffs courtesy of the six-string duo of Everett Mayhew and Brennan Whitworth. Incidentally, it's not often that the work of legendary 50's crooner/native son Paul Anka gets any type of metal treatment, but frontman Bobby Stones gives it his all as he launches into a decent rendition of "My Way" – even if it's the infamous Sid Vicious version that everyone assumes is a SEX PISTOLS cover because, well, telling an audience of metal fans that you're covering a Paul Anka song otherwise would elicit a major buzzkill amongst the crowd. "Rise From The East", "Crown Of The Realm" and a neat song about Dio round out the rest of the show as MACHINE MESSIAH wrap up their performance with the human touch. Now get to work reactivating that Bandcamp account, guys!
https://www.facebook.com/machinemessiahcanada/
Throughout his 40+ year career living by the scythe and staring Death in the face on a few occasions, Steve Grimmett has kept true to both himself and the many fans who've made the march from the first GRIM REAPER album See You In Hell to his (kinda) new project known as STEVE GRIMMETT'S GRIM REAPER. Back in the day, Grimmett's demonically powerful vocals and the unmistakeable heavy riffs of guitarist Nick Bowcott made up the brief yet legendary Dream Team of New Wave Of British Heavy Metal cult awesomeness with GRIM REAPER. The band lasted for three albums throughout the 80's before splitting in 1988 but remaining a cult favorite over time. Their most notable homage outside of the trad metal community was courtesy of nerdcore rockers Weezer who referenced the band with a re-edited video of "Fear No Evil" set to the strains of "We Are All On Drugs" about a decade ago. Also, GRIM REAPER have the honorable distinction of being the second most-talked about band not named KISS on any of Eddie Trunk's syndicated radio and TV programs. Meanwhile, Steve Grimmett himself had also kept busy following GRIM REAPER's split, having formed and played with various of his own side projects including ONSLAUGHT, LIONSHEART and GRIMMSTINE among others. Eventually, the band reformed though mostly under Grimmett's guidance and have been rockin' every stage they've been on since. Not even the serious health scare of 2017 following a show in Guayaquil, Ecuador, in which a sudden infection in his right leg resulted in the partial amputation of the limb, has stopped or slowed down Grimmett from touring or recording.
Judging by this performance, if anything, Steve Grimmett seems more determined than ever to carry on. Opening with "Wings Of Angels" from 2016's Walking In The Shadows, Grimmett, along with guitarist Ian Nash, bassist Mart Trail and drummer Paul "Needles" White, took the near sold-out crowd through 35 years of heaven and hell. Steve Grimmett, in a black tartan kilt and occasionally needing the use of his trusty walking cane, commandeered the stage throughout the entire set with consummate professionalism and even let members of the audience get some photos of his artificial leg adorned with a nicely-painted gnarly-looking skull complete with flames in the background. Sometimes he'd need a stool – usually about four songs into his set – to take a brief rest but it was the powerful melodic vocals that truly moved the trad metal classics such as "Night Of The Vampire", "Fear No Evil", the feel-good-but-lewd "Suck It And See" (accompanied with a story about how he lost his virginity, which inspired the song) and "Dead On Arrival" among others.
The genuine faves of the setlist and indeed of the whole show included the powerful "The Show Must Go On", a moving yet hard rockin' number about perseverance, and an equally moving rendition of DIO's "Don't Talk To Strangers", with Grimmett's own emotive and melodic vocals perfectly aligned with the song. Finally, a powerful rendition of the classic closing number "See You In Hell" was the perfect song to cap off the events of the evening as the audience quickly made tracks afterwards to the merch table for autographs and selfies. Steve Grimmett and his crew were only happy to oblige, especially given that this was their second visit to Ottawa to this same venue and sang its praises for accommodating them and selling the show out. It may have been my own first experience catching STEVE GRIMMETT'S GRIM REAPER but their performance was definitely one worth putting some future leg work into checking out for future visits.
http://grimreaperofficial.co.uk/
https://www.facebook.com/grimreaperofficial/
Setlist:
"Wings Of Angels"
"Rock You To Hell"
"Night Of The Vampire"
"Lust For Freedom"
"Dead On Arrival"
"Liar"
"Wrath Of The Ripper"
"All Hell Lets Loose"
"Now Or Never"
"Walking In The Shadows"
"Fear No Evil"
"Call Me In The Morning"
"Suck It And See"
"Rock Me 'Til I Die"
"Run For Your Life"
"The Show Must Go On"
"Don't Talk To Strangers" (Dio cover)
"Waysted Love"
"See You In Hell"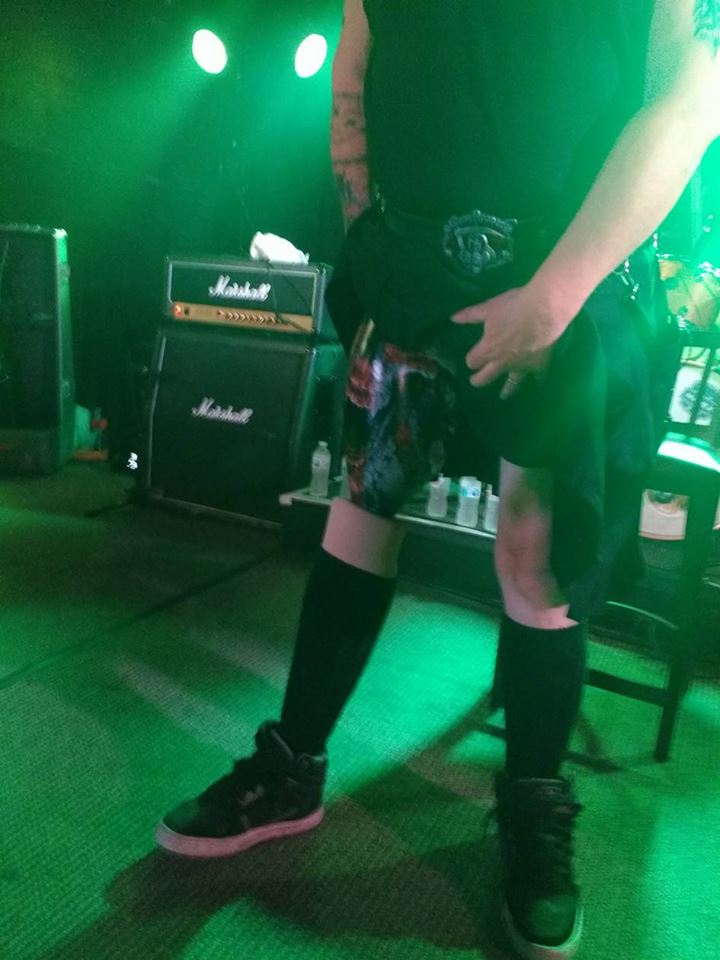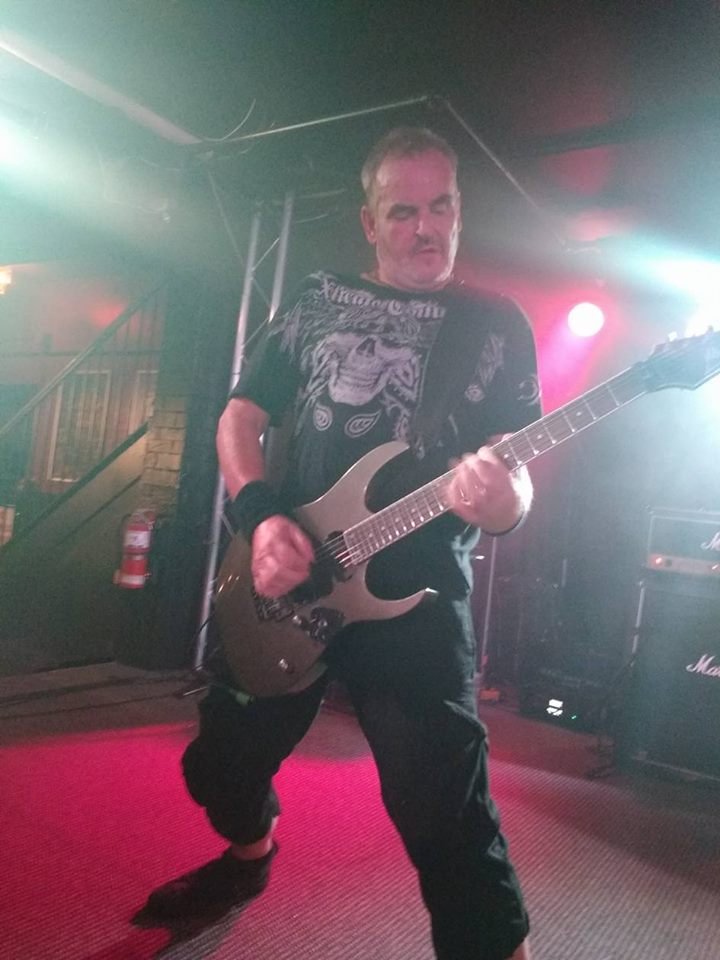 Please log in to view RANTS