DEVILDRIVER, JINJER In Cleveland, OH With Photos!


By Geoff Ketler, Cleveland Contributor
Monday, November 12, 2018 @ 6:14 AM


| | | |
| --- | --- | --- |
| | | "The Outlaws Til The End" Tour Hits Agora Ballroom On Halloween |
All Photos By Geoff Ketler/Aces High Photography
All Hallows Eve in the 216 means the crazies are out with many of them converging at the Agora Ballroom for an evening of metal, debauchery and good, old-fashioned, violent fun. The beer was flowing as the sparse audience of freaks, geeks and costumed ghouls headed for the pit of the ballroom on a cold, wet Halloween hump day in the rock n' roll capital of the world.
It is worth mentioning that the theatrical, self-proclaimed "dark metal carnival" RAVEN BLACK opened all dates on this tour, however, with their early set time, I barely made it in the building before their set wound down and thus, cannot comment on the band's performance.
JINJER took the stage shortly after my arrival; making a triumphant return to the states all the way from the Ukraine. The crazed, djent-laden, progressive metal act lit the place up with the thrashy "Words of Wisdom". Fronted by one of the more prolific women in metal, JINJER just seems to hit all the right notes with my taste for talent and fury. Tatiana Shmailyuk is a force to be reckoned with. Her deep growls rival anyone, male or female and her clean vocals have the most beautiful, soulful touch to them. She is a marvel of a frontwoman. Given the day, the band was all decked out in costume, including Tatiana, who was done up like a very believable Amy Winehouse. The short, powerful set included the newest single, "Ape", off of the soon-to-be released micro EP, as well as the beautiful and dark fan favorite, "Pisces", which showcases the group's strengths as a very progressive metal band that will turn from dark to light in a flash. Do not sleep on this band. JINJER is going places.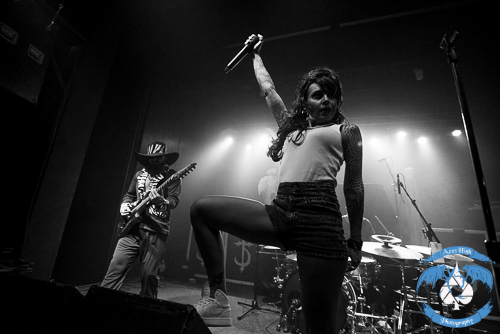 Setlist:
"Words Of Wisdom"
"Ape"
"I Speak Astronomy"
"Dreadful Moments"
"Pisces"
"Who Is Gonna Be The One"
"Perennial"
"Sit Stay Roll Over"
With a bit of fog and a dim-lit stage, Dez Farfara & Co, aka DEVILDRIVER, took to the stage in full costume with "Ruthless". It was a challenging shoot for any photographer with the very best equipment as the masked band played in almost complete darkness with the occasional flood of red or green light. Dez rarely addressed the crowd; it was just a pure barrage of chaotic guitars, blast beats and the occasional breakdown. DEVILDRIVER traded being polished for additional tenacity. It was stripped down – metal in its purist form, without any gimmicks, save the Halloween costumes. The pit that had been raging all night long was only able to catch their breath for the epic cover of AWOLNATION's "Sail".

Although this tour is titled "The Outlaws Til The End Tour" and is in support of DEVILDRIVER's recent release of the same name, the only appearance in the set of any new material came in the form of Willy Nelson's "Whiskey River". I know that the album features a myriad of guest appearances ("Whiskey River" is no different with Randy Blythe applying guest vocals), but I feel like the band is capable enough to throw in a few more of the album's selections; may I suggest "The Man Comes Around" or "Copperhead Road"? I realize that they are all covers, but you named the tour after the record, why not focus a little more attention on the new material? At any rate, the set was a collage of DEVILDRIVER's career with offerings new and old, including the crowd-pleaser "Clouds Over California". All in all it was a fun Halloween night and the band looked as though they were having just as much fun as the crowd. Life after COAL CHAMBER has been good to the group's founder, Dez and I hope to see them add dates to this tour cycle (and maybe toss in a few more new songs).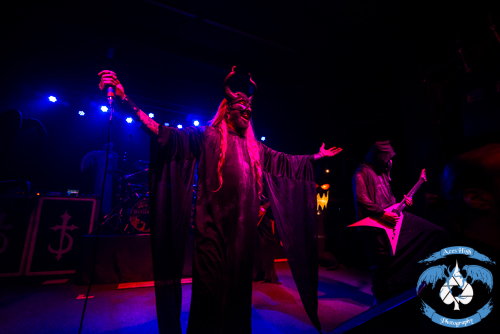 Setlist:
"Ruthless"
"Hold Back The Day"
"These Fighting Words"
"Head On To Heartache (Let Them Rot)"
"Whiskey River" (Willy Nelson Cover)
"Grinfucked"
"My Night Sky"
"Sail" (AWOLNATION Cover)
"Before The Hangman's Noose"
"Nothing's Wrong?"
"I Could Care Less"
"Clouds Over California"
"End Of The Line"
"The Mountain"
Check out some more photos from the show!
All Photos By Geoff Ketler/Aces High Photography

Please log in to view RANTS



STRYPER The Final Battle

TALAS 1985

QUEENSRYCHE Digital Noise Alliance

MOTÖRHEAD Iron Fist 40th Anniversary Edition

TESLA, KURT DEIMER In Houston, TX With Photos!

CLUTCH Sunrise On Slaughter Beach

SCORPIONS, THUNDERMOTHER In Houston, TX With Photos!

BEHEMOTH Opvs Contra Natvram

IRON MAIDEN, TRIVIUM In Austin, TX With Photos!

AEROSMITH, EXTREME In Boston, MA With Photos!

SAMMY HAGAR, GEORGE THOROGOOD, QUEENSRYCHE In Ridgefield, WA With Photos!

KINGS OF MERCIA Kings of Mercia

OZZY OSBOURNE Patient Number 9 In-Store Record Signing In Long Beach

ALICE IN CHAINS, BREAKING BENJAMIN, BUSH, THUNDERPUSSY In Ridgefield, WA With Photos!

GOATWHORE, INCANTATION, BEWITCHER In Los Angeles With Photos!

SKID ROW The Gang's All Here

FALLUJAH Empyrean

FIVE FINGER DEATH PUNCH, MEGADETH, THE HU, FIRE FROM THE GODS In Houston, TX With Photos!

DEICIDE, KATAKLYSM, INHUMAN CONDITION In Los Angeles With Photos!

KING'S X Three Sides Of One

BLIND GUARDIAN The God Machine

BUTCHER BABIES, UNCURED In Los Angeles

STYX, REO SPEEDWAGON, LOVERBOY In Mansfield, MA With Photos!

AT THE GATES, MUNICIPAL WASTE In Los Angeles With Photos!

OCEANS OF SLUMBER Starlight and Ash

A-Z A-Z

MACHINE HEAD ØF KINGDØM AND CRØWN

MY CHEMICAL ROMANCE In Nashville, TN With Photos!

BELPHEGOR The Devils

THE DEAD DAISIES Radiance

SANTA CRUZ The Return Of The Kings

THE STADIUM TOUR In Houston Photo Gallery