STRIKER, SKULL FIST, NO RESPITE In Essen, Germany With Photos!


By Daniel Höhr, European Correspondent
Monday, November 26, 2018 @ 6:29 AM


| | | |
| --- | --- | --- |
| | | At Turock Club, November 9th |
Photos By Silvius Breitenfeld
A jolly good asskick or two awaited the audience at Essen's Turock club on November 9th. Canadian metal outfits STRIKER and SKULL FIST teamed up for their joint Maple Meltdown Tour and hit the cinema-turned-rock club situated right in the city centre of Essen, a city in Germany's Ruhr Area.
The support band that night were NO RESPITE, a punk band from the neighbouring city of Dortmund. It is always daring to let a punk band open for bona fide metal acts such as SKULL FIST and STRIKER. However, for the local four-piece it was certainly a great opportunity to gain more live experience and win some fans, even though they definitely seemed to be in the wrong location for that. Some of their songs were actually quite good and the quartet made the best of it. A fun moment was when the bass player and the guitarist swapped instruments half-way through the set. At the end No Respite got a well-deserved polite applause when they left the stage.
During the changeover the first people started shouting for the first headliner that night, the Canadian four-piece SKULL FIST, who are currently touring on the back of their third full-length studio album, Way Of The Road. And to understate the matter: the crowd was certainly not disappointed by the show that night. Right from the opener, "Ride The Beast", from their 2011 debut album Head Öf The Pack, SKULL FIST didn't leave a doubt they knew what proper traditional metal at high velocity is all about. The band gave everything that night, a textbook performance for any veteran metal head and those to be trained alike. And it was not just the quality of the songs, which was very much on par with that of STRIKER, or the musical performance, which, needless to say, was absolutely terrific. One of SKULL FIST's main assets is their charisma and stage presence, particularly that of vocalist Jackie Slaughter, who was in top form that night. The setlist mainly included tracks from their current album Way Of The Road and classics from their previous releases. The result was a straight-down-the-line, fiery, speedy and sweat-inducing metal show. The audience's response was accordingly – there was a great deal of headbanging, moshing and even stage diving going on. After "Get Fisted", the Canadian quartet got called back twice by the audience and it was obvious that the band would have loved to play more. Jackie Slaughter in fact said something along those lines and the audience wouldn't have minded at all – to the contrary. Bottom line: the SKULL FIST show was a real triumph, and possibly the greatest triumph on Turock's stage that night.
Setlist:
"Ride The Beast"
"You Belong To Me"
"I Am A Slave"
"No More Running"
"You're Gonna Pay"
"Better Late Than Never"
"Bad For Good"
"No False Metal"
"Like A Fox"
"Witch Hunt"
"Hour To Live"
"Head Öf The Pack"
"Get Fisted"
The change-over was mainly used by the assembled metalheads to empty their bladders in order to refill them with beer. Beer did flow in copious amounts and many a plastic cup filled with German brew crossed the extremely thin and bit by bit vanishing border between stage and audience that night. Unfortunately, some people decided to leave after SKULL FIST but the already great atmosphere got even hotter when STRIKER's intro blasted through the PA and the Canadian five-piece hit the stage with "Heart Of Lies", the opener of their new album Play To Win. If I had to summarize the ensuing SRTIKER show in one sentence, I would say: "They enormously, viciously and demonically kicked ass." And indeed they did. Premium shredding, riff attacks, pure energy and volumes that were bound to shakes the foundations of the nearby Catholic cathedral. STRIKER not only showed premier musicianship but also a genuine heavy metal attitude – the audience was receptive and grateful, judging from the headbanging and moshing that was going. More beer was consumed by the crowd and handed to the musicians. The undisputed highlight of the Canadians' show was "Full Speed Or No Speed", at which point the roof of the club was seriously in danger. After "White Knight" STRIKER left the stage in order to be called back by the audience for the encore "Fight For Your Life". Afterwards, as if to make it absolutely clear to the assembled, sweat-drenched and beer-laden metalheads that the show was now definitely over, disco music was played through the PA. So STRIKER bassist William Wallace puts on a little dance, fetches his instrument and is the last band member to leave the stage.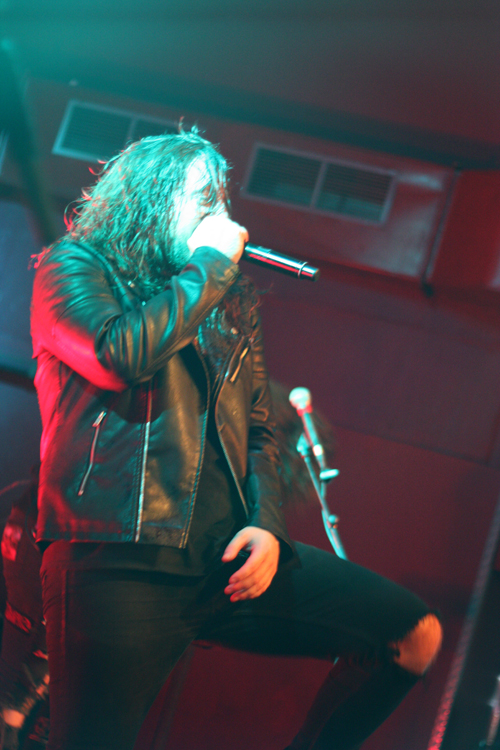 The motto "Maple Meltdown" was anything but an empty promise. In fact, the two bands, albeit stylistically different, and the crowd – the experience of live music pretty much depends on both – demonstrated that heavy metal is well alive and kicking. A great evening was had by all, fans and musicians alike.
Setlist:
"Heart Of Lies"
"Born To Lose"
"Phoenix Lights"
"Lethal Force"
"Crossroads"
"On The Run"
"Locked In"
"Former Glory"
"Too Late"
"Out For Blood"
"Pass Me By"
"Head First"
"Full Speed"
"White Knight"
Encore: Check out some more photos from the show!
Photos By Silvius Breitenfeld




Please log in to view RANTS

If you don't have a username, click here to create an account!






DOOM SIDE OF THE MOON In Austin, TX

METALLICA, JIM BREUER In Portland, OR With Photos!

WARKINGS Reborn

URIAH HEEP Living The Dream

MONUMENTS Phronesis

2018 AFTERSHOCK Festival Photo Gallery 2

2018 AFTERSHOCK Festival Photo Gallery 1

TED NUGENT The Music Made Me Do It

FIVE FINGER DEATH PUNCH In Portland Photo Gallery

GHOST In Inglewood, CA With Photos!

ASHES OF ARES Well Of Souls

STRIKER, SKULL FIST, NO RESPITE In Essen, Germany With Photos!

UNEARTH Extinction(s)

WITHERFALL A Prelude To Sorrow

ARCHITECTS Holy Hell

RED DRAGON CARTEL Patina

ARTILLERY The Face of Fear

REVOCATION The Outer Ones

CATTLE DECAPITATION Medium Rarities

ARIA Proklyate Morey (Curse of the Seas)

BRITISH LION, CONEY HATCH In Ottawa, Canada

SUNFLOWER DEAD C O M A

SURF CITY BLITZ In California Photo Gallery

TRIVIUM, AVATAR, LIGHT THE TORCH In Portland, OR Photo Gallery

DEVILDRIVER, JINJER In Cleveland, OH With Photos!

CORROSION OF CONFORMITY In Dublin, Ireland

CAULDRON New Gods

STEVE GRIMMETT'S GRIM REAPER In Ottawa, Canada

JUDAS PRIEST, KREATOR In Quito, Ecuador

CAL JAM '18 Photo Gallery

BLOODBATH The Arrow of Satan Is Drawn

STRIKER Play To Win

NIGHT RANGER "Dawn Of Madness" Show In Waukegan, IL

BUTCHER BABIES, KOBRA AND THE LOTUS, SKARLETT RIOT, IGNEA, MAERTYRIUM, In Siegburg, Germany

HOUSE OF LORDS In New Bedford, MA

GRETA VAN FLEET Anthem Of The Peaceful Army

IMPELLITTERI The Nature Of The Beast

ALICE COOPER In Houston Photo Gallery

ICARUS WITCH Goodbye Cruel World

TARJA, STRATOVARIUS, SERPENTYNE In Cologne, Germany

CLUTCH, SEVENDUST, TYLER BRYANT & THE SHAKEDOWN In Portland, OR With Photos!

ACCEPT In Houston, TX With Photos!