STEEL PANTHER In Portland, OR With Photos!


By Ruben Mosqueda, Contibutor
Thursday, January 17, 2019 @ 12:30 AM


| | | |
| --- | --- | --- |
| | | At The Crystal Ballroom December 31st, 2018 |
All Photos By Mike Lewis Photography
STEEL PANTHER formed in 2000 and at that time they were known as METAL SKOOL. The band mainly played regionally in the Southern California area. METAL SKOOL performed covers of 80s glam rock acts and incorporated some 80s 'colorful rock shtick' between songs for good measure. METAL SKOOL was featured in a Discover Card TV commercial, where they portrayed a band named DANGER KITTY. In 2008, the band elected to make yet another name change to STEEL PANTHER and it was then that they began to gain momentum. Since that time STEEL PANTHER's shows have gained notoriety and have become a global phenomenon.
In subsequent years STEEL PANTHER have gone on to release their 'major label debut', Feel The Steel [2009], Balls Out [2011], All You Can Eat [2014] and Lower The Bar [2017]. Over the course of the past 9-10 years STEEL PANTHER have established quite the career for themselves. In Europe they pack arenas and are staples at the major hard rock and metal festivals. In North America they have generated momentum outside of So Cal and are performing in theaters. You get the feeling after the release of Lower The Bar that STEEL PANTHER have peaked stateside and unless they do something a little different, the act will become stagnant.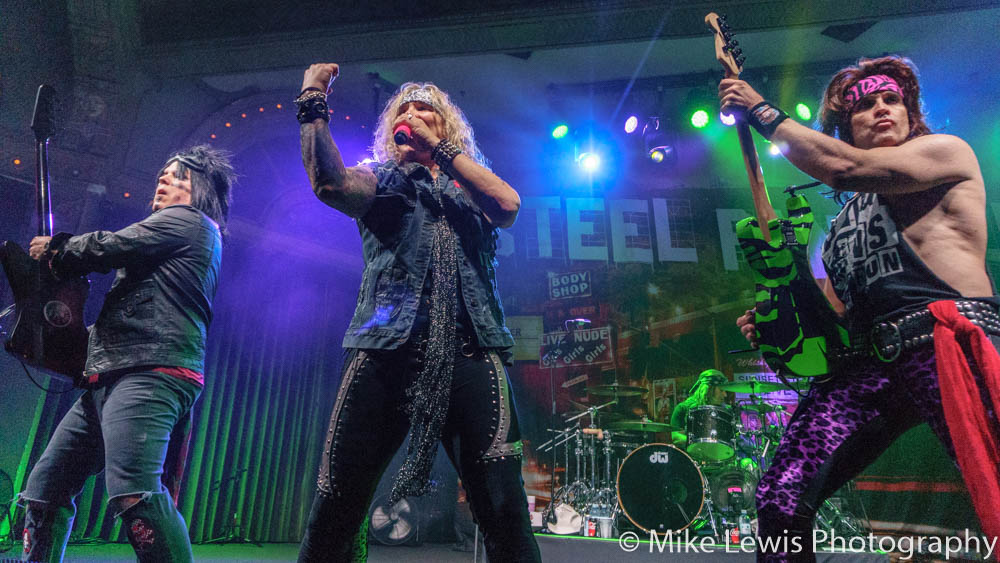 This brings us to STEEL PANTHER's show at The Crystal Ballroom in Portland, Oregon on New Year's Eve no less! The audience was subjected to close to 90 minutes of a local DJ playing songs that you could hear on SPOTIFY, PANDORA, AMAZON MUSIC anytime and a little of that goes a long way. 30 minutes in some of the lubricated patrons were starting to become restless. I can't say I blamed them. There was a point where DJ GREGARIOUS said, "This is the time in the show where I have to point out where the exits are." He followed that up by playing GREAT WHITE's "Rock Me". I got it but I didn't think it was all that funny. It fell flat, perhaps because most of the millenials where in party mode and the casual followers of the 80s scene didn't really follow the bands all that closely.
There's no question that STEEL PANTHER IS an acquired taste and one must approach them somewhere between a 'novelty' or 'comedy act,' because they are both. STEEL PANTHER albums chart on the Billboard Comedy charts, so you can take STEEL PANTHER about as seriously as one would take WEIRD AL' YANKOVIC. A STEEL PANTHER show is like traveling back in time to the 80s when rock 'n' roll was about excess, loud guitars, fun shows and forgetting about whatever is happening in your life for good or bad. It's essentially an escape where you become part of the show and audience participation is obligatory—moreso if you're a female and you have big breasts. Last time I saw STEEL PANTHER was pre-#metoo, so I was very curious if they toned things down a bit--they have not.
STEEL PANTHER came on to the VAN HALEN's "Everyone Wants Some", Which shouldn't be surprising since frontman MICHAEL STARR [RALPH SAENZ] is a dead ringer for DAVID LEE ROTH. It also shouldn't surprise you that he fronted the L.A. based VAN HALEN tribute band THE ATOMIC PUNKS, who were arguably the best [ROTH-era] VAN HALEN tribute act in the world.
STEEL PANTHER guitarist SATCHEL [RUSS PARISH] was also in 'The Punks' with STARR [SAENZ] and he tackled the role of EDDIE VAN HALEN and he did that well. Rounding out the band is drummer STIX ZADINIA [DARREN LEADER] who is a bombastic drummer. Notably absent was bassist LEXXI FOXX [TRAVIS HALEY] who was supposed to be back from 'sex rehab' for these winter dates but was not. Filling in for FOXX was SPYDER [JOE LESTER, who is the band's tour manager and also plass bass in THE ATOMIC PUNKS and MOTLEY INK]. SPYDER's bass skills are better than FOXX's who spends more time looking at himself in the mirror than striking notes on his bass. SPYDER got his bass busted by STARR who pointed out that SPYDER "looked like a fat NIKKI SIXX". Fucking Brilliant! The 'adult oriented' show [hence the 21+ admittance], has a DINO CAZARES sized dose of 'locker room humor' chock full of 80s sex fueled stage banter and immaculately executed musicianship. It's hard not to walk out with a gigantic smile on your face and feeling somewhat dumbfounded at what the fuck just took place. The highlights of the the show were, the rockers "Eye of A Panther", "Asian Hooker", "Just Like Tiger Woods", "Death To All But Metal", and their ballad "Community Property". There were some well executed covers of "Pour Some Sugar On Me", "Panama", and "Crazy Train" complete with STARR doing his best OZZY OSBOURNE impersonation, and "Sweet Child O' Mine" [that song is cringeworthy, no matter who is performing it]. A STEEL PANTHER show is something that everyone should experience at least once. What a hell of a way to kick off 2019! I haven't seen this many wigs, makeup, loose women and spandex since witnessing a DOKKEN show back in the 80s.
Check out some more photos from the show!
All Photos By Mike Lewis Photography




Please log in to view RANTS

If you don't have a username, click here to create an account!