SWALLOW THE SUN When A Shadow Is Forced Into The Light


By Nathan Dufour, Great White North
Tuesday, February 19, 2019 @ 8:12 AM


| | | |
| --- | --- | --- |
| | | |
SWALLOW THE SUN
When A Shadow Is Forced Into The Light
2019, Century Media




Personal tragedy, as opposed to any headline grabbing tragedy one cares to name, happens all the time - you just mostly never hear of it. Following a mammoth 3-disc outing in 2015, SWALLOW THE SUN return with a great heaviness of heart if not so much in sonics on the brilliantly titled When A Shadow Is Forced Into The Light.

Expansive is an apt descriptor for this mostly gentle foray into sweeping, warm chord progressions and swirling drums always being informed by the pain of founder Juha Raivio, who lost his partner in 2016. Aleah was a creative force, and TREES OF ETERNITY also stands as a testament to her creative vision. When A Shadow Is Forced Into The Light is a title also related to TREES OF ETERNITY. Everything grows together.

Expression is a tricky thing to pin down especially in terms of relevance, or "heart" if you will and anyone with a mouth or a keyboard can readily pass judgment on, well, everything. SWALLOW THE SUN has traditionally towed the death/doom line but on When A Shadow… eschews the genre almost entirely and brings in a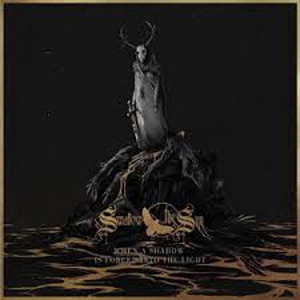 suffocating and entrancing atmosphere - flirting with various gazing subgenres and throwing the listener for a loop in terms of what to expect from the band and their sound. None of this is to say that SWALLOW THE SUN have abandoned their core: if anything, they have mined its depths and smoothed its edges. Midway track "Upon The Water" is without a doubt one of the best songs I have heard this year, a meticulous balance between mood and rifftastic bludgeoning. Follow up "Stone Wings" is immediately emotive (it is so beautiful I actually teared up), with a lovely drum cadence and strings. Oh, and strings are all over this album.
Don't look too far for a reason for a slight deviation in sound. Go listen to the also excellent (and related) Hallatar for the outright heavy then come back to SWALLOW THE SUN to just stare in silence for a time. Personal tragedy happens all the time - we have all felt it. SWALLOW THE SUN are not the first to channel grief into something beautiful, but I personally feel this is one of their strongest releases. What a goddamn beautiful eulogy. And it lives forever.
Perfect.
5.0 Out Of 5.0




Please log in to view RANTS

If you don't have a username, click here to create an account!