RHAPSODY OF FIRE The Eighth Mountain


By Daniel Höhr, European Correspondent
Tuesday, February 26, 2019 @ 2:05 PM


| | | |
| --- | --- | --- |
| | | |
RHAPSODY OF FIRE
The Eighth Mountain
AFM Records, 2019




Italian Symphonic Power Metal veterans RHAPSODY OF FIRE (formerly knows as RHAPSODY) have finally opened a new chapter in the band's 26-year history. The Eighth Mountain, the band's twelfth studio effort, is the first one to feature lead vocalist Giacomo Voli and drummer Manu Lotter. It also marks the beginning of a new saga to be told on this and forthcoming albums, namely The Nephilim's Empire Saga. As fantasy fiction has never been my sort of thing, I shall refer you pure rockers to the CD booklet, where you can peruse the tale at your convenience.

Back to the personnel aspect of The Eighth Mountain. Even though this is the first studio album to feature the new RHAPSODY OF FIRE line-up, it isn't the first recording by the five-piece. In quite a bold and audacious undertaking in 2017, keyboardist Alex Staropoli and his fellow musicians released a compilation of re-recordings of RHAPSODY's best tracks, proving that both Giacomo Voli and Manu Lotter were easily able to step into the shoes left behind by Fabio Lione and Alex Holzwarth respectively.

After the brooding intro "Abyss of Pain", the opener "Seven Heroic Deeds" kicks in with full force and at high velocity, featuring all the virtues RHAPSODY OF FIRE are known for: high octane riffing, neo classical elements, tempo changes and a medieval-style choir singing in Latin. The sound is massive, the songwriting lavish and the instrumentation extravagant. Vocalist Giacomo Voli definitely masters the demanding soaring heights in the chorus and yet his timbre is something you need to get used to when you have been spoiled by Fabio Lione's operatic singing style for more than two decades. At this point, the music comes across as somewhat technical and with less feeling than on older RHAPSODY albums. The following anthemic "Master of Peace" does very little to change this impression but certainly makes up for it by the composition and instrumentation. The previously released "Rain of Fury" is very much in the same vain – fast, melodic, anthemic and lavishly orchestrated. On the topic of orchestration, on The Eighth Mountain, RHAPSODY OF FIRE are once more backed up by a symphony orchestra comprised of musicians from the Bulgarian National Symphony Orchestra in Sofia and a choir of 20 soloists. The result is a stunning sonic tapestry that at no moment fails to impress.

Quite why the intro to "White Wizard" wasn't recorded by the orchestra instead, is beyond me. The synth makes it sound quite artificial but the song itself, at a more moderate pace and with a groovier feel, offers a refreshing moment after the previous power metal onslaughts. "Warrior Heart" introduces another element RHAPSODY OF FIRE are renowned for, namely a dive into renaissance-tainted folk music – flute, harpsichord and 6/8 time, invoking minstrel halls or whatever you wish to associate with it. Back to symphonic metal feels with "The Courage to Forgive" – alternating between stomping staccato accentuations in the verses and straight-ahead power metal beats with soaring vocal lines in the chorus, this track will most certainly satisfy RHAPSODY OF FIRE fans. The virtuose lead guitar work by Roby De Micheli on this and all the other tracks on The Eighth Mountain will surely make many a jaw drop. "March Against the Tyrant" comprises completely different worlds of music, from high-velocity metal riffing to balladesque parts involving acoustic guitar and baroque recorder to epic, grooving mid-tempo sections.

I always like to think that if the Italian baroque violinist and composer Antonio Vivaldi had known drumkits, electric guitars and basses, he would have written RHAPSODY OF FIRE's music – isn't the intro riff to "Clash of Time" reminiscent of the thunderstorm in the Four Seasons? The baroque-style lead guitar is also pretty much in this vain. It never ceases to amaze me how well Vivaldi's formulas work in the context of RHAPSODY's metal music.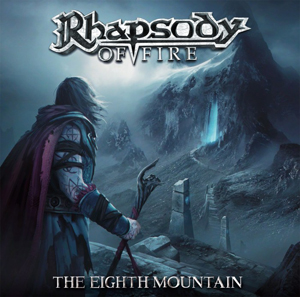 Playing "The Legend Goes On", I cannot but finally succumb to the hitherto subconscious thought that I somehow miss Fabio Lione. Don't get me wrong, Giacomo Voli is a superb singer, mastering the incredibly demanding vocal lines with ease. He has stepped into oversized shoes and has done so with the greatest possible success. And yet his slightly nasal timbre is something that requires some RHAPSODY OF FIRE fans (including this KNAC.COM contributor) to get used to, and I'm sure we all will. "The Wind, The Rain And The Moon" is an orchestral ballad showcasting Voli's stellar singing and offers a quiet moment before the grand finale of the first chapter of RHAPSODY's new epic tale, the ten-minute "Tales Of A Hero's Fate". Voli's black metal-style vocals at the beginning add another sonic dimension to the multy-layered composition that I won't even attempt to describe. It is definitely the highlight of The Eighth Mountain and RHAPSODY OF FIRE pull all stops to once again make the point that they are the undisputed masters of the epic symphonic metal genre. The narration in this song was delivered by the late British actor Christopher Lee, who had first worked with the band on Symphony of Enchanted Lands II – The Dark Secret in 2004.
The Eighth Mountain marks without question the beginning of a phase in RHAPSODY OF FIRE's career. In many respects a traditional RHAPSODY album comprising relentlessly fast power metal, soaring and catchy vocal lines, lavish orchestration, baroque and classical elements, and an epic saga, The Eighth Mountain is a must-have for any fan of this genre. Sonically, this is probably the best RHAPSODY OF FIRE have ever sounded thanks to Seeb Levermann's superb production. A fresh start for RHAPSODY OF FIRE and doubtlessly a stellar album despite a few minor points of criticism. It surely makes one look forward to even greater things to come.
4.0 Out Of 5.0




Please log in to view RANTS

If you don't have a username, click here to create an account!