AENIMUS Dreamcatcher


By Francisco Zamudio, Metal X Candy 2.0
Wednesday, February 27, 2019 @ 11:03 AM


| | | |
| --- | --- | --- |
| | | |
AENIMUS
Dreamcatcher
Nuclear Blast




Music's extreme evolution has come a long way but in recent years there has been a bit of stagnation with Core and Djent(y) bands. Intermixing some melodies and extra chords serves as a distraction only to return to the breakdown which has become a great comfort zone for song-writers and fans alike. Don't get me started on the karate-kid, dancing flash-mob that ensues in the pit. Thankfully a great handful of bands remove themselves and elevate from the norm by adding various ideas to their style. It does prove difficult sometimes as too many bands incorporate this genre and that genre, essentially losing the essence of who they really are or never really gaining any sort of identity to begin with. Risking losing the listener at the same time a band is trying to market itself to a wider audience. But of course people and bands hate "labels", right? Partial blame can be put on the current A.D.D. era of music listeners.

A brilliant example of bending the norm is AENIMUS, hailing from California's Bay Area with their NUCLEAR BLAST debut and second full-length effort, Dreamcatcher. Set to embark on landmark tour reflecting on the glory days of NUCLEAR BLAST's epic compilations DEATH … IS JUST THE BEGINNING - A Compilation that brought attention to many great bands, including and coincidentally (say it with me with an angry face) MESHUGGAH. A band that WAS Djent before Djent was even a thing. But I digress…

You'll be bombarded with the extraordinary amount of melody thrown into Dreamcatcher. Certainly outweighs all the breakdown core stuff they couldn't help include certifying them as a Melodic Deathcore band. Certainly a lot of technicality and progression which is pleasantly weaved in and ALMOST not overly dramatic just for the sake of complication. Through 11 tracks that persist of Core Breakdowns, Melodic guitar riffs, technicality, exceptional drum work, death metal vocals – and oh yes, clean-singing.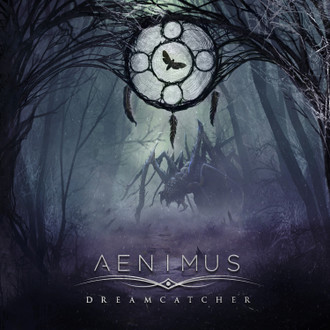 The opening track, like much of the album, is all over the place with exotic arrangements. You're immediately given the vibe that this album holds. Seemingly 50% easy-listening and mellow djent, 50% core. "The Ritual" would have had an excellent chance of sculpting the album, being the heaviest and more focused song, with NO CLEAN SINGING yet ending with some random lead into a symphonic composition - Which I myself honestly can appreciate. Countering the sentiment is "My Becoming" which rides that core'y clean singing wave ultra-hard. This song will really strike a nerve with die-hard fans of the genre. "Between Iron and Silver", although the longest song on the album at over 7 minutes, is cut short under 5 minutes only to lead you on into a 2 minute composition of some piano and more symphony. One ear catching aspect is that there's lot of sampling (sounds that create background noise and atmosphere).
As long as Djenty bands push the limits and escape the comfort zone, it can give some character to their music and serve a better purpose than just music kids can dance to. There's no denying that the Core kids eat this up like Flamin Hot Cheetos. It's a genre that will stick around a bit longer. DREAMCATCHER is a laid back trip for easy-listening and never fully commits to keeping things heavy. It will satisfy the fans of the genre but a lot of times there's a heavy hint that this type of music is written to impress other musicians. And that fine line between fan and musician needs to be solidified more often than not. While consumer equals fan, musician does not always equal consumer.
3.0 Out Of 5.0

Please log in to view RANTS