IRON SAVIOR Kill Or Get Killed


By Alex Yarborough, Orlando Contributor
Tuesday, March 12, 2019 @ 10:53 AM


| | | |
| --- | --- | --- |
| | | |
IRON SAVIOR
Kill Or Get Killed
2019 AFM Records




Following closely on the heels of their 2017 reforging of IRON SAVIOR classics on the compilation Riding On Fire, Hamburg, Germany's hometown kings, have returned with their tenth studio album, Kill Or Get Killed. Led by guitarist, singer, songwriter and producer Piet Sielck, the current lineup features longtime bandmates Joacim 'Piesel' Küstner (guitar), Jan S. Eckert (bass) and new drummer Patrick Klose (SCANNER), who replaced Thomas Nack after Titancraft (2016).

IRON SAVIOR have been pioneers of space fiction metal for over 20 years now, and KOGK fits in that category as well. The band is no stranger to dystopian tales, and on KOGK the band were partly inspired by Peter F. Hamilton's 2004 novel Pandora's Star, a story about the destruction of humanity by an alien civilization.

Unlike the band's last three studio albums, KOGK features no intro track, and blasts directly into the title track "Kill Or Get Killed". This fiery song features all of the IRON SAVIOR trademarks: fast tempo, gang chorus, soaring vocals and infectious melody. I dig the spoken moment in the middle. You can view the video for this song on KNAC.COM HERE. "Roaring Thunder" is another successful composition with a huge, catchy chorus featuring overlapping vocals. "Eternal Quest" offers more double bass drumming and is somehow even more up-tempo than the previous songs. "From Dust and Rubble" slows things down slightly and walks more in a mid-tempo arena, and features a very memorable chorus. The vocals from Piet are passionate and convincing, and continue in the excellent "Sinner Or Saint"--probably my favorite track here. This pre-chorus and chorus are as catchy as possible and maximum headbanging will certainly be the result of listening to this song.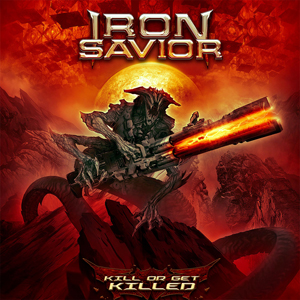 "Stand Up And Fight" shows no signs of letting up, while "Heroes Ascending" is a little more cerebral track, and offers more details to this tale. "Never Stop Believing" is a ray of hope in the storyline. At nearly eight minutes in length, the mid-tempo "Until We Meet Again" is the longest song on KOGK. The final song, "Legends Of Glory" is a real monster, featuring some brutal leads and riffs from the band, along with much more fantastic vocals. KOGK features a total of 10 tracks at 50 minutes in length.
Aside from possibly OVERKILL, IRON SAVIOR is the most consistently reliable band in heavy metal. This album is power metal bliss. The songs are catchy and memorable. The production and mix is once again fantastic, amplifying the huge choral moments and riffs on the album. Album artwork is once again provided by longtime collaborator Felipe Machado Franco. Kill Or Get Killed is yet another notch in IRON SAVIOR's belt and it's another winner in my book. The album is available now from AFM Records.
5.0 Out Of 5.0




Please log in to view RANTS

If you don't have a username, click here to create an account!