Review By Derek Bomar
This was the final show of a 6 date Asia tour that started at Download in Tokyo last week with PRIEST and SLAYER where ARCH ENEMY was a big draw and pretty much stole the show, but tonite it was all ARCH ENEMY and they just totally rocked the stage.
It's hard to put this band in any one category as they seem to have most everything from the killer guitar work of Mike Amott and Jeff Loomis to a great lead singer and frontwoman Alissa White-Gluz as well as the songs to back it up.
The show started off with "The World Is Yours" from the latest album Will To Power (another classic well worth checking out). Mike Amott walks out onstage to to cheers of the crowd and just starts ripping the intro. This guy can play, I mean REALLY play. There's perfect sound and clear melody within every song but brutal at the same time.
They go right into "Ravenous" and the crowd is loving it. Alissa on vocals pulls no punches and donít be fooled by her good looks, sheís the real deal. "Stolen Life", "War Eternal" and "The Race" follow with security having to fix the barricade as the fans push closer to the stage with each song. The bass and drums are just blasting and driving a good pit in the middle but most fans are just locked on the band listening to the killer guitar work, and I have to admit so was I!!! It's hard to beat the Amott/Loomis team thatís for sure and they are playing on fire tonight and smiling and loving it.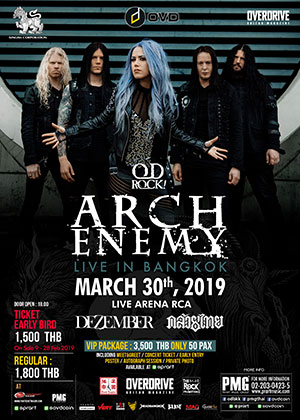 A short but fantastic Schenker-style solo by Mike Amott was the highlight of the night. Just amazing. "The Eagle Flies Alone" and "First Day In Hell" were my favorite songs of the night. Alissa sung them with so much passion and just really nailed it.
The band has so much material to choose from but overall I thought the setlist was perfect not one sound problem or a glitch that I could notice. The show just flew by and when it was time for the encore the crowd yelled "We Want More" for over 2 full minutes. A well deserved encore followed and the night was over.
On a scale of 10 to 10 I give the show an 11. It's pretty easy to see why in Europe and Asia this band is massive. America is always behind the curve for good quality, musically oriented hard metal bands. Hopefully ARCH ENEMY will be back out on the road in the States in the Fall but in the meantime do yourself a favor, check this band out!