HYPOCRISY, FLESHGOD APOCALYPSE In Dallas, TX


By Wendy Jasper, Fort Worth Correspondent
Tuesday, April 9, 2019 @ 3:54 PM





The currently running Death…Is Just The Beginning Tour, featuring double headliners FLESHGOD APOCALYPSE and HYPOCRISY is the must see death metal tour of the spring! Both bands bring their unique styles of Symphonic and Melodic death metal to sold out crowds! Don't miss it!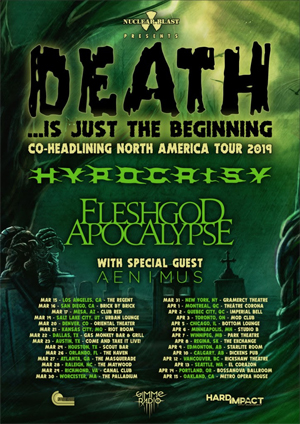 Please log in to view RANTS

If you don't have a username, click here to create an account!






CHEAP TRICK In Houston Photo Gallery

MICHAEL SCHENKER FEST In Worcester, MA

SLAYER, LAMB OF GOD, AMON AMARTH & CANNIBAL CORPSE In Columbia, MD

SUNN0))) Life Metal

Head Bangin' Radio Book

VENOM INC. In Ottawa, Canada

VIXEN In New Bedford, MA

ARCH/MATHEOS Winter Ethereal

A NEW REVENGE Enemies & Lovers

RINGWORM "Death Becomes My Voice"

AMON AMARTH Berserker

SOTO Origami

OVERKILL, DEATH ANGEL, MOTHERSHIP In Cleveland, OH With Photos!

POSSESSED Revelations Of Oblivion

STEEL PROPHET The God Machine

THE DAMNED THINGS High Crimes

CRADLE OF FILTH In Dallas, TX

ANTHEM Nucleus

DIAMOND HEAD The Coffin Train

MIKE TRAMP Stray From The Flock

HALESTORM In Salt Lake City, UT With Photos!

ALLEGAEON Apoptosis

FALLUJAH Undying Light

JOHN 5, JARED JAMES NICHOLS In Anaheim, CA With Photos!

L.A. GUNS In New Bedford, MA

...AND JUSTICE FOR ART – Stories About Heavy Metal Album Covers – Volume 2

THE END MACHINE In Los Angeles Photo Gallery

TRUTH CORRODED Bloodlands

THE IRON MAIDENS In Houston, TX Photo Gallery

THE RAVEN AGE In Paris, France With Photos!

ENFORCER Zenith