NOTHING MORE In Houston, TX With Photos!


By Cynthia Fields-Jalil, Writer/Photographer
Wednesday, April 10, 2019 @ 10:23 AM


| | | |
| --- | --- | --- |
| | | At The House Of Blues On Marchc 20th |
All Photos By Cynthia Fields-Jalil aka Jalil Photos Rock
I recently ventured out to check out one of my all-time favorite bands, NOTHING MORE, for their current The Truth Tour which happened to be the guys' first tour stop in their hometown state before making their way back home for their tour break show in San Antonio, TX. The House of Blues (HOB), Houston, TX Wednesday night show featured two show openers, PALISADES, BAD FLOWER, and co-headliners OF MICE & MEN.
As luck would have it, and courtesy of Houston's traffic, unfortunately I missed PALISADES' entire set. I did hear that their set was energy packed and spot on. After a 15 minute stage set-up break, BADFLOWER hit the stage. I had never seen this band of four before but wow did they deliver! They were definitely a crowd favorite and seemed to have quite the following. There were several fans who sang along with front man and lead singer Joey Marrow. Not only did guitarist Josh Katz and bassist Alex Espiritu rock out, they thrashed and literally jumped around the stage while the drummer hit the drum skins with major intent to slay. By the end of their set they had won over the entire audience.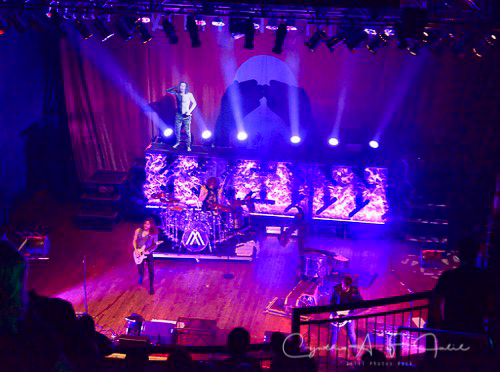 Next up was OF MICE & MEN, another band that I had never seen live before. OM&M has recently changed their lead vocalist and added new material which was a plus to witness. OM&M hit the stage nice and loud. Watching lead singer and front man & bassist Aaron Pauley belt out the songs was pretty cool! He delivered every song with intent and vocally he sounded great! It turned out that I was more familiar than I thought with their songs. Lead guitarist Phil Manansala was fun to watch especially his playing enthusiasm. Rhythm guitarist Alan Ashby played hard too, and smiled throughout the entire set. Ditto that for drummer Valentino Arteaga, who beat the heck out of the skins. Midway through their set they thanked the previous bands and the fans for their continued love & support and talked about how much fun they'd had playing with all of the bands, especially NOTHING MORE. At set's end, Aaron really got the audience roaring with cheer & applause when he asked if we all were ready for NOTHING MORE. He then waved and left the stage. Last to follow his bandmates was drummer Valentino, who made his to way from behind the kit with sticks in hand, and then he unexpectedly tossed them out to two lucky fans while waving & bidding them good-bye, and then he too left the stage.
Shortly after OM&M left the stage, the white thing that I wondered about and kept stepping on draped around the foot of the stage finally revealed itself. It turned out to be a ginormous curtain to hide NOMO's stage setup while their crew worked to complete their stage for show time. In roughly 30 minutes, lead singer Jonny Hawkins pearched himself on top of a speaker cabinet while the curtain was still up. Courtesy of the way the lights projected onto the curtain, Jonny's shirtless half painted black and muscular body's silhouette had the fans roaring with cheers & applause for them! After another 10 - 15 minutes, drummer, Ben Anderson, lead guitarist Mark Vollelunga, and bassist Daniel Oliver claimed their spots as well.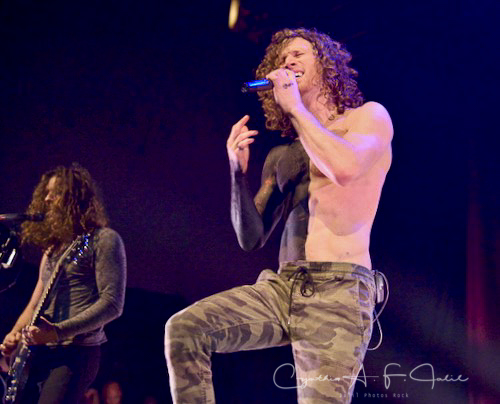 Finally, the music started and the curtain dropped! NOMO kicked off their set with one of their latest songs, "Let'em Burn", from their most recent release The Stories We Tell Ourselves followed by an older fan favorite, "Christ Copyright", from their self-titled release Nothing More. The house went absolutely wild as Jonny addressed the crowd and talked about how excited the entire band was to be back in their home state of Texas! He also made sure to mention just how near & dear to his heart Houston, TX is to him because it is where his beloved mother, who lost her heroic battle with cancer a few years back, was from. The best news for the NOMO fans is that after their stop in Houston, Jonny shared the band's plans to head back home to San Antonio, TX to play their final show and take some time off for a much needed break from the road after their super successful European tour. Their first priority was to get rested up to spend time with their families & loved ones. Afterwards, they're headed back to the studio to focus on writing new material for their next recording before continuing their tour.
After that delivery, the packed house's applause grew even louder! The guys then jumped right back into their explosive show with more special lighting effects paired with several smoke pods going off simultaneously. Mid-show, Jonny stopped to talk about just how personally important NOMO's mission was to help bring attention & awareness to mental illness. He went on to explain how he became involved in raising awareness for mental health issues because of his sister Jenna's struggles & personal challenges to overcome the disease via their #iknowJenny Charity Campaign. Additionally, he reminded the entire audience that from every ticket sold on NOMO's The Truth Tour, one dollar would be donated to yet another charity, To Write Love On Her Arms. TWLOHA was created to encourage, inform, inspire and to help invest directly in the treatment and recovery for those struggling with depression, addiction, self-injury, and suicide. The band then performed "Jenny", dedicating it once again to Jenna along with everyone that may be struggling & trying to over mental health issues. NOMO's partnerships with Bring Change 2 Mind, TWLOHA, The Jed Foundation, The International Bipolar Foundation, Young Minds and the #iknowJenny Mental Health Awareness & Charity Campaign is just one of the impressive humanitarian movements that makes NOMO a band to be reckoned with. And it is also why their NOMO Street Team aka Nothing More Nation members make sure that the guys & crew are taken care of by providing them with home-cooked meals at every tour stop, in addition to making sure that TWLOHA's cause is always front & center. It doesn't get any better than that my friends!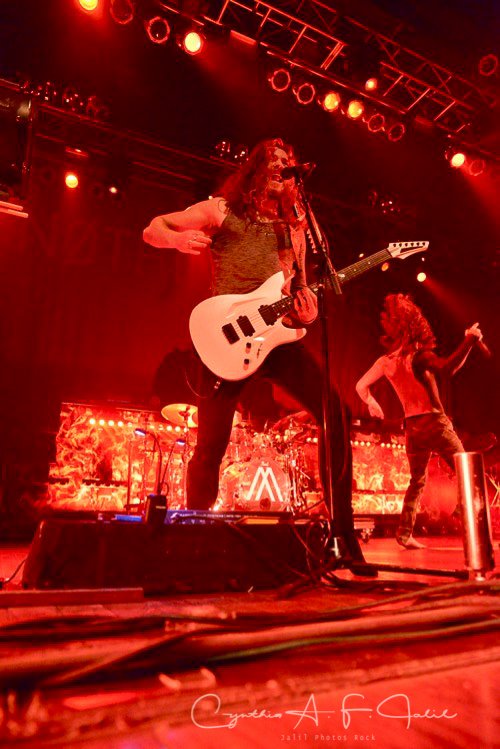 As the band played through their set-list that also incorporates their famous monstrosity of a metal contraption, aka "The Scorpion Tail", that was built to manipulate Mark's guitar, Jonny's vocals & Daniel's bass, they played hard & heavy to fan favorites; "Ballast", "Salem" and somewhere in between, an impromptu NOMO rendition of QUEEN's "We Are The Champions" while the packed house continued to sang along, cheer and applaud the guys for what truly was an unforgettable evening filled with amazing music, fans bonding, and a good ole time for all! Make sure to catch The Truth Tour when it hits a city or town near you - I promise it will be a night that will tide every fan over until NOMO's return!
Thank you Jonny, Daniel, Mark & Ben for always giving 100% of yourselves in every way possible.
Setlist:
"Let'em Burn"
"Christ Copyright"
"Don't Stop"
"Funny Little Creatures"
"Go To War"
"Do You Really Want It"
"The Great Divorce"
"Still In Love"
"Mr. MTV"
"Jenny"
"Tunnels"
"Fade In/Fade Out"
"Ocean Floor/Ballast"
"Salem"
Check out some more photos from the show!
All Photos By Cynthia Fields-Jalil aka Jalil Photos Rock




Please log in to view RANTS

If you don't have a username, click here to create an account!