FALLUJAH Undying Light


By Nathan Dufour, Great White North
Tuesday, April 23, 2019 @ 1:45 PM


| | | |
| --- | --- | --- |
| | | |
FALLUJAH
Undying Light
2019 Nuclear Blast




Change is hard. Band member changes, especially vocalists of established acts, may be one of the hardest. As fans, we so often identify a love for a band by its sound but also by its voice - literally - and so a change in the vocal department can often make or break future success, at least in terms of established fan bases. New fans may also be brought in but many older fans may find preference in older material. Is it time to break up with FALLUJAH?

Undying Light marks the first album for FALLUJAH without original vocalist Alex Hofmann, and their second overall outing for Nuclear Blast. Nuclear Blast is not known for pedalling in progressive death metalcore navel gazing, of which FALLUJAH frequents, so the pairing has struck me as odd for a while now. But then again, I am of the age bracket when labels had sounds associated to them, so that may be just yelling at clouds. Shades on, press play, step into the light.

...And, I find myself perplexed. Lead single "Ultraviolet" serves as the second track and falls flat, lacking in inspiration musically and being more phoned in than your local switchboard. Vocally, the hardcore shouting offsets the mood and doesn't work (not to say it can't, just that in this context something is amiss). That is also not to say that FALLUJAH employed a more aurally soft vocal in the past - simply put, THIS vocal does not work.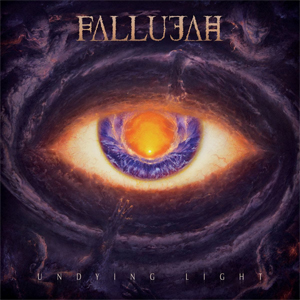 The remainder of Undying Light plods about, feeling lazy. Odd though, all the ingredients that make this band slap are here in abundance and for some reason it just doesn't have the cohesion I want it to. I find myself drawing comparisons to a band that was previously on Relapse, BURIED INSIDE, as there are really glaring similarities here stylistically - which is great company to keep. Ultimately though, the comparison is moreso to the point of one band being simply better at the style (you know, the one I awkwardly stitched together at the onset).
So, is it time to break up with FALLUJAH? Not really. Undying Light is not an outright bad effort. The change of vocalists, in my estimation, should have resulted in the band becoming instrumental only. I do find the album to not be up to par, but that is just me, and FALLUJAH have the reach and popularity to ride it out.
2.5 Out Of 5.0

Please log in to view RANTS