MIKE TRAMP
Stray From The Flock
Target Records - 2019
http://www.miketramp.dk




For anyone who hasn't stuck with Mike Tramp as he has charted his solo career following the end of WHITE LION, you have been on a decades long trek of missing out on one of the most interesting musical evolutions for an artist.

Having reviewed Tramp's previous solo album Maybe Tomorrow and bearing witness to a recent concert on his U.S. tour, I find myself in the odd position of liking Tramp's solo music better than most anything that he did with WHITE LION.

His continual growth as a songwriter is the primary factor in this belief for me. On Stray From The Flock, Tramp's work (he wrote all the songs) raises the game for himself once more.

It should be noted that while there are still a number of tracks on the album that could be described as rockers, there's a slightly more mellow side that some might mistake for a loss of edge or an increase in "softness" to the music. But that's just a bunch of malarkey in my book. Good music is good music regardless of pace or tempo.

In fact, the album opens with a slow burning eight minute track called "No End To War". Given the song title, it is no surprise that it comes off as a protest song. The lyrics leave no doubt. The track opens with a mournful kind of musical intro and it is hard not to dig the overall presentation. As Tramp's vocals come into play, the lyrical content is pretty incisive. What captures lightning in a bottle for me about the song is that while it expresses an anti-war kind of viewpoint, it doesn't come off as some strident screed with more screeching than brains behind it. Instead, the message is conveyed through and inside of the medium of a solidly written piece of music. The song's pacing does pick up late in the run time but everything works together in perfect harmony. You can say the same for the song "You Ain't Free Anymore", another overtly political lyric couched inside a musical soundtrack that thrills the music lover without necessarily softening the intended message behind the words.

And that's just the first song out of ten on the album. The first single released from Stray From The Flock was "Dead End Ride". When the song was put out in advance of the album release I remember seeing some people describe it as a country music sounding number. However, I don't know if I fully subscribe to that notion. What I do know is that it, once again, demonstrates the increased potency of Tramp's songwriting skills. In fact, you can pretty much say that about every song on the album.

I found that of the ten songs on the disc, the only song I really wasn't completely taken with was "Messiah". And that is mainly because of the inclusion of the lyrical line "La La La" that serves as the chorus for the song. While the main lyrical verses are quite good, that choice for the chorus just annoyed me from the start.

The song "Homesick" has been in Tramp's set list and on the album, it's a laid back vocal delivery with a great little lyrical mention of the band KISS that makes you chuckle a bit.

As Tramp delves more into the personal side of songwriting as opposed to the political sounding stuff, he delivers a song like "No Closure". The song paints a devastating lyrical picture about failed family dynamics and the regrets that come from it. In a way it feels wrong to be entertained by such a deeply personal sounding song but the track just gets inside of you.

On his recent U.S. tour, it was just Tramp playing a solo acoustic set. But for the Stray From The Flock album, it is a full band recording and when the material sets its sails towards the more uptempo rocking feel, the high quality songs continue apace.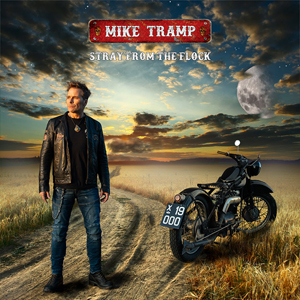 "One Last Mission" rocks from the first note until the last and Tramp's singing paints a picture for the listener of being out on the open road. "Live It Out" is another uptempo track and it comes off as a statement of life affirmation to me. It doesn't necessarily describe me personally but I can see how the song might make people wish they were more apt to follow through on what Tramp is singing about.
As for "Best Days Of My Life", Tramp's romping rocker takes a look back on the early days of his life, enjoys them for what they were but in such a manner that it celebrates those times rather than mourns for their loss.
The album is dedicated to Tramp's late brother Kim and the album closing "Die With A Smile On Your Face" is directly tied to that. The song is the slowest track on the album in terms of pacing and it comes with a spare musical backing. Lyrically, the song espouses the idea of living life on your own terms.
Normally, being a rather cynical sort myself, I'd scoff at a lot of what Tramp is singing about but there's something that strikes me so genuine about Mike Tramp's solo work, I can't help but find myself enjoying what he's singing about. I haven't reviewed many albums so far in 2019 but cynicism be damned, Stray From The Flock is some of Mike Tramp's finest work to date and my favorite album so far this year.
4.7 Out Of 5.0