THE DAMNED THINGS High Crimes


By Ruben Mosqueda, Contibutor
Thursday, May 2, 2019 @ 6:22 AM


| | | |
| --- | --- | --- |
| | | |
THE DAMNED THINGS
High Crimes
Nuclear Blast Records 2019




Ruben Mosqueda Just when you thought you'd NEVER hear another album from THE DAMNED THINGS, they release their sophomore album High Crimes. If you're keeping track, the last time we heard from THE DAMNED THINGS it was close to nine years ago. They're a fun, distinct and energetic band. THE DAMNED THINGS started when FALL OUT BOY lead guitarist JOE TROHMAN and ANTHRAX founder SCOTT IAN got together for a songwriting session that sparked talk of forming a band to record the songs. Shortly thereafter, THE DAMNED THINGS started to gain momentum and soon included Trohman's bandmate, drummer ANDY HURLEY, then ANTHRAX guitarist ROB CAGGIANO [who would go on to join VOLBEAT], EVERYTIME I DIE frontman KEITH BUCKLEY and bassist JOSH NEWTOWN, who at one time was also in EVERY TIME I DIE----Incestuous!

THE DAMNED THINGS went on to release Iconoclast in 2010 and managed to perform at festivals and launched a club tour before, everyone resumed activities with their respective bands. As previously stated, the new album is titled High Crimes and the record features DAN ANDRIANO from ALKALINE TRIO on bass, who stepped in for Newton, who has since left the band. It should be noted that ROB CAGGIANO is also no longer in the band. High Crimes was produced by the in-demand JAY RUSTON, who has worked with the likes of ANTHRAX, STEEL PANTHER, THE DONNAS and STONE SOUR amongst others. THE DAMNED THINGS have a unique sound, they're unlike any other band out there. They've managed to merge punk, power pop with a fuzzy blues twist that works incredibly well.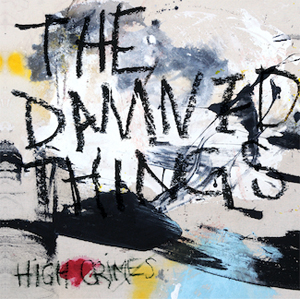 Like other musicians they've got influences and THE DAMNED THINGS wear their influences on their sleeves, for instance you can hear their 'tip of the hat' to NIRVANA on the song "Cells". Sure, it features better guitar work, but I challenge you to say you didn't hear NIRVANA in there. Another gem on the album is "Invincible", which has flashes of blues rock and sounds like it was written in the glory years of 70s arena rock. If you can believe this, THE DAMNED THINGS even offer a left of center moment with the track "Storm Chaser", which clocks in at nearly 6 minutes! It's a fantastic, epic, doomy, bluesy track that is absolutely to die for. As a whole, High Crimes is a marvelous audio journey that you don't want to end, but ultimately does. Let's hope the guys find the time, in between breaks from their respective bands, to crank out another album before another nine years. The band is performing some limited/select live gigs at the tail end of April into early May and one could only hope there's a block of time on all of their schedules for additional dates later in 2019.
4.0 Out Of 5.0




Please log in to view RANTS

If you don't have a username, click here to create an account!