AMON AMARTH Berserker


By Peter Atkinson, Contributor
Thursday, May 9, 2019 @ 11:35 AM


| | | |
| --- | --- | --- |
| | | |
AMON AMARTH
Berserker
Metal Blade Records




If you've essentially been doing variations on the one thing for a long time, repetition is inevitable. And as Swedish heavyweights AMON AMARTH have been at the forefront of "Viking-themed melodic death metal" for more than 25 years, many common thematic and stylistic tropes have emerged, and tend to re-emerge from album to album.

Yet, especially since 2006's With Oden On Our Side, the band usually brought something distinctive or reasonably new to the table each time out and offered a distinctive stamp to an arguably limited sub-genre – be it melodic or anthemic flourishes, more sleek or streamlined production, guest vocalists or, as was the case with 2016 Jomsviking, full-blown conceptualizing. The same, though, can't really be said about Berserker, the band's 11th album, which seems to be missing the "X factor" that made its last half-dozen predecessors stand out.

Despite recording well away from the northlands from which AMON AMARTH hails – indeed the polar opposite in sunny, smoggy Los Angeles – and working with producer Jay Ruston and drummer Joackim Wallgren for the first time, there is a very familiar, well, air of familiarity about Berserker. And sometimes not even of the quintet's own original making.

The opening acoustic notes of "Fafner's Gold" that launch the album are eerily similar to those of METALLICA's "Battery" until AMON AMARTH kicks it into its trademark melodic death metal chug – and recalling any number of its own tunes. That said, it's still a rousing opener thanks to Wallgren's stampeding drums, Olavi Mikkonen and Johan Söderberg's slashing hooks and frontman Johan Hegg's emphatic roar.

"Crack The Sky", which follows, though is a mid-tempo trudge, as is the more Celtic-sounding "Valkyria" without anything to really distinguish them – although "Valkyria" does end with some lonely piano trills, so there's that. The same can be said about the melancholy "When Once Again We Can Set Our Sails", a tale of Viking yearning that the band has spun in one way shape or form on every album it's done.

Not helping matters is that fact that Berserker feels bloated and overlong at nearly an hour's worth of music – as opposed to the more typical, and typically tighter, 45 or so minutes of AMON AMARTH's more classic fare. And repetitive or no, some of the material here is uncharacteristically subpar.

The slower songs, the title track of sorts "The Berskerker at Stamford Bridge" or the epic closer "Into The Dark", feel clumsy and flat as Hegg's lyrics and phrasing never seem to quite sync up and songs lack much oomph. And while the much brisker "Skoll and Hati" is certainly not lacking for punch, it too has trouble connecting its compositional dots.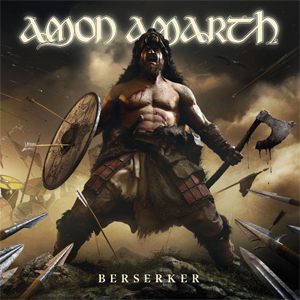 At other times, it just seems like Hegg is grasping for ideas, as on the otherwise bracing "Mjölner, Hammer of Thor", with its nifty IRON MAIDEN-like harmony licks, which turn up a few times here. A tune about the forging of Thor's hammer is nowhere near as compelling as what he does with it – something AMON AMARTH has explored in vivid detail many times, indeed on "Crack The Sky", the song that precedes it!
The band does, however, manage to capture the electricity of the aforementioned "Fafner's Gold" enough here to keep Berserker's head just above water. "Shield Wall", with its crunching, infectious chorus countering a cascade of menacing riffs is both the catchiest and heaviest tune here. "Ironside" brings the same heft with a more frantic pace and another dose of Hegg's furious snarl – though the less said about the cringe-worthy clean verse the better. And redundant though they may be, "Wings Of Eagles" and "Raven's Flight" at least boast plenty of spunk.
Still, that's not a very ringing endorsement, and AMON AMARTH has built a substantial catalog where compliments came easy and there was lots to like. But after a long run where the band was able to capture a certain amount of lightning in a bottle every time out, Berserker comes up empty, with little of that same spark and a lot of what you've heard already before.
2.5 Out Of 5.0




Please log in to view RANTS

If you don't have a username, click here to create an account!