ARCH/MATHEOS Winter Ethereal


By Peter Atkinson, Contributor
Monday, May 13, 2019 @ 8:49 AM


| | | |
| --- | --- | --- |
| | | |
ARCH/MATHEOS
Winter Ethereal
Metal Blade Records




It may not be the full-blown, old-school FATES WARNING reunion many have been pining after for so long – though that has indeed happened in a live setting on several occasions – but the pairing of original vocalist John Arch and founding guitarist/band leader Jim Matheos for the 2011 Sympathetic Resonance album was a pretty satisfying next best thing. Now it gets even better, as the pair has seen fit to team up again to record a second album after long considering Sympathetic a one-off.

And while Winter Ethereal, by its title alone, hints of FATES' progressive metal majesty, the album maintains enough distance so as to give it a distinctive sound, and not come off as a mere knockoff under a different name. Which is no easy proposition, given that, as on the first album, a number of FATES members, current and former, perform here - bassists Joey Vera and Joe Dibiase and drummers Bobby Jarzombek and Mark Zonder, along with TESTAMENT bassist Steve Di Giorgio and CYNIC multi-instrumentalist Sean Malone.

The spiraling "Vermilion Moons" and the aptly titled 13-minute "Kindred Spirits" open and close Winter Ethereal in suitably epic FATES-like fashion. But in between are the unusually curt and thrashy "Straight And Narrow" and the equally catchy, but less urgent "Wanderlust"; the brooding, tangled crunch of "Pitch Black Prism" and the introspective "Solitary Man"; the expansive speed metal of "Wrath Of The Universe" countered by the sparse, delicate "Tethered"; and the monumental "Never In Your Hands", where Matheos takes an opportunity to show his formidable, but often understated, chops with an extended lead/harmony break that at times sounds MAIDEN-esque, which is never a bad thing.

For his part, Arch doesn't seem to have lost anything along the way, despite his relative inactivity since Sympathetic. Indeed, his signature and seemingly effortless warble and croon is as powerful as ever here, as are his unique cadence and swooping melodies that follow the twists and turns of Matheos' darting guitar lines like a cat after a mouse. The synchronicity they still share is uncanny and there seems to be more confidence here than on Sympathetic, as evidenced by the variety of material.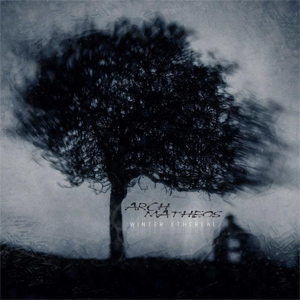 Arch can still get a bit caterwauly from time to time, but the vast majority of his vocals – in their tone and delivery - make a perfect match for the tenor of the material on Ethereal, even on the comparative quiet of "Tethered". At the same time, Matheos seems to have been careful in not over-complicating his compositions – and, as a consequence, inviting Arch to over-emote – so that even the longer songs, and five of the nine top seven minutes, don't feel too elaborate or complex. And all have a hook or a groove – either in the vocal lines or in the riffing, and often both – that offers something to latch on to.
There's a subtle, even surprising, heaviness here too that gives Ethereal some real teeth. Matheos' usually sleek guitaring is a bit rougher and beefier, accentuated by the album's natural, even somewhat raw production. And the rhythms underneath are as assertive as they are fluid, especially on a tune like "Wrath Of The Universe" that otherwise could have become an aimless prog-metal slog.
At six songs over a 55-minute sprawl, Sympathetic Resonance was guilty of just that at times. Winter Ethereal, by contrast, is tighter and more inviting, a more consistent effort overall from top to bottom – despite the eight-year stretch betwixt and between. And while this too is being spoken of as another one-off, the spark here is undeniable and infectious. So let's hope it's not the last.
4.0 Out Of 5.0




Please log in to view RANTS

If you don't have a username, click here to create an account!