I was flying solo as I headed to the VIXEN show in New Bedford, MA on a Friday evening that saw me very happy that the work week was over. While my friend George wasn't really into VIXEN, it was also the same weekend as the M3 Festival in Maryland so some of my other musical friends were off having a ball there.

A pass had been arranged and confirmed for me via KNAC.COM and I was looking forward to rocking the night away with VIXEN. Of course, there was one small hiccup to that. When I got to the venue, my name wasn't on the list. I had planned to leave because I wasn't going to pay for a ticket to get in. I went to say goodbye to my friend Roger and let him know that my pass wasn't there. But he ended up getting me in and the night of rock and roll was back on. Thanks, Roger! (Editor's Note: I had confirmed that Jay would be taken care of 2 weeks prior to the show. I sent a reminder message 2 days before the show and it showed to be read but no reply was forthcoming)

Local rockers PAYBACK opened the show and while I'd never heard them before I came away pretty impressed. They are billed as playing hard rock and metal covers with an edge. They certainly seemed to live up to that billing during their highly entertaining 11-song set.

I missed the majority of their opening cover of WHITESNAKE's "Still Of The Night" but what I did see was damn good. Fronted by Shonna Lee, the band had quite an eclectic mix in their set list. Lee's vocals are powerful but she also gives a pretty interesting twist to the songs. Roger had told me that guitarist Adam Amaral was one of the best guitarists in the area and from what I saw, it certainly wasn't an oversell on his part. Regardless of the song, Amaral's fretwork sounded just like it was "supposed" to and he seemed to do it almost effortlessly. During the solo on Ozzy's "Bark At The Moon", he came out onto the floor to play it.

The band as a whole was a very tight unit and it only made their music that much stronger. And they had some real versatility as well. Drummer Joseph Nunes took the lead vocal on DOKKEN's "Into The Fire" and sounded fantastic. Their cover of THE CULT's "Fire Woman" was superb and that was really driven home to me because I'd been listening to that very song over at Roger's record shop just before the show. In fact, I'd say PAYBACK's performance of the song was better than when I saw THE CULT perform it back in the day because unlike Ian Astbury, Shonna Lee actually sang the entire set of lyrics. Of course, my highest praise for the band would be for their cover of the DIO song "The Last in Line". Given my love for Ronnie James Dio, I'm pretty fickle about bands covering his songs but PAYBACK more than did justice to Ronnie's work and it needed to be said. In all, PAYBACK put on a great show to warm up the crowd and I'd love to see them again!

Set List
"In The Still of the Night" (Whitesnake)
"Modern Day Cowboy" (Tesla)
"Hell Is For Children" (Pat Benatar)
"I Miss The Misery" (Halestorm)
"Into The Fire" (Dokken)
"The Trooper" (Iron Maiden)
"Bark At The Moon" (Ozzy Osbourne)
"Fire Woman" (The Cult)
"Don't Tell Me You Love Me" (Night Ranger)
"The Last In Line" (Dio)
"Cryin' In The Rain" (Whitesnake)
https://www.facebook.com/PayBackNE/
With the relatively recent lineup change that VIXEN has experienced (original singer Janet Gardner leaving to pursue a solo career and the hiring of ex-FEMME FATALE singer Lorraine Lewis in her place), I was really interested to see how the band sounded now.
While I never got to see VIXEN live back during their original run, I'd had an idea in my head forever on how they sounded. Of course, there was a slight delay in seeing how the reality compared to the "fantasy" because as each member took the stage, guitarist Britt Lightning went to play her guitar and nothing happened. This caused the brief pause as keyboardist Tyson Leslie and the stagehands tried to figure out what was wrong. Crisis solved, Britt ripped into the guitar and the band opened the show with a cover of the FEMME FATALE song "Waiting For The Big One". While the song started the show off in rousing fashion, I found that despite loving the track when it was originally released, I didn't quite remember it as much as I thought. In a random kind of way, I got to experience it as almost a new song.
Of course, what really struck me the most aside from getting to see the band at long last was how taken I was with Britt Lightning. And I'm talking about her playing here folks. I know that for the most part, she's playing material that has been around for decades, but she does such an amazing job that it had me thinking, "I want to see VIXEN do a new album so I can see what she does when the material is her own stuff". Her soloing on "Rev It Up" was outstanding.
Of course, part of the draw of the show was seeing Share Ross and Roxy Petrucci laying down the foundation for each song. And they didn't disappoint. With Roxy just killing it behind the kit and the sunglasses wearing Share (more on that later) right in front of me all night, I definitely felt like I was back in the 80's.
The individual performances blended into a whole quite nicely. Singer Lorraine Lewis gives the VIXEN songs a different vibe vocally, making them her own while at the same time keeping the original spirit of the songs intact. And when the band played the FEMME FATALE song "Falling In and Out of Love", their seeming cohesion as a unit made me love the song all over again.
In fact, the concert gave me a new or perhaps renewed love of some of their best known songs. They dedicated "Love Is A Killer" to founding member/guitarist Jan Kuehnemund and the song really struck a chord with me for some reason. And while I have to admit that I didn't really remember much about "Love Made Me", the inclusion of the song made me wonder how it didn't make more of an impression on me before. It was flat out great to hear and made me want to go back and listen to the studio version again.
I mentioned Share Ross wearing sunglasses throughout the performance. There was an explanation for that. She took the lead vocal on the cover of "I Don't Need No Doctor" and in the lead up she said that she doesn't normally wear sunglasses on stage during performances (this led to Tyson Leslie playing the intro to the Corey Hart song "Sunglasses At Night", to great comedic effect) but that she had an eye infection and was wearing them to cover her eyes.
I loved their rendition of "I Want You To Rock Me" but what really struck me was how they threw in a cover of DEEP PURPLE's "Perfect Strangers" in the middle of the song. The band sounded great with both sides of that performance and the vocals from Lewis were great. It was a surprise to hear them do the cover because of my lack of prior concert experience with them. Their live release Live Fire has the same song medley with Janet Gardner on vocals but I didn't own the album before the show.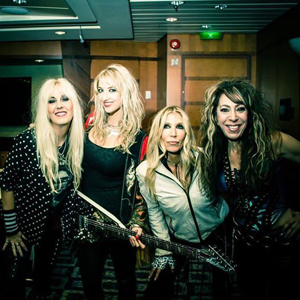 I found that my favorite song of the night was an absolutely blazing version of "Cruisin'". VIXEN crushed it on that song and when you combine that with getting to hear "Edge of a Broken Heart" to close out their show, it was a pretty entertaining night to behold and the future looks bright as they continue onward.
A few days after the show, there was an announcement that VIXEN would be working on a new studio album. Judging from what I saw at the Vault Music Hall & Pub, VIXEN is in fine stead and I can't wait to see what they come up with next.
Set List
"Waiting For The Big One" (Femme Fatale)
"Rev It Up"
"How Much Love"
"Cruisin"
"Cryin'"
"I Want You To Rock Me" / "Perfect Strangers" (Deep Purple)
"Falling In and Out of Love" (Femme Fatale)
"I Don't Need No Doctor"
"Love Is A Killer"
"You Oughta Know By Now"
"Love Made Me
"Edge Of A Broken Heart"
http://www.vixenofficial.com
CONCERT FUN FACT: After their show was over, and despite the venue's seeming attempt to bum rush them and the audience out the door, VIXEN did a brief free meet and greet. I picked up a copy of the Live Fire album and all four members signed it. Lorraine Lewis signed my vinyl copy of the first FEMME FATALE album as well.
Drummer Roxy Petrucci saw the Leather Leone shirt I was wearing and exclaimed, "Leather Leone! Is she still out there? She's so good!" I told her that Leather had released an album last year and in a bit of shameless self-promotion added that I had interviewed her for KNAC.COM. You know that when I got home I messaged Leather Leone to tell her the story. Oh, and I briefly spoke with Share Ross who asked if I'd seen the band back in the day and when I said that I'd never gotten the chance, she thanked me for coming out "tonight" and gave me a high five/handshake at the same time.