WARRIOR SOUL Rock 'N Roll Disease


By Andrew Depedro, Ottawa Corespondent
Wednesday, May 22, 2019 @ 10:25 AM


| | | |
| --- | --- | --- |
| | | |
WARRIOR SOUL
Rock 'N Roll Disease
Livewire/Cargo Records UK




Since fighting their way through the faceless corporate entity known as the music business with their almost-three decade old debut album Last Decade Dead Century, acid punk antiheroes WARRIOR SOUL have scoured and survived the pop culture wasteland infinite times and then some. Even having weathered numerous lineups, unpredictable musical climate changes, even more unpredictable White House regime changes and unscrupulous record labels attempting to pigeonhole their unfamiliar sound, the highly-politically charged band led by the unpredictably wild raucous personality of frontman Kory Clarke have ignored the trends and continued to forge their street ready punk metal to the masses. And with the climate from the last decade of this dead century still coming to grips with Donald "Money Whore" Trump running the Land Of The Free, perhaps what's needed instead of another woke political album is a vitriolic yet heavy-hitting album such as WARRIOR SOUL's ninth studio album Rock 'N Roll Disease.

With eight raw-sounding heavy punk and belligerent anthems of the angry and disenchanted, Rock 'N Roll Disease invokes the primal fury of punk, the swaggering groove of 70's glam and the dark lyrical bite of early grunge. The current lineup of Clarke, Adam Arling (bass), Full Throttle (guitar) and Nate Arling (drums) deliver furious tales of rock 'n roll excess to the millionth degree replete with barreling rhythm sounds and loud wailing guitars. Opening with the rousing number "Up The Dose", Clarke's powerful voice channels its long gritty history of life on the road to a driving rhythmic beat. The title track celebrates the unpredictability of carefree RNR living, the feeling of immortality almost incapacitating and even dangerous – what rock 'n roll in of itself is supposed to be. And numbers such as "Off My Face",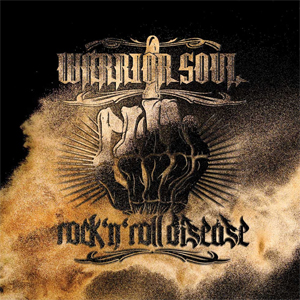 "Melt Down" and "Going Mental" pretty much speak for themselves in their respected titles. You can practically feel Kory Clarke believing the line "Rock 'n roll is hard" in "Melt Down". Luckily, he sounds the furthest from tired on "Rock On" which is the essential old school-sounding WARRIOR SOUL, sardonically biting and full of attitude. Meanwhile, without forsaking his political roots or leanings, Clarke churns out a decent socially conscious banger in the form of "War Ride Children". And while the closing number "After The Show" is curt and condensed at just under 3 minutes, the lyrics read like a wild tour itinerary during the band's infancy as several venues are namechecked in the song such as the Columbia Hotel and the Fox where the band first began playing in the NYC bar circuit.
With over 30 years in the business and countless touring experiences under their belt, WARRIOR SOUL are past concerned about having to push any underlying messages in their music, even having surpassed many of their 90's alternative rock/metal contemporaries who often believed their own hype down to the letter. Rock 'N Roll Disease is the sound of a band unashamed of living life to the fullest in the socially conscious climate that is 2019. For that alone, blessed, indeed, are the sick.
4.5 Out Of 5.0
https://www.facebook.com/warriorsoulofficial
http://www.warriorsoulofficial.com/

Please log in to view RANTS




YNGWIE J. MALMSTEEN, GLENN HUGHES In Worcester, MA With Photos!

ALICE COOPER Road

RAT ROD Four On The Floor

GIRLSCHOOL WTFortyFive?

DANKO JONES Electric Sounds

AVATAR, ORBIT CULTURE, THE NATIVE HOWL In Houston, TX With Photos!

THE DEAD DAISIES In Hollywood, CA With Photos!

KILL DEVIL HILL Seas Of Oblivion

THE DEAD DAISIES In Ottawa, Canada

MAMMOTH WVH In Santa Ana, CA

UADA Crepuscule Natura

BARONESS Stone

KAMELOT, BATTLE BEAST, XANDRIA In Houston, TX With Photos!

CRYPTOPSY As Gomorrah Burns

RAY ALDER II

GHOST, AMON AMARTH In Houston, TX With Photos!

U.D.O. Touchdown

DETHKLOK Dethalbum IV