FLESHGOD APOCALYPSE Veleno


By Peter Atkinson, Contributor
Thursday, May 30, 2019 @ 1:39 PM


| | | |
| --- | --- | --- |
| | | |
FLESHGOD APOCALYPSE
Veleno
Nuclear Blast Records




As the band's classical ambitions really started to get the best of it, a tectonic lineup shift has served to ground Italy's FLESHGOD APOCAYPSE and bring it back to the more streamlined – relatively speaking - symphonic death metal of its earlier days. And though it sucks that FLESHGOD had to endure the departure of frontman/guitarist Tommaso Riccardi and guitarist Cristiano Trionfera after 2016's King to get there, the band has emerged the better for it.

King and its 2013 predecessor, Labyrinth, were redolent to a fault with orchestration, operatics and conceptual high-mindedness, all of which stole more than their share of the death metal essence that made the band's initial efforts - the debut album Oracles and the EP Mafia - so stirring. Veleno offers a more suitable balance – even with Francesco Ferrini still entrenched as the band's pianist and orchestrator. Indeed, this may just be a case where fewer cooks in the kitchen make for a better ragu.

Amid the turnover, longtime drummer Francesco Paoli has retaken the position of guitarist/frontman he had on 2009's Oracles, which helps ease the transition. He also handles the drums on Veleno, with Paolo Rossi continuing on on bass and "clean" vocals. And with the "guts" of the band still intact, FLESHGOD went about peeling away some of the sonic layers that made the last two albums so ostentatious and, at times, overblown.

While the classical flavoring definitely remains - especially toward the end, where "The Day We'll Be Gone" gets the full-blown operatic treatment as longtime vocal accompanist Veronica Bordacchini does a Jekyll & Hyde duet with Paoli and a plaintive solo piano makes up the title track that closes the album - it is better integrated and positioned so as to not be as distracting. It also allows the band's inherent ferocity the space it deserves, making Veleno FLESHGOD's most intense and powerful effort since 2011's Agony.

The album opens, fittingly, with "Fury" which lives up to its name by omitting the obligatory intro and instead stomping on the gas at the outset. It is every bit as, well, furious as the title would imply. Likewise, "Worship And Forget" and the tech-deathy "Pissing On The Score" are delivered with equal vehemence, driven by Paoli's blast beats and frantic riffing. Even here there are strings and chorale swells, but they are applied with a comparatively subtle touch, as is the case over a good part of the album - although Ferrini seems to make up for that with his more frenetic piano clattering.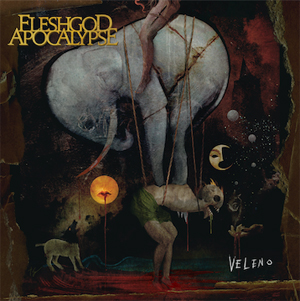 "Carnivorous Lamb" and "Sugar" slingshot their tempos from sprint and slog and build choruses around Rossi's gritty cleans on "Lamb" and Paoli's barked "Push! Push! Push!" command on "Sugar". "Monnalisa", by contrast follows the opulent intro "The Praying Mantis' Strategy" with rousing anthemics and power ballad-like melodrama punctuated by Paoli's double-bass rolls and some nifty harmony leads by session/touring guitarist Fabio Bartoletti.
"Absinthe" plays up the melodrama as well, though with a more aggressive presentation, but lays things on a bit thick toward the end and at 6:09, is about two minutes too long. At nearly eight minutes, the methodical and menacing "Embrace The Oblivion" feels a bit bloated too as it brings a little of everything to the table, including a spoken word passage in typically spitfire Italian. And with the aforementioned "The Day We'll Be Gone" and the title track sandwiched around "Oblivion", the album winds down with more orchestral fizzle than metallic pop – although Bordacchini's vocals on "Gone" are quite stunning and certainly warrant their prominence.
But up to that point, Veleno is a pretty much a best of both worlds proposition. There is plenty of metallic aggression, turbulence and thunder, but enough classical flare to provide color and sophistication while not sanding all the rough edges off. FLESHGOD APOCALYPSE might not exactly be starting over here, but by resetting things the band has made a smart, albeit difficult, move that will hopefully clear a path for the way forward as it moves into its second decade.
3.5 Out Of 5.0

Please log in to view RANTS