DEATH ANGEL Humanicide


By Francisco Zamudio, Metal X Candy 2.0
Friday, May 31, 2019 @ 6:48 AM


| | | |
| --- | --- | --- |
| | | |
DEATH ANGEL
Humanicide
Nuclear Blast




Bay Area Thrash is highlighted as a main volume in an exceedingly growing encyclopedia set that explains this corner of the Metal genre. It set the foundation for various sub-genres and will continue to influence many, many bands to come. It's Thrash 101 and a formula that aspiring bands should learn. A working formula that never grows old despite a fan-base that does, it's a formula that gets passed on to younger generations to carry on, whether as simply a listener or a musician learning about Thrash roots. It fits an angst-filled lifestyle and drives people to properly channel their anger into art or any other daily routine.

Now nine albums deep into their historical existence, Bay Area's own DEATH ANGEL release their full-length again through Nuclear Blast, Humanicide continuing their legacy as one of the top Thrash bands of all time. After decades of putting out constantly great albums, we wonder how it seems to come so easy for DEATH ANGEL. Vocalist Mark Osegueda states "Absolute trust…we've grown, and there's a duality to our respect… we've become tighter than ever as writing partners, for sure. There's a connection with us that just works." From the unique and easily recognizable vocals to the tasty solos and rhythm section between the bass and drums driving that Trash beat, DEATH ANGEL won't disappoint.

Not as dark as their previous release The Evil Divide which had a hint of progression in it as well, nor as laid back like Relentless Retribution that seemed to slightly lean more towards the groove and 'core sound, along with the clean-singing. Humanicide is more akin to their earlier work of straight forward thrash with lots of groove meshed in, but not too much that it slows or weighs down the record, which is good! They've always managed to keep a great balance between the two.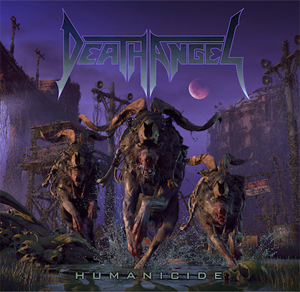 No, you don't need to fall for clever Carl's, Jr ad to absorb this meaty record. Great intros and riffs you can hang your hat on keep you banging your head. The title track leads off with a clever intro to some great ferocity. "Divine Defector" carries the thrash-tastic aggression with some killer bomb-blasts by Will Carroll. "I Came For Blood" is a great driving song that immediately takes off and gives the crowd something to contribute with the exclamation of "I". There are those anthems that speak to you and it essentially is what the connection with Metal is about and such as the case in "Alive But Screaming" that expresses this ideology with catchy and relatable lyrics. You almost think this album will run out of steam halfway through with so much fast-paced energy coming at you early on in the album. Then they back up their threat of a full length onslaught with more intensity such as "Ghost Of Me" and "Of Rats and Men".
Where so many modern bands fall flat and get lost in the cookie-cutter complex, herein steps veterans time and time again, especially in the last decade it seems, to show these new breeds what for. A sense of relief whereas some noobs will scoff at "old timers" still kicking their ass with what a great band does best. If simply their records don't convince you, simply go check out DEATH ANGEL live and get a lesson of true traditional Thrash. Though they've come a long way from 1987's monumental must-listen The Ultra-Violence, they still shape the modern mold of groove-oriented Thrash and never felt the need to "sell out" and compromise their sound for the mainstream. And we thank them for that.
4.0 Out Of 5.0

Please log in to view RANTS