ALICE IN CHAINS In Dublin, Ireland


By Justin Ryan - Dublin, Ireland, Contributor
Friday, May 31, 2019 @ 6:49 AM


| | | |
| --- | --- | --- |
| | | At The Olympia Theater May 21st |
Photos By Justin Ryan
A completely sold out venue of thirteen hundred people were in attendance at The Olympia Theater on Dame Street tonight to welcome back Seattle rock giants ALICE IN CHAINS to Dublin. Although performing short support slot sets in Dublin in 2006 and 2009, this evening's gig (Monday, 21st May, 2019) represented their first headline show here in twenty-six years; the previous occasion was an unforgettable performance at The SFX Center in March 1993 in support of their classic Dirt album.
Kicking off the European Leg of their Rainier Fog World Tour tonight, a total of twenty-two shows across fifteen countries are scheduled in support of their impressive new studio record of the same name. With a mix of headline shows and major festival appearances, to date, seven of the group's headline gigs have been advance sell outs. Given how quickly tickets sold out for tonight's show, many fans in Dublin were both surprised and disappointed that a second performance wasn't added.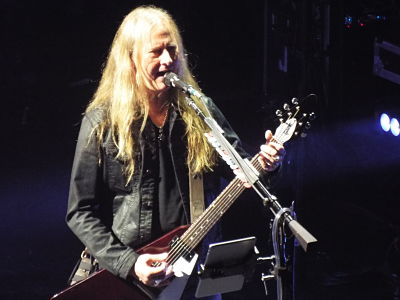 Although support on most of the upcoming European tour will be provided by BLACK REBEL MOTORCYCLE CLUB, for reasons not stated by the promoters, BRMC were not scheduled to play at either the Dublin or Belfast shows. Support at these gigs was announced recently as WYNONA BLEACH, formerly known as R51. The Belfast quintet took stage tonight at 8pm and delivered a thirty minute set of solid material which received a positive response from the already full venue. Judging by the queues outside the venue beforehand and at the bars inside, the crowd was predominantly comprised of ALICE IN CHAINS fans in their early to mid-forties, many of whom are no doubt members of the band's original fan base. However, that said, there were also noticeably quite a few younger fans who are currently in their late teens/early twenties in attendance.
Just before 9pm, the venue house lights were cut and the perennially impressive headliners opened their set with "Bleed The Freak", one of three tunes from Facelift played on the night. Its unmistakable, attention grabbing opening guitar notes generated a staggeringly positive response from the crowd. The first nine songs consisted of an almost even mix of Layne Staley-era and present era material; the band's choice of tunes and the crowd's reaction to same over the opening forty minutes created an electrifying atmosphere in the compact venue. The sheer sonic power of both "Them Bones" and "Dam That River", which were delivered consecutively, was absolutely jaw dropping. It was only when the chilled out "Your Decision" was played that the pulsating momentum was stepped down a gear.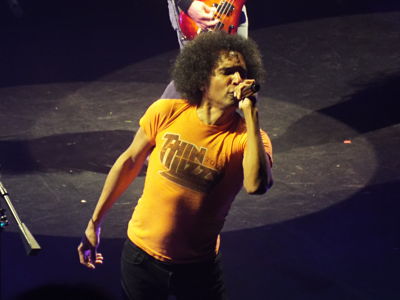 "Dublin, we've been here for the last week and it has been wonderful," guitarist Jerry Cantrell informed the audience which confirmed internet chat that members of the band had been seen around town in the days leading up to this evening's performance. Photos have since been posted on the band's website of bassist Mike Inez and drummer Sean Kinney at Phil Lynott's statue on Harry Street in the city center; in a further nod to the Dublin band, singer and guitarist William DuVall performed tonight's show wearing a THIN LIZZY t-shirt.
As impressive as the crowd's singing had been throughout the gig, it was taken to another level when the opening notes were picked to the beautiful "Down in a Hole". Both Cantrell and Inez took time after its completion to applaud the audiences participation in the song. After band introductions, "Nutshell" was dedicated by Cantrell to the late "Mike[Starr]and Layne[Staley]". Following the stunning "Angry Chair", Inez addressed the crowd, "You know Dublin, I have to say something here. Your singing tonight, wow. Your singing tonight gets a special place in my heart."
The twenty-one song set was concluded with a four song encore beginning with the pounding gem "The One You Know" culled from their latest record. The opening bass notes of the classic "Would?" which were preceded by Cantrell saying "over to the man with the best bass tone in the business" brought the small number of people who were still in their seats in the balconies to their feet. Another absolute classic from Dirt, "Rooster" concluded the one hour, fifty minute performance which had it all; up tempo belters, mid tempo crushers and haunting ballads containing beautiful melodies and spine tingling vocal harmonies. In a word, immense.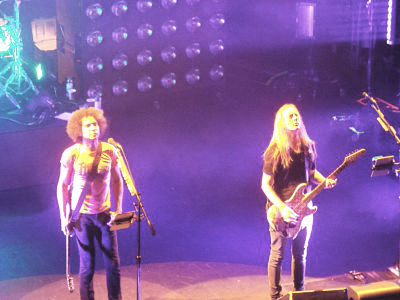 Setlist:
"Bleed The Freak"
"Check My Brain"
"Again"
"Never Fade"
"Them Bones"
"Dam That River"
"Hollow"
"Your Decision"
"Rainier Fog"
"Down In A Hole"
"No Excuses"
"Stone"
"Red Giant"
"We Die Young"
"Nutshell"
"Angry Chair"
"Man In The Box"
Encore:
"The One You Know"
"Got Me Wrong"
"Would?"
"Rooster"




Please log in to view RANTS

If you don't have a username, click here to create an account!