SLAYER, LAMB OF GOD, AMON AMARTH, CANNIBAL CORPSE In Ottawa, Canada


By Andrew Depedro, Ottawa Corespondent
Thursday, June 13, 2019 @ 5:44 AM


| | | |
| --- | --- | --- |
| | | Thrash Titans Roll Their Final Six After 36 Years At Canadian Tire Center, Ottawa, Canada, May 22, 2019 |
Photos By Andrew Depedro
Nearly six months into the Year Of The Farewell Tour, we had accepted that the road to retirement for many of our cherished classic rock/metal idols would finally see the end of the road to their touring/recording career. LYNYRD SKYNYRD, KISS and OZZY OSBOURNE were among the big names in rock that were either scaling down the number of massive world tours they were known to overtake – sometimes taking over more than two years to complete – or officially retiring from touring/recording altogether. Granted, Skynyrd, KISS and Ozzy were a given, seeing as their careers had been over 40 years in the making. But no one had ever predicted that the reigning kings of LA thrash would also decide to call time on their career after close to 4 decades of intense touring. But that was to be the new reality when the news dropped about their final tour. Luckily, the projected 2 year farewell tour which would include a lengthy North American tour (much like the one that KISS will be currently undergoing) would include some special guests who were paying homage to the Slaytanic legends.
Turns out that punching out the literal timeclock for Satan gets earlier each time as myself and a few other people (at least a couple of hundred or so) found out the hard way when CANNIBAL CORPSE took to the stage barely an hour after the doors had opened. If you were arriving from work at the other end of town from where CTC was located, it was unlikely you'd arrive to the show on time or even to hear more than one song once one braved the half hour lineup and passed the security check. As one of the highly anticipated bands I'd wanted to see on this tour, their set, while loud and energetic judging by the last 2 minutes of "Hammer Smashed Face" I was able to just catch in time, was also mercifully short at 25 minutes. A bit of a sore point considering that their own catalogue almost rivals that of the headliners with a difference of about five years and yet they were still left with a fourth-tier slot. I didn't even have enough time to take a photo of their show either. Cut 'em some slack for leaving out "Entrails Ripped From A Virgin's Cunt" from the setlist at least but the soloing chemistry of Erik Rutan (replacing Pat O'Brien, currently mired with many legal problems after allegedly going full-on Florida Man on law enforcement officials after burning his house down recently) and Rob Barrett is a fucking legend live. And, yes, George "Corpsegrinder" Fisher and his gargantuan neck can still windmill with enough power for Justin Trudeau to reduce Canada's carbon footprint through increased use of wind power. But as a kindness for next time, give 'em more than 25 minutes' stage time, please?
Setlist (according to hearsay and folks who were able to leave work at 3 PM):
"Evisceration Plague"
"Scourge Of Iron"
"Red Before Black"
"I Cum Blood"
"Stripped, Raped And Strangled"
"Hammer Smashed Face"
http://cannibalcorpse.net/
https://www.facebook.com/cannibalcorpse/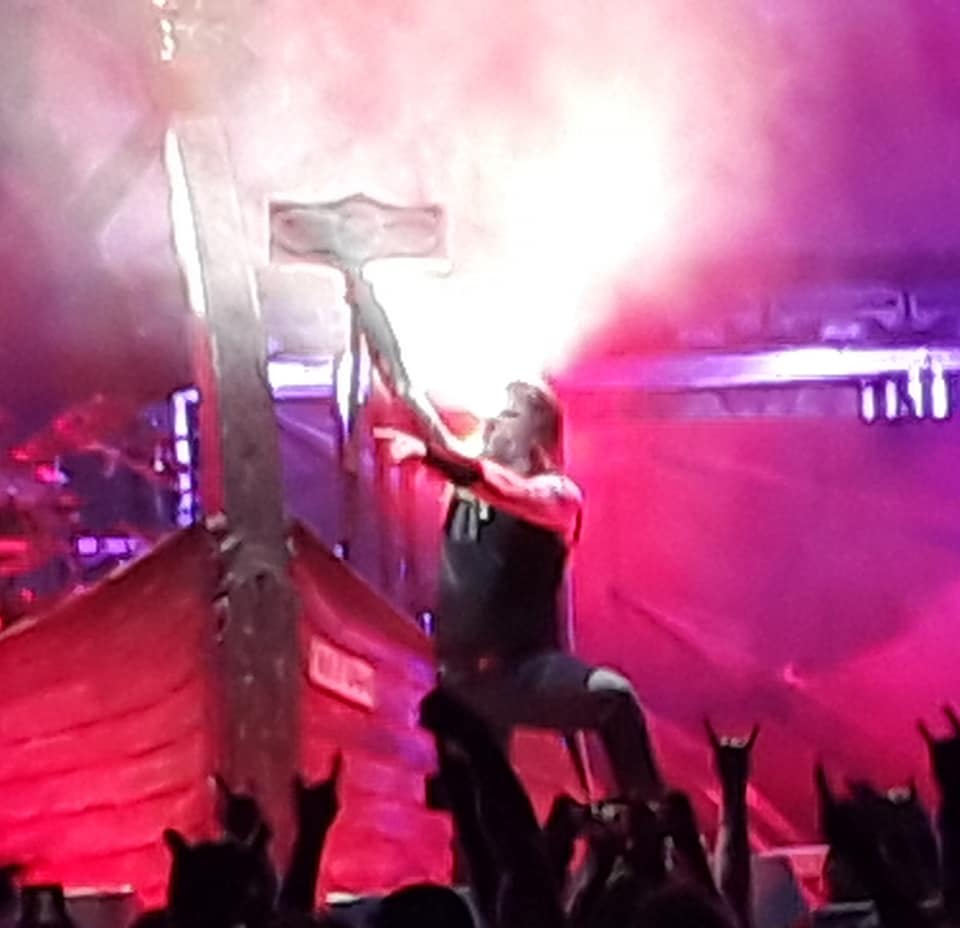 On to the bands I could see in their entirety, Swedish Viking overlords AMON AMARTH not only had a proper duration of stage time, they also used that stage time to arrive in style on a Viking barge to the thundering drum and bass beats of IRON MAIDEN's "Run To The Hills" before launching into their own material, opening, obviously, with "The Pursuit Of Vikings". Under the command of Johan Hegg, the Stockholm-based quintet, also comprised of bassist Ted Lundström, guitarists Johan Söderberg and Olavi Mikkonen and drummer Jocke Wallgren, pillaged the stage like it was a rural Hertfordshire community from the 11th century. The beards and the beer were flowing freely as the pit was alive with the sounds of 20 years of tales of Norse conquest valiance compiled into eleven studio albums including their recent release Berserker. From the pummeling fury of early tracks such as "Deceiver Of The Gods" and "Twilight Of The Thunder Gods" and newer heathen hammer high-flying anthems such as "As Loke Falls" and "Raven's Flight", the band guaranteed that many horns and pints were raised high in the name of the Norse deity that evening. Swede emotion!
Setlist:
"The Pursuit Of Vikings"
"Deceiver Of The Gods"
"As Loke Falls"
"Crack The Sky"
"Tattered Banners And Bloody Flags"
"First Kill"
"Twilight Of The Thunder Gods"
"Raise Your Horns"
"Raven's Flight"
"Guardians Of Aasgard"
https://www.amonamarth.com/
https://www.facebook.com/amonamarth
The stage is promptly set for co-headliners LAMB OF GOD as the Richmond, Virginia-based quintet open with a brutal rendition of "Omerta" set to a large backdrop of their logo. Their set boasted proficiency and efficiency and covered a good 15 years or so of their seven-album discography. Frontman Randy Blythe was the consummate performer, his energetic jumps and mid-air roundhouse kicks riling up the crowd just as much as the raw-sounding thrash rhythms produced by the talents of guitarists Mark Morton and Willie Adler, bassist John Campbell and drummer Art Cruz (subbing for an injured Chris Adler on this tour). From the groove-heavy shredders such as "Walk With Me In Hell" and "Now You've Got Something To Die For" to breakneck full-on thrash jams such as "512", "Engage The Fear Machine", "Laid To Rest" and the closing number "Redneck", the band guaranteed a wild pit throughout their 9-song set especially with Blythe reminding everyone why we were all in attendance that night, but also made sure that they were likely poised to seek the throne in the new era of American thrash. And this could be the tour and exposure that could do it for them. Now that's givin 'em something to strive for.
Setlist:
"Omerta"
"Ruin"
"Walk With Me In Hell"
"Now You've Got Something To Die For"
"512"
"Engage The Fear Machine"
"Blacken The Cursed Sun"
"Laid To Rest"
"Redneck"
https://www.lamb-of-god.com/
https://www.facebook.com/lambofgod/
Finally, the moment everyone had been both anticipating and dreading as this would be the last time their catalogue would be performed live – the beginning of SLAYER's final chapel haunt. But the event was far from being a period of mourning – and this was highlighted as the legendary thrash quartet launched into "Repentless" – as the atmosphere was more of a celebration of the vast body of work which the band has left us with. "Live fast/On high/Repentless/Let it ride!" frontman/bassist Tom Araya screamed with fiery conviction as the backing thrash metal wizardry of guitarists Gary Holt and Kerry King and drummer Paul Bostaph shredded and bashed their way through an impressive 20-song set of well-known and should-be-more-well-known classics while bursts of well-timed flames spouting around them. With the loss of founding member/guitarist Jeff Hanneman and the recent passing of famed album designer Larry Carroll, who had designed many of SLAYER's famed album covers including Reign In Blood, South of Heaven, Seasons In The Abyss and Christ Illusion (which were displayed in his memory each time a song from each album was played), this was a performance which allowed the band's loyal fanbase to travel back to their roots. Among the tried and true headbanging classics on the setlist such as "South Of Heaven", "Raining Blood", "War Ensemble", "Seasons In The Abyss" and closing screecher "Angel Of Death", there was the inclusion of unearthed gems such as "Hell Awaits", "Born of Fire", "Payback" and my personal fave "Chemical Warfare". And while Tom Araya is known for being a man of few words when it comes to giving a speech, his brief exchanges with the crowd – often when introducing the odd song or two, especially when he got the crowd to respond to his chants of "Payback's a BITCH, motherfucker!" – his somewhat placid demeanor was in full view of everyone as they gave him a riveting standing ovation for a full two minutes after the last song of the evening. He'd just come from screaming the lyrics to one of the genre's heaviest songs to standing humbly amongst 10,000+ fans chanting the band's name in unison – the last time in each city he'd be hearing those timeless chants and the last time we could chant them with legitimacy at an actual SLAYER concert. Those chants were what helped shape the aesthetic of our passions as metal and music fans almost as much as the music itself does. And while we can be grateful for the abundance of music that SLAYER will have left us once they close out their illustrious career at their homecoming final gig in LA in December, the metal community will nonetheless be lesser without them. It's probably why Tom Araya could only say one sentence that he could to sum up the band's gratitude for amassing them such a dedicated fanbase that's stood by them after all those years:
"We're really gonna miss you guys."
And with that final six, SLAYER's work is done.
Thanks for keeping metal evil, guys. The feeling is also mutual.
Setlist:
"Repentless"
"Evil Has No Boundaries"
"World Painted Blood"
"Postmortem"
"Hate Worldwide"
"War Ensemble"
"Gemini"
"Disciple"
"Mandatory Suicide"
"Chemical Warfare"
"Payback"
"Temptation"
"Born Of Fire"
"Seasons In The Abyss"
"Hell Awaits"
"Raining Blood"
"Black Magic"
"Dead Skin Mask"
"South Of Heaven"
"Angel Of Death"
https://www.slayer.net/
https://www.facebook.com/slayer

Please log in to view RANTS




YNGWIE J. MALMSTEEN, GLENN HUGHES In Worcester, MA With Photos!

ALICE COOPER Road

RAT ROD Four On The Floor

GIRLSCHOOL WTFortyFive?

DANKO JONES Electric Sounds

AVATAR, ORBIT CULTURE, THE NATIVE HOWL In Houston, TX With Photos!

THE DEAD DAISIES In Hollywood, CA With Photos!

KILL DEVIL HILL Seas Of Oblivion

THE DEAD DAISIES In Ottawa, Canada

MAMMOTH WVH In Santa Ana, CA

UADA Crepuscule Natura

BARONESS Stone

KAMELOT, BATTLE BEAST, XANDRIA In Houston, TX With Photos!

CRYPTOPSY As Gomorrah Burns

RAY ALDER II

GHOST, AMON AMARTH In Houston, TX With Photos!

U.D.O. Touchdown

DETHKLOK Dethalbum IV

STEVE VAI In Ottawa, Canada

PANTERA, LAMB OF GOD In Houston, TX With Photos!