(HED)PE Stampede


By Francisco Zamudio, Metal X Candy 2.0
Monday, June 24, 2019 @ 7:21 AM


| | | |
| --- | --- | --- |
| | | |
(HED)PE
Stampede
Pavement Entertainment




It was the mid to late 90's and was a time that many were hungry and desperate for something "different". People were opening themselves up to different styles of Rock and Metal, and rap-rock had infected the scene. Max had left SEPULTURA and created SOULFLY. A young, raging and short-lived group from Santa Barbara named SNOT was wreaking havoc way ahead of the times. And a hungry band from Huntington Beach named (HED)PE (pronounced "head", aka HED Planetary Evolution, HED Planet Earth) was fusing punk rock, metal, rap, reggae, trip-hop and hip-hop elements in a well-executed manner. These 3 bands would leave a large impact on my life with the multiple concerts they put on together. The energy combined from the 3 was only matched by their debut releases.

The self-titled album by Orange County's "G-punk" threat was another ahead of its time. Now 25 years later, lead singer Jahred (aka M.C.U.D.) stands alone and is STILL trying to "kick-out vibes of unity" ("Hangman" – Church of Realities, 1995). With the departure of the last and long-standing member, bassist Mark "Mawk" Young just before their last release in 2016 Forever! (Pavement Ent.), which was well received – it may have left a long-term effect on things.

Seems what got left behind on (HED)PE's 11th full-length, Stampede (Pavement Ent.) was the aggressively thick guitar tones and that in-your-face punk rock that carried their vibe through the couple of decades, and was substituted for this overly-abundant auto-tuned change from what (HED)PE was. Jahred is known to use this medium to lyrically spread consciousness and shed a bit of lite on corrupted politics, media's mind-control, UFO's and the government's cover-up, and various socio-economical issues. Now that doesn't seem so apparent.

There are some very small glimpses into the heaviness that (HED)PE once had, such as the case in the 2nd track "Can I Rock", but the tongue-in-cheek lyrics and more auto-tuning just sways the vibe back to an unfavorable mood. The track "PWF (Playing With Fire)" also teases some great crunch coming from the guitars, which this album could have used tons more of. "Why Not Me" could have been a great indication that they'd be returning to more of the Punk-Rock vibe, but the song alone couldn't save the album.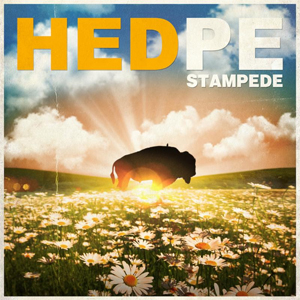 If there was a more solid old-school rap and hip-hop feel to this versus the modern "trap" auto-tune dependency, this would give a better nod to the style that made up (HED)PE's uniqueness. I did certainly respect a lot of what M.C.U.D has gone through and the intensity he had, and the lyrically aggressive but positive method in which he released his emotions through his singing and lyrics and the music as a whole. This is a far cry and no longer the (HED)PE from the rap-rock heydays of the 90's, nor is it the Punk-infused music from the last handful of albums.
Seemed the target demographic for this album is the modern pop and casual music listener too scared to take the swan-dive into the Rock and Metal scene yet fascinated with the lifestyle enough to take aspects of it to use and abuse it for fashion trend, further emphasizing the wrong with the modern pop listener and music as a whole. It's all or nothing, in my book. If this is to be marketed towards that "scene", it could see some success. Coming soon to a strip club near you.
1.0 Out Of 5.0




Please log in to view RANTS

If you don't have a username, click here to create an account!