CHEAP TRICK In Houston, TX With Photos!


By Larry Petro, News Monkey
Friday, July 5, 2019 @ 1:54 PM


| | | |
| --- | --- | --- |
| | | At Karbach Brewery's 4th Of July Celebration |
All Photos By Larry Petro/Petrofyed Photography
As American as apple pie, baseball and......CHEAP TRICK? And why not? The Illinois-based band has been rocking fans in the U.S. (and all over the world) for over four and a half DECADES and what better way to celebrate our Independence Day than with craft beers and a concert by this iconic group? Such was the case on July 4th at the Karbach Brewery headquarters in Houston, Texas.
The brewery, makers of some pretty tasty beer varieties, has had a few concerts in the past with the likes of THE SWEET, WOLFMOTHER, APRIL WINE And RED FANG, but this marked the first time they had managed to snag a Hall Of Fame caliber group and the fans responded by coming out in droves on a hot, steamy afternoon in the Bayou City.
Obviously there was plenty of beer on hand but the brewery also made the generous choice to have ample supplies of bottled water on hand to keep everyone hydrated (for free I might add). There were also food trucks on hand to satisfy everyone's hunger that at times seemed to get overwhelmed by the sheer multitude of people that showed for the event, in my estimation to be a couple thousand, but for the most part things ran pretty damn smoothly.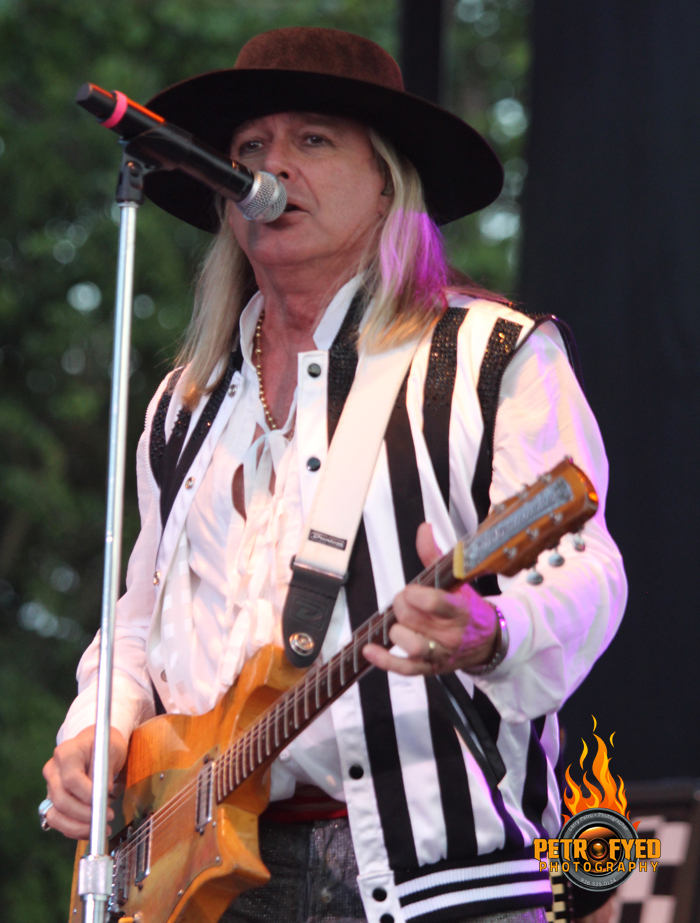 The opening act for the evening was a Dallas based AC/DC tribute band, BACK IN BLACK, and I have to say that they put on a fantastic opening set. When they first took the stage I had my back turned and actually thought that the PA system was still playing recorded music, they were THAT good. The band is led by vocalist Darren Caperna, who manages to pull off both Brian Johnson and Bon Scott personas with near perfection, donning the newsboy cap when playing the role of Brian, then removing it and his shirt when Bon need to appear. He's so good at what he does that he even auditioned with the real AC/DC back in 2016 when they needed to replace Brian Johnson. Pretty impressive, huh? The band rolled through the AC/DC catalog with hits like "Back In Black", "You Shook Me (All Night Long)", "It's A Long Way To The Top (If You Wanna Rock 'N' Roll)", "Highway To Hell", "TNT" and the 1-2 finish of "Thunderstruck" and "For Those About To Rock (We Salute You)". Note to the band: If you're gonna play that song, you really need louder cannon sound effects, but that was the only criticism I could come up with. It was also humorously ironic that the real Angus Young is like the shortest guy in the band but the BACK IN BLACK "Angus" (Mike Mroz) towers over everyone else in his group.
Finally at 8:15pm, the sun was finally dropping behind the brewery buildings and giving us a bit of relief from the heat of the day though the humidity was still so high that yours truly was pouring sweat while standing in the sauna-like mash of bodies near the stage as I grappled for a good position to shoot photos from (even though I was approved by the band the brewery didn't allow anyone into the barricade other than its own house photog, LAME). Luckily, having not shot at this location before I had come prepared with my 70-200 lens so I was set. CHEAP TRICK hit the stage with, what else, "Hello There" from the Cheap Trick At Budokan album of 1978. From there it was a trip through the band's 46 year history, with a 19 song set of material from the band's most recent album, We're All Alright!, in the form of "You Got It Going On", all the way back to the 1977 debut opus for "Hot Love", a song that was requested by a fan holding a sign up asking for it to be played, and everywhere in between with "California Man" (THE MOVE cover), "On Top Of The World", "Baby Loves To Rock" and "Never Had A Lot To Lose".
Last year when the band toured with POISON on their summer shed jaunt the band was direct support and thus only got an hour or so time slot. This show was a headline performance and so we were treated to a few more gems that weren't played last year (as near as I can recollect) including one of my favs, "She's Tight", along with their version of "Magical Mystery Tour" (THE BEATLES) and "Ain't That A Shame" (FATS DOMINO). Of course, bassist Tom Petersson got his moment in the sun (figuratively only by this time) with a bass solo that led into his vocal handling on THE VELVET UNDERGROUND track "I'm Waiting For The Man". And it just wouldn't be a CHEAP TRICK show without the most well-known of the band's catalog, "I Want You To Want Me", "Dream Police" and "Surrender" included. The only curiosity was the one hit that was missing from the list, "The Flame". Strange indeed.
The band was in fantastic spirits throughout the show with smiles all around and guitar picks flying through the air courtesy of guitarist Rick Nielsen, who must own stock in the Dunlap company with all the plastic he launched into the crowd (sometimes literally by the handful). Vocalist Robin Zander has really not lost much over the past 40 years and sounded as fresh as ever. But for me, I know I'm getting old when the band has been around so long that their kids are now members, that being drummer Dax Nielsen and touring guitarist Robin Taylor Zander. These youngsters certainly bring a youthful exuberance and energy to the band that their respective parents seem to feed off of at times.
All in all, it was a fine event put on by the nice folks at Karbach that ran as smoothly as you could ask for with no incidents that I could speak of. My only criticism or suggestion for future shows is to provide the approved photographers with some sort of wristband, laminate or SOMETHING that designates us as such. Almost immediately upon getting checked in and cleared to shoot the show I was approached by two of the security on hand questioning whether or not I was cleared to bring my camera gear in (less than 15 feet from the table I had JUST checked in at). There also seemed to be some confusion as to exactly how many photographers had been approved, with the two nice gentlemen who questioned me first saying that there were only 3 and I was the fourth person they had seen with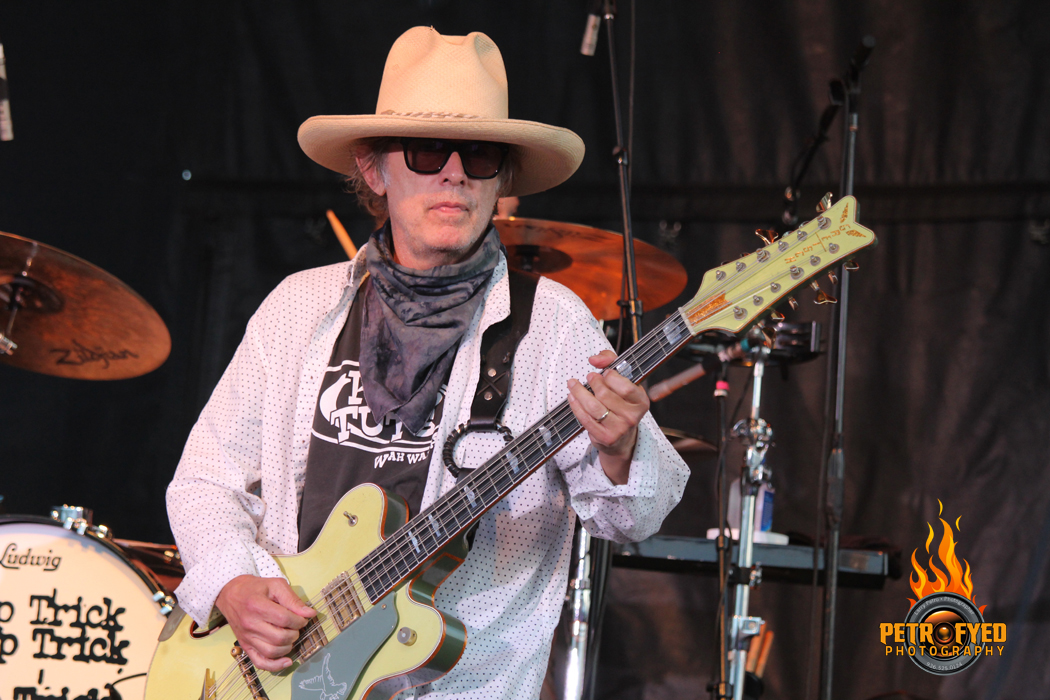 professional gear, and then the second time I was approached by security closer to the stage area where the security stated they were told there was only one. Definitely better communication is needed in that regard.
Setlist:
"Hello There"
"You Got It Going On"
"Big Eyes"
"California Man" (THE MOVE)
"On Top Of The World"
"Hot Love"
"She's Tight"
"Need Your Love"
"Magical Mystery Tour" (THE BEATLES)
"Ain't That A Shame" (FATS DOMINO)
"Southern Girls"
"Baby Loves To Rock"
"I'm Waiting For The Man" (THE VELVET UNDERGROUND)
"Voices"
"I Want You To Want Me"
"Dream Police"
"Never Had A Lot To Lose"
"Surrender"
"Goodnight Now"
Check out some more photos from the show!
All Photos By Larry Petro/Petrofyed Photography

Please log in to view RANTS