JUDAS PRIEST, URIAH HEEP In Los Angeles With Photos!


By Francisco Zamudio, Metal X Candy 2.0
Monday, July 15, 2019 @ 10:27 AM


| | | |
| --- | --- | --- |
| | | At Microsoft Theater, June 27th |
All Photos By Diego Gonzales
I am fortunate in my life time that I am able to see Rob Halford and JUDAS PRIEST perform live. Now more than ever, We need the Metal Gods to wave the metal flag high with pride. Having seen them a few times in the last few years, there is still so much energy coming off stage as there is coming from the roaring crowd of Los Angeles. Another blessing was seeing the legendary Mick Box and URIAH HEEP, who I admittedly was not too familiar with and wow, have I been missing out. After pregaming with friends at the Yardhouse, the bar next door, 8pm rolled around and a URIAH HEEP was taking the stage.
UH opened up their set with "Grazed By Heaven", the same opener to their latest release Living The Dream (2018, Frontiers Music SRL). Followed by "Too Scared To Run" from 1982ía Abominog and here, Box really starts to take off. Bernie Shaw has such a charismatic role, leading the band through every song with truly feel good music.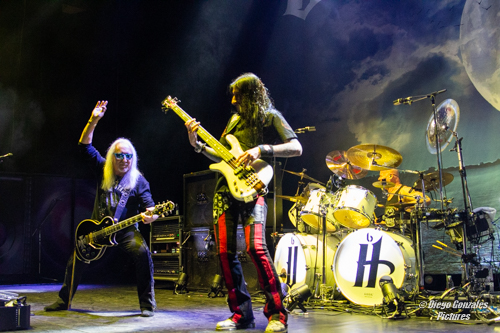 Those unfamiliar with URIAH HEEPís style of Psychedelic Rock, think Blackmoreís RAINBOW and DEEP PURPLE, the later who coincidentally I saw last year with JUDAS PRIEST as well. Their set was a blend of plenty old classics spanning the 4 decades of existence, like "Sunrise" from 1972ís(!) The Magicianís Birthday and a few new cuts from last yearís release. I've got to say, drummer Russell Gilbrook really brought the lumber this night. Many agreed he was really great in his performance and kept the band on point. For me, the highlight of their set was "Gypsy" off their 1st album Very 'Eavy ÖVery 'Umble and here Phil Lanzon played those electric organ and keyboards phenomenally. No arena rock would be complete without some show off soloing and the next song "Take A Look At Yourself". they all really let it go as Davey Rimmerís bass lines and glowing frets made it clear. This performance of URIAH HEEP turned me into a fan and now I trust my bud Jimmy, who attended with me and has been a longtime fan, to further school me on some UH.
Now Iím sure itís a respect thing that BLACK SABBATHís "War Pigs" would be the intro to the Metal Gods, and a good job it did in pumping the crowd up as we all drunkenly sang along. This prepared us for their opening song "Necromancer", a track from their latest smash album, Firepower with Rob Halford donning a purple Voodoo Priest outfit to play the part. From here they headed farther down the highway belting out a couple of classics, and 1 of my favorites "The Sentinel". Still on the heels of their latest release, we knew there had to be plenty of new material in the setllist but to mine and likely many otherís surprise, there were only just a handful of new cuts out of the nearly 2 dozen songs for the next hour and a half. The other new songs on JPís list were "Spectre", "Traitors Gate", of which by the way reminded me of the Italian Opera The Barber of Seville as Halford belted out that catchy chorus.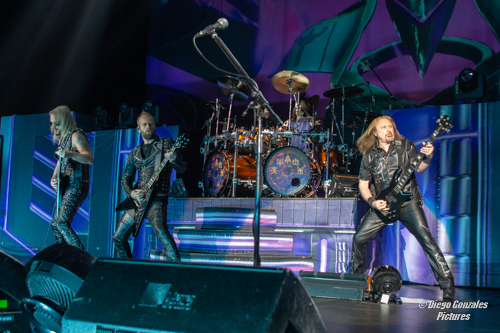 Now given that K. K. Downing and Glen Tipton are not currently a part of this live lineup, you now have producer Andy Sneap stepping up and dueling guitars with Richie Faulkner. Both covered in leather, these modern shredders are filling the void with great respect and power as we had hoped they would. Live, they are both a real treat to watch bouncing solo for solo back and forth. Just as well if not better, rocking the hell out is bassist Ian Hill still holding his own and looking like heís having a great time further powering the rhythm section along with other long time bandmate Scott Travis on drums. These 2 and the Metal God himself who stormed the stage constantly from side to side, all are looking really good this late in the legendary career of JUDAS PRIEST with no signs of letting up.
Their setlist did not only consist of the usual overplayed hits you constantly hear on the local lackluster L.A. radio station, but it gave us some nice deep cuts (setlist below). Props also go out to the video production that provided some awesome visuals throughout the show. From the album artwork to some classic footage of JP throughout the years as well, it definitely added some entertainment value and great background to the show. And of course no PRIEST show would be complete without Halford riding out on stage on his motorcycle. In this, the encore and "Hell Bent For Leather" giving the crowd the mic to sing along for the last ride of the few songs left in the night.
All in all it was exactly what you expect from a couple of bands, the epitome of what you call Classic Rock who just further emphasize that the old school veterans can still rock and put on a great show. And as for the fans, you have so many generations of rockers enjoying it again or for the first time ever and itís certainly something you have to catch in your lifetime to appreciate the music Metal and Rockís forefathers have forged for Us to enjoy decade after decade.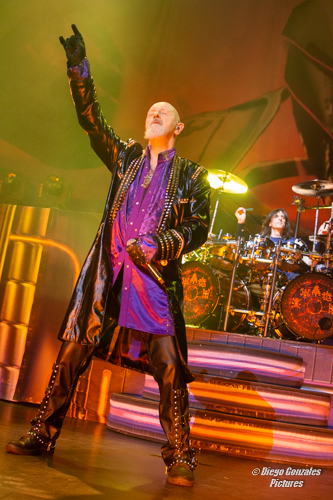 URIAH HEEP setlist:
"Grazed by Heaven"
"Too Scared to Run"
"Take Away My Soul"
"Sunrise"
"Between Two Worlds"
"Gypsy"
"Look At Yourself"
"Stealin'"
"Easy Livin'"
JUDAS PRIEST setlist:
"Necromancer"
"Heading Out to the Highway"
"The Sentinel"
"Spectre"
"(Take These) Chains"
"Judas Rising"
"Out in the Cold"
"Traitors Gate"
"Starbreaker"
"Steeler"
"Halls of Valhalla"
"Prelude"
"Tyrant"
"No Surrender"
"Hot Rockin'"
"Victim of Changes"
"All Guns Blazing"
Encore:
"Hell Bent for Leather"
"Breaking the Law"
"Living After Midnight"
Check out some more photos from the show!
All Photos By Diego Gonzales




Please log in to view RANTS

If you don't have a username, click here to create an account!