Photos By Andrew DePedro
Rap/rock!
Jumpdafuckup music!
Sporty Spice tracksuit metal!
I've made no secret about my sentiments of the burgeoning nu-metal scene some two decades ago just as it was poised to take over from grunge's own near-domination five years earlier. And while it had started off as the worst possible marriage of the hip-hop and rock culture starting with the infamous Judgement Night soundtrack of 1993, few people could have foreseen the genre itself ever having lasted as long as it did let alone having produced a handful of decent bands and albums over time – 20 years and counting.
I, in particular, never would have foreseen myself being a temporary roadie for any of the bands who were on the recent Wisconsin Death Trip 2019 Tour which rolled into town earlier this month. It was initially to be held at the Brass Monkey and would've ended up being yet another unattainable show on a work day for me to attend had there not been a last-minute venue change. My version of the story only goes as far as knowing about deals and concessions being made between the tour's PR management and Brass Monkey staff; next thing I know, the tour's been moved to Barrymore's 13 minutes away from me, BM owner Skotti suddenly doing sound for the show while putting the word out that extra road crew help would be needed afterwards, and suddenly I'm celebrating two decades of Wisconsin Death Trip in exchange for some hard labor after being one of many who answered that call for extra help.
You, the reader, will only get to hear about the part where I saw the bands play.
With barely enough time to get back from my regular paying government job and freshen up for Barrymore's, I managed to arrive on time to catch WEDNESDAY 13's set some three songs in. I still can't get over how my own music tastes have suddenly become so refined over time that I can honestly say that this would be my second WEDNESDAY 13 show (2017's early Thanksgiving show comes to mind when the Brass Monkey treated him and his then-tourmates in EYES SET TO KILL to a turkey dinner). This time around, his set was slightly scaled back to allow for ample stage time which didn't stop him from gyrating like Baron Samedi. At least someone was familiar with his setlist this time around as I was only able to make out a few songs which he thankfully introduced to the crowd: "What The Night Brings", "Serpent Society" and closing number "Keep Watching The Skies", the last two from his 2015 album Monsters Of The Universe. Entertaining overall even if the setlist choices seem to have been rather random compared to his more well-known material.
Setlist:
"Hail Ming"
"Get Your Grave On"
"Zodiac"
"Serpent Society"
"What The Night Brings"
"Keep Watching The Skies"
http://officialwednesday13.com/
https://www.facebook.com/officialwednesday13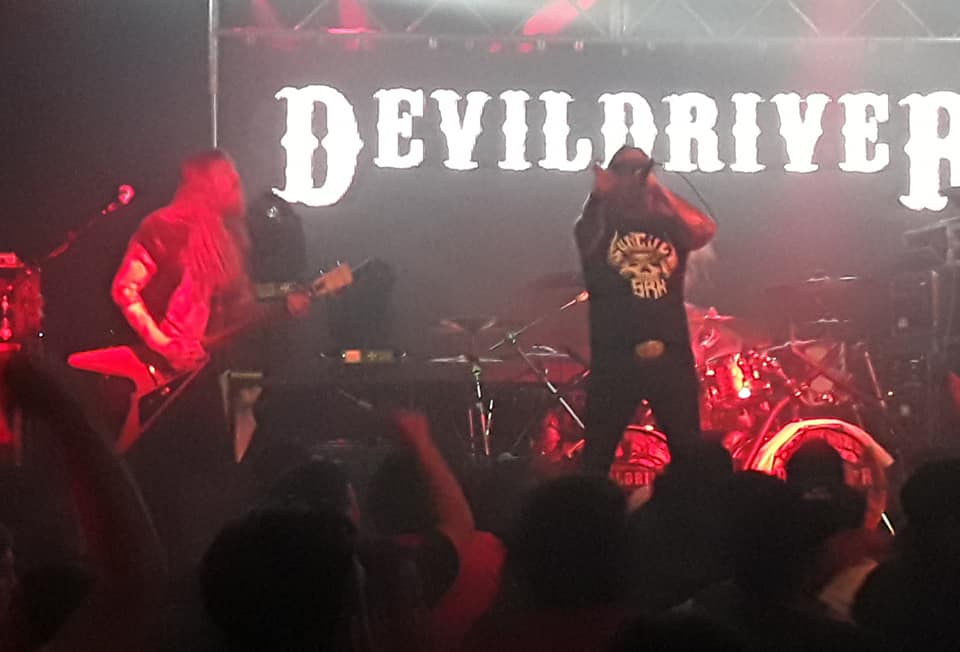 Up next would be industrial bangers DOPE who were on the bill celebrating a musical milestone for more happier reasons as their own debut album Felons And Revolutionaries was also turning 20 years old. Impressive for an album whose best-known hits were covers of "Fuck The Police" and "You Spin Me Round (Like A Record)". And that video for "Everything Sucks" in which frontman Edsel Dope was wearing a MANOWAR T-shirt which he sadly wasn't wearing at the Barrymore's show. Luckily they had a more notable if not a somewhat slightly abbreviated setlist which included "Die Motherfucker Die" and, naturally, their closing and energized-sounding moneymaker "You Spin Me Round" which was well received by the crowd. Even I was impressed at how well their rendition of the DEAD OR ALIVE goth dance classic has held up over time even if DOPE's own stage time was, to be frank, somewhat shorter than anticipated. But power to the band for sticking round (right round) to seeing out the nu-metal scene for as long as they have. It's like a record.
Setlist:
"Blood Money"
"6-6-Sick"
"Bring It On"
"I'm Back"
"Die Motherfucker Die"
"You Spin Me Round (Like A Record)" (DEAD OR ALIVE cover)
https://www.facebook.com/Dopetheband/
http://dopearmy.com/
Maybe it was the fact that they were one of the few bands to break out from the massive rut nu-metal found itself by the mid-2000's from out of the ashes of frontman Dez Fafara's former band COAL CHAMBER, or maybe I was holding out that they'd fit in their admittedly neck-wrecking cover of "Copperhead Road" in the evening's setlist instead of their passable cover of AWOLNATION's "Sail", but co-headliners DEVILDRIVER were my faves of the evening by far. They were easily the most stand-out band as well, adapting to a more rustic rock 'n roll outlaw vibe that boasted more SUPERJOINT RITUAL and less Sporty Spice. Their most recent album Outlaws 'Til The End was even an ode to Dez' country roots/influences and featured some neat country covers from Steve Earle and THE OUTLAWS to name a few tracks. And yet they covered fucking "Sail" by AWOLNATION instead. Luckily, the band including guitarists Mike Sprietzer and Neal Tiemann, bassist Diego Ibarra and drummer Austin D'Amond had enough originals to fire up the crowd, with well-known favorites/KNAC staples "Hold Back The Day", "I Could Care Less", "Not All Who Wander Are Lost" and closing number "End Of The Line" being the top jams of the night alongside a couple of COAL CHAMBER numbers in the form of "Loco" and "Fiend". Just because Dez Fafara isn't exactly on the best of speaking terms with his former bandmates doesn't mean he's not above paying homage to them as they too had their time in the nu-metal limelight – and they definitely devildrove that fact home that night without compromising either their beginnings or their current standings.
Setlist:
"Ruthless"
"Grinfucked"
"Hold Back The Day"
"I Could Care Less"
"Not All Who Wander Are Lost"
"My Night Sky"
"Sail" (AWOLNATION cover)
"Before The Hangman's Noose"
"Loco" (COAL CHAMBER cover)
"Fiend" (COAL CHAMBER cover)
"Clouds Over California"
"End Of The Line"
https://www.facebook.com/devildriver/
https://www.devildriver.com/
With their battle mantra of keeping disco evil and a near-life size LED screen in the background blasting images of song lyrics and neat graphic renditions of their band logo (hence why the Brass Monkey was unable to accommodate the show as its ceilings were too low for the screen to fit), headliners STATIC-X came out in a haze of strong strobe lights and the driving power chord intro of "Bled For Days" (which we used to call "The Tampon Song" in KNAC.COM chat back then). Specifically, much of the current and well-known lineup was comprised of bassist Tony Campos, guitarist Koichi Fukuda and drummer Ken Jay, who were all out to pay homage to the most notably visible and notably absent member of the band: Wayne Static himself. He had announced the band's dissolution back in 2013 in order to
focus on a solo career, only to unexpectedly pass away a year later, with his recordings for his unfinished solo album Pighammer to be posthumously released under the STATIC-X name as Project ReGeneration. Meanwhile, Wayne's previous work with STATIC-X would be immortalized in concert with the surviving members of the band with a live celebration – and someone named Xer0 sporting a ghoulish-looking Wayne Static mask and signature spiked-up hairdo handling his vocal duties. Not much is known about the fill-in frontman, who at one point had been rumored to be Edsel Dope under a pseudonym, but his rendition of the STATIC-X catalogue was faithfully performed. Even from the standpoint as someone who's about as casual as a fan can get, this was a show that was high quality entertainment.
Xer0 clearly had Wayne Static's gritty vocals right down to a fine art as he freestyle rapped his way through fast grinders such as "Sweat Of The Bud" and "Wisconsin Death Trip", roared along to "Destroy All" and "This Is Not" and even crooned through the slow number "Cold". His chemistry with the other members was well-noted as he comfortably jammed alongside guitarist Koichi Fukuda throughout much of their set. Fukuda himself even displayed lots of versatile guitar moves and some decent riffs and seemed to be at ease with Xer0's replicated stage swagger – like he was really Wayne Static himself to the point that he rarely needed to rely on many of the musical cues within the performance to segue from one song to the next. It certainly captured him in more of an authentic light in a live setting more than a mere hologram ever could – ironic considering how integral the whole industrial machine-driven music influence is to STATIC-X's own sound. And having Xer0 repeatedly and genuinely thank the crowd on both his behalf as well as the rest of the STATIC-X crew for turning out to honor the late frontman was also a proper humane gesture.
Looks like after 20 years following this performance I can afford to do the humane thing and credit STATIC-X and nu-metal in general for keeping disco evil and hard rock interesting after the 90's.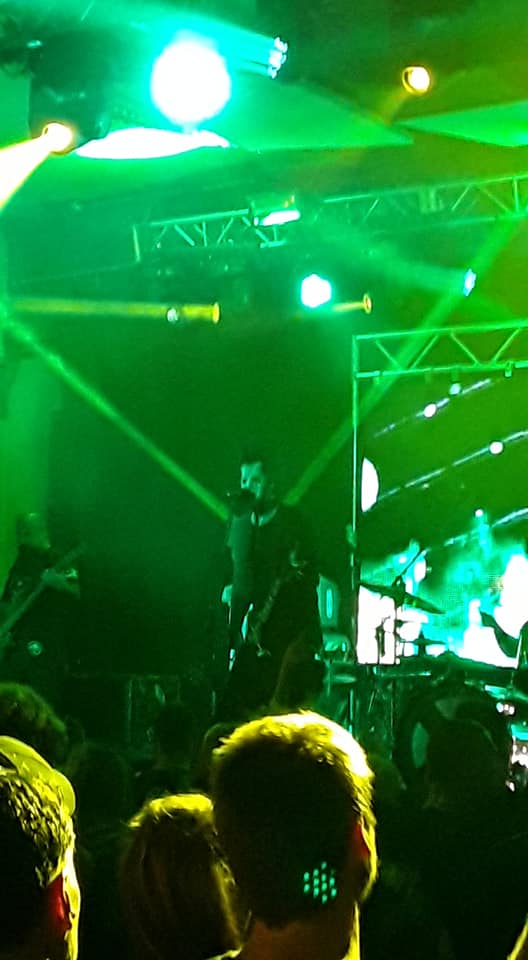 From Wisconsin to the world, what a long strange trip that's been for many.
https://www.facebook.com/staticx
http://www.static-x.org/
Setlist:
"Bled For Days"
"Wisconsin Death Trip"
"Fix"
"Sweat Of The Bud"
"Love Dump"
"I Am"
"Otsegolation"
"The Trance Is The Motion"
"Get To The Gone"
"Black And White"
"This Is Not"
"Destroy All"
"Start A War"
"Behemoth"
"Cold"
"I'm With Stupid"
"Push It"