CARNIFEX World War X


By Francisco Zamudio, Metal X Candy 2.0
Tuesday, July 30, 2019 @ 11:46 AM


| | | |
| --- | --- | --- |
| | | |
CARNIFEX
World War X
Nuclear Blast




There are bands that are defined by their first full length release and maybe even their second. They stick to a sound they developed which likely got them signed and continue down that path. Whether they achieve success early or not is irrelevant to this review. Vice-versely there are groups who take years to "mature", slowly progressing into a better developed sound, both in song-writing and tonality in their instruments as a whole. I remember writing a little about Deathcore facilitated through a band review at the time and the restrictive but successful genre it has become. The formula of syncopated kick drums and muted power chords with all the great (and not so great) filler within a song has had longevity that has certainly surprised me. Unless you're one of those bands content with being lost in the abundant scene of Deathcore bands, it has to take a lot of effort and thinking outside of the box so you don't pigeon-hole yourself.

One of few bands that dared to branch out and make progress towards the right direction is LoCal's CARNIFEX. Marching in with their 7th album entitled World War X (Nuclear Blast) and daring to go even "darker" by incorporating hints of Black Metal influence in their song writing (and looks as well, judging by recent visuals from the band) as well as more of the Symphonic undertones they've incorporated before. Not full on BLACK METAL, but it best describes the direction the San Diego band has taken. I really believe this 1 will be one of those albums that alienate a lot of longtime fans yet at the same time, gaining lots of new ones, me included! They have become a far cry from the band I saw back in 2013.

Throughout World War X you will hear their root style that has cemented them as one of the best Deathcore bands currently out there but you'll also hear a new level of focus. Described by lead vocalist Scott Ian Lewis, "fans are gonna hear a lot of things they haven't before, but it still sounds like us." What makes CARNIFEX great in my opinion is that they make the effort to redefine themselves, keep it entertaining despite holding on to the core breakdowns and the common djent-y aesthetics many core and new bands seem to sample. He goes on to say, "We're trying to push ourselves within what we write, not push ourselves to go beyond our genre. I feel that at some point people feel they need to evolve beyond metal, perhaps for popularity's sake." CARNIFEX are the kind that lean more towards the "DEATH" in "Deathcore" and gives more definition to their sound they've honed for over a decade.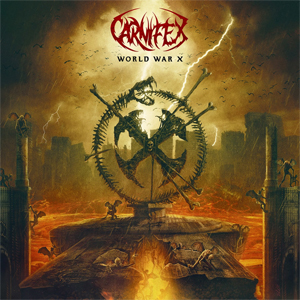 If popularity is what they'd like to taste, bringing in current Metal Vegan spokeswoman and ARCH ENEMY's vocalist Alissa White-Gluz will certainly gain you some spotlight. She adds a very pleasant feel to the track for which they produced a video for "No Light Shall Save Us", making it one of my favorite tracks on the album. "Eyes of the Executioner" is another favorite containing some of the great soloing displayed throughout the album. I also enjoyed "Brushed by the Demons", which gives a great example of the all the great qualities World War X possesses. Surprisingly also earning a guest spot is guitarist virtuoso Angel Vivaldi on the track "All Roads Lead To Hell".
The production by the team of Jason Suecof (Audio Hammer) and Ted Jensen (Sterling Sound) on World War X really helps give some guts to the music of CARNIFEX. I mean, bassist Fred Calderon and his work is a great example and he really shined on this one. Pay attention to his sick basslines. The whole band has stepped it up on World War X. Not since Hell Chose Me (2010, Victory Records), their second best album in my humble opinion, was there a sick and guttural album that honed more of a Brutal Death Metal sound, and here with the "Blackened" elements added makes this album very well put together and a great sign of advancement and progress through their 13 years of existence.
4.5 Out Of 5.0




Please log in to view RANTS

If you don't have a username, click here to create an account!