JOHN 5 AND THE CREATURES Invasion


By Francisco Zamudio, Metal X Candy 2.0
Thursday, August 1, 2019 @ 6:51 AM


| | | |
| --- | --- | --- |
| | | |
JOHN 5 AND THE CREATURES
Invasion
Independent Release




Creepy things lurk in the shadows, so to say that John 5 stepped out of the shadows being a behind the scenes "ghost" guitar player for some iconic living legends, would be a disservice. So he is creeping along excellently in the dark, along with the help of neon colors and fluorescent lights and pretty dames onto his 9th full length album as JOHN 5 AND THE CREATURES featuring Ian Ross and Logan Miles for the latest Independent release (that's right! Solely independently releasing his own music) Invasion.

He's played with many greats and has settled into a persona highly influenced from working with the likes of the "Twins of Evil" (the co-packaged tour starring former and current employers, Marilyn Manson and Rob Zombie). And not unlike the horror movie monsters aficionados, John 5's music and visual artistry is much like watching classic 70's and 80's flicks and shows, as it makes for a suitable soundtrack. There's a bit of psychedelia added to this, if you play along with the videos already released for the album. What makes John 5 that much more of an entertainer is he isn't simply for your ears but for your eyes as well.

Personally, I don't feel John 5 needs to tell people who he is. He has worked hard enough to let his reputation as a world class guitarist speak for itself. So to have a track entitled "I Am John 5" is a tad redundant, but I get the robotic reference of sorts to the classic film SHORT CIRCUIT, whose leading role was of nearly the same name. But words and lyrics inclusively aren't much of a focal point on guitar solo records. This one definitely had that retro TV show theme vibe on it.

Not typical of other solo records where the bulk of the music is straight Rock and/or Metal, but typical of John 5 is to always add that southern twang letting the listener know where his influence blossomed from, such as the track "Howdy", appropriately named. With some Rock-A-Billy, a hint of Psycho-Billy and some Country Blues type swings, he also adds a variety of other genres on Invasion to noodle around with. It's plenty more Dance than anything, with light-hearted jamming allowing him to show off his virtuosity. "Crank It" proves this with the drum-n-bass beat holding steady while John 5 gives the disco track some life. On the track "Zoinks!" he and the band really go off, showing some of that versatility the entire band possesses, with lots of funk and classic rock vibration reminiscent of some Highway Star (DEEP PURPLE).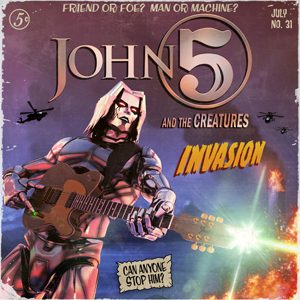 One particular song that for whatever reason hit a chord with me (no pun intended) was "Cactus Flower". With a line cut from the 1976 cult classic suspense horror film by Stephen King and Brian de Palma, CARRIE and the haunting "They're All Gonna Laugh At You!" line, leads off this soft ballad that I was listening to during a recent rough patch I was having in the last couple of weeks. Somehow, certain songs come on and hit you in the emotions and this particular track easily gave you that. So I really gravitated toward this song, thank you John.
It's a great accomplishment to go from a studio musician helping out the likes of David Lee Roth, Paul Stanley, Ace Frehley and Steve Perry (just to name a few) – to having his own identity and recognized as the Guitar Virtuoso that he is. He is a modern wonder in his playing, his visual stimuli matching the eccentricity of his guitar playing stimulates no only the mind of loyal Manson and Zombie fans but young aspiring guitarists as well - and the girls love it too!
4.0 Out Of 5.0

Please log in to view RANTS