DESTRUCTION Born To Perish


By Francisco Zamudio, Metal X Candy 2.0
Monday, August 12, 2019 @ 12:24 AM


| | | |
| --- | --- | --- |
| | | |
DESTRUCTION
Born To Perish
Nuclear Blast




Influencing generation after generation of future Mini Headbangers from all around the world, here again we have an outstanding example of the endurance and longevity that a Metal band can sustain. To be a band from Germany nonetheless, a country ripe with history that's able to overcome all walls and barriers, speaks volumes. Now set aside the successful American version of the "Big 4" and open yourself up like the mental pit it should be, to the German version of The Big 4. If you don't know what I'm referring to (*face-palm*), it includes long-standing greats KREATOR, TANKARD, SODOM and of course DESTRUCTION who release their FOURTEENTH full-length album, Born To Perish (through Nuclear Blast) upon the Thrash-masses.

An even balance of dated style they've honed for over 30 years and the added ability to maintain a modernized style without conforming or "selling out" (what does that even mean nowadays), Born To Perish is a blend of their aged sound with an updated vibe revolving around the groove of a lot modern Metal, groove that has been a part of their sound as well. The inclusion of a modern metal feel doesn't hold back the album as it still gives 110% of Thrash for the listener. The production value on this record has elevated the attitude, especially over the years as their production was always a topic of conversation but today's technology is of real benefit. While many modern bands fall flat and take advantage of over-production, DESTRUCTION does what they do best and doesn't give in so easily.

The beginning track leads off with an extra catchy intro warning you to buckle in for the 45 minute rollercoaster ride you're about to take. Without any steep slopes to build up anticipation, this one has the pedal to the Metal from the get-go. With the grooves incorporated only serving as a temporary cruise around the bend before it continues to take off. The only tunes on Born To Perish that take a cruise-control filled with groove are "Rotten" and the ballad-natured track "Butchered For Life".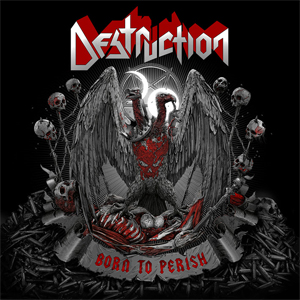 With this new attitude comes the introduction of guitarist Damir Eskic and drummer Randy Black. The addition of a second guitarist fills out their sound and brings in something you THOUGHT you didn't know it needed. In actuality it just gives it that extra gusto. The shredding and drum work on "Betrayal" makes it one of my favorite tracks on the album. Another standout favorite is "Filthy Wealth" and helps gives this album the powerful quality you'll enjoy and has me loving the drumming brought on by Black whose fills, double-bass and triplet rhythms drives this record home and are my favorite aspects of Born To Perish that really enforces this as the Thrash record that it is.
The album is chockful great tunes that will keep this on repeat for avid Thrash fans, novice listeners not familiar with Thrash bands OUTSIDE of the States and Modern Metal fans. It also serves the purpose of re-introducing a Veteran Thrash band to young ears who are just getting into Metal as a whole. It's a blueprint for the modern sound yet holds all the qualities that not only make DESTRUCTION a force to be reckoned with but displays what makes them a household name, not only in their home country of Germany but all over the world. With such a lengthy discography with greats like 2008's D.E.V.O.L.U.T.I.O.N. (AFM / Candlelight Records), All Hell Breaks Loose (Nuclear Blast, 2000), Mental Discharge (Nuclear Blast, 2003) and their re-recorded compilations Thrash Anthems (2007) and Thrash Anthems II (2017) - all should be given a chance by you.
4.5 Out Of 5.0

Please log in to view RANTS