This Wednesday TRESPASS, the legendary NWOBHM band from the '80s, released a new official video of the track "Be Brave". The song is taken from TRESPASS' latest album Footprints In The Rock, released by Mighty Music in January 2018.

About the video, Mark Sutcliffe (vocals, guitar) has the following to say: ""Be Brave" is a song about facing your fears. And sometimes all we have to fear is fear itself! Sometimes you have to make a stand! The video is based loosely on the tale of Red Riding Hood and was produced by Aura Films and TRESPASS."

The band will be touring in the following dates:
21.09.2019 Negasonic Club (BE)
13/14.03.2020 Up The Hammers Festival (GR)
24/25.04.2020 Keep It True Festival (DE)
The video can be seen on KNAC.COM HERE.

TRESPASS was formed in Sudbury, Suffolk, England in April 1979 by brothers Mark (guitar, vocals) and Paul Sutcliffe (drums), Dave Crawte (guitar) and Richard Penny (bass) Around this time they started gigging around East Anglia, playing a mix of rock covers and original songs including early versions of "One Of These Days" and "Lightsmith".

The band were spotted by Trial records, a new local independent record label and were offered an opportunity to release a single. TRESPASS recorded a self-financed session at Hillside Studios Ipswich in October 1979.

A second single "Live It Up" was delayed by the departure of singer Steve Mills and the recruitment of Robert Eckland, also due to major label interest in the song.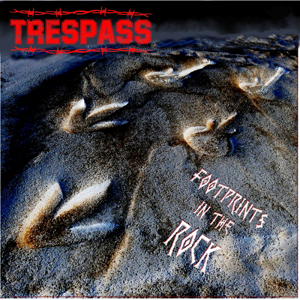 In 1981 the band recorded their third single, the "Bright Lights" EP. Bob Irving left the band during recording. Following the tragic early death of Mark and Paul's father Allan Sutcliffe, TRESPASS finally split in 1982.
Despite their fairly short-lived time on the metal scene TRESPASS made a lasting impact. Lars Ulrich and James Hetfield of METALLICA became members of the fan group, remained fans and "One Of These Days" was featured on NWOBHM compilation 79 revisited put together by Ulrich and Geoff Barton in 1990.
The band released their greatest hits album The Works in 1992. This was also released in Japan through Pony Canyon Records. TRESPASS released a studio album Head in 1993 showing a marked change in sound and style. A 1999, the TRESPASS concert Live in Tokyo Japan, was released through Pony Canyon as Metal Crusade along with NWOBHM bands SAMSON, TANK and PRAYING MANTIS.
A further major worldwide release was One Of These Days the Anthology, released in 2004 through Castle/ Sanctuary Records. A new album, Trespass was recorded in 2012, featuring brand new versions of the band's early tracks, recorded to a high standard with a consistent sound and feel.
The band has currently reformed with Mark Sutcliffe at the heart of things and a new line up.