TOM KEIFER Rise


By Ruben Mosqueda, Contributor
Monday, August 26, 2019 @ 7:04 AM


| | | |
| --- | --- | --- |
| | | |
TOM KEIFER
Rise
Cleopatra Records 2019




Two things before we get this review underway; I finally got the opportunity to see TOM KEIFER this February on the MONSTERS OF ROCK CRUISE. It was the first time since seeing him with CINDERELLA in 2010. The Keifer band were tight and put on a pair of blazing performances on the ship, but even that being the case, I was a little skeptical about the new album, because The Way Life Goes was a departure from the CINDERELLA sound. Don't get me wrong, I enjoyed The Way Life Goes, but it was uneven at times and a bit 'too light'.

Keifer promoted The Way Life Goes from 2013-2018 with the album getting the 'deluxe' treatment in 2017 with bonus content, reissued by his current label Cleopatra. A strange landing spot for Keifer, as Cleopatra has been the land of industrial music, tribute albums and re-record albums.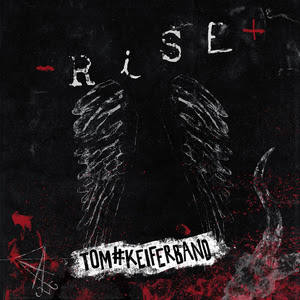 The new album titled Rise is due on September 13th [yeah it's a friday], and it's a return to form for Keifer and company. Rise features a cross section of tunes that cull inspiration from Night Songs and Long Cold Winter with a potent, modern age punch that will please diehard and casual fans alike. There's riffs a plenty, gritty, powerful vocals, and well crafted ballads, making for a well balanced listening experience.
The opening track and the next song "Touching The Divine" and "The Death Of Me" are ferocious, riffed based tunes that are a throwback to the first couple of CINDERELLA records. They're absolutely incredible. The first ballad on the record "Waiting On The Demons" is a nice mix of something you would have heard on The Way Life Goes and one of the classic ballads from Keifer past. The title track is also a highlight, but the best tune on the album, "All Amped Up", was created to be played live and not to remain in the world of 'deep cuts'. If you were indifferent about The Way Life Goes because Keifer took a slight left turn, rest assured, he righted the ship, he's got his foot on the throttle and he's not letting up. On Rise Keifer is showing the kids and his contemporaries how it's done. Well done KEIFER BAND.
5.0 Out Of 5.0

Please log in to view RANTS