TOM KEIFER BAND In Houston, TX With Photos!


By Halo, Heavenly Contributor
Monday, August 26, 2019 @ 8:41 AM


| | | |
| --- | --- | --- |
| | | #keiferband At Warehouse Live |
All Photos By Cara Neff Photography
I donít think itís possible for Tom Keifer and the #keiferband to ever put on a less than stellar live show. I may be biased but then again Tom is one of the most talented musicians that has had permanency in Rock N Roll.
CINDERELLA was undeniably one of the biggest bands in the 1980ís and 90ís. Some will classify them in the ďHair bandĒ or ďGlam RockĒ era. The big hair is now tamed but Tom Keiferís voice is still phenomenal and he still hits the high notes just as he did when we all watched them on MTV. This was my 5th time time to see Tom live. The first two times were during the CINDERELLA days and the last three were over this last few years and I donít care how many years pass by, the concert is still one of the best I know Iím going to see all year. There are always some artists you just donít want to miss and Tom Keifer and the #keiferband is one of them.
Warehouse Live was a packed venue. Itís a pretty large venue and it was a sea of people on the floor and up in the balcony. The show kicked off right as scheduled and the band took the stage. The #keiferband consists of what Iíd describe as a family of musicians. They are all supertalents in their own rights. On drums is Jared Pope, Kory Myers on keyboard/vocals, the energetic Billy Mercer on bass/vocals, Tony Higbee, a badass guitarist and vocals. On Vocals and percussion is the awe-inspiring Kendra Chantelle. The beautiful wife of Tom and ultra talented Savannah Snow is also on vocals, percussion and piano. Tom of course rounds this tremendous band out on vocals of course and numerous other instruments.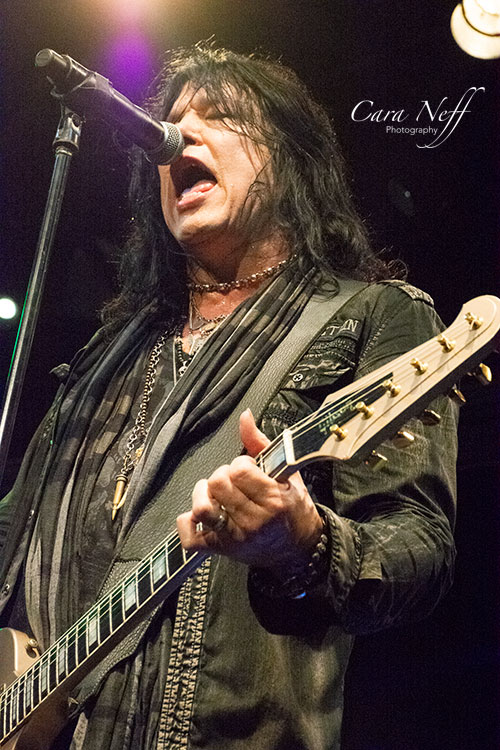 The band kicked the show off with "Touching The Divine" from Rise, the second solo album due for release Sept. 13th. The next few favorites that were belted out in true Tom fashion and with his well known raspy, high octave range were "Night Songs", "Coming Home", "Itís Not Enough" and always a crowd pleaser, "Save Me", of which Tony Higbeeís solo was marvelous. The fans never tire from hearing these hits. Next was the title track from the new album Rise. It was well received by the adoring fans. "Nobodyís Fool" started and Iím gonna take a guess that 85% of the audience was singing this one. After a couple more came one of the moments during this show that fans have started to expect. The piano gets brought out and we all know this means the collaboration between Tom and Savannah is getting ready to happen with the 1988 power ballad hit "Donít Know What You Got (Till Itís Gone)". The two both hit all the high notes and you immediately go back in time thinking of the video that was filmed at Mono Lakeís Bodie National Park in California. These hits never get old.
Pope is pounding away on "Shake Me" as the crowd is singing so loud, and Tom is sharing the mic. The band exits the stage but those of us that have seen Keifer shows know theyíll be back out. When they return, "Death of Me", the single that was released from Rise, starts. Kendra and Savannah are awesome in this. They are awesome during the entire show but I love them doing this one. Tom and Savannah created this one ďto inspire people not to give in to or be defeated by the seemingly insurmountable lows that we all some time face, but rather to RISE and overcome them,Ē Tom Keifer explained. I believe this one is personal and you can feel it throughout all on that stage. Closing the show with "Gypsy Road" is always a party. All of the #keiferband are dancing, pairing up on the microphones and just all over the stage loving what they do. Houston was given a badass show. Look the tour schedule up. Venues in some states are selling out. Get your ticket.
Check out some more photos from the show!
All Photos By Cara Neff Photography




Please log in to view RANTS

If you don't have a username, click here to create an account!