All Photos By Travis Failey/Rocket Sports & Entertainment
The Knotfest Tour roared into Tampa Bay after many fans waited with baited breath for the last week as Hurricane Dorian churned in the Atlantic. If the storm would have come further west through Central Florida, the show would have been cancelled or delayed but as they say the clown show must go on.
Wednesday's show was also the only Florida stop for the tour and fans came out in droves from all across the state and semi-packed the Mid-Florida Credit Union Amp by 5:30 to catch the opening act in BEHEMOTH. BEHEMOTH was one of four bands as this year's Knotfest tour also featured GOJIRA, then Copenhagen's own VOLBEAT with SLIPKNOT headlining of course.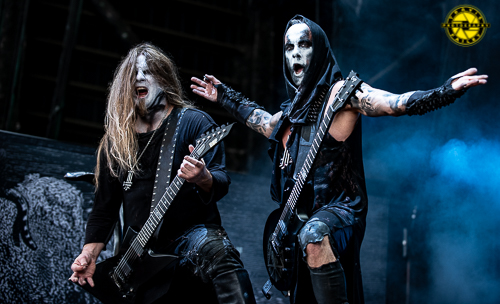 BEHEMOTH got the night started as the blazing Florida sun pierced through a partially clouded sky with many attendees still hanging out in the parking lot and getting their "party-on". BEHEMOTH's drummer Inferno was first to take the stage in front of a black and white backdrop that had an upside down cross mixed in with an American flag. The amphitheatre lawn was then turned into a grassy mosh pit as soon as Inferno kicked the double bass drum to start off their first song of their set with "Wolves ov Siberia".
Next up was "Daimonos" which is a powerhouse of a track from 2009's Evangelion which was followed up by "Ora Pro Nobis Lucifer". To be honest with you, I'm not really familiar with much of their catalogue but their stage show is amazing especially due to their singer and guitar player Nergal who named himself after a Babylonian Diety.
Nergal is also the founder, lyricist, main composer, frontman and manager of the band and as flames and fog lit up the stage, Nergal came out with two flaming extensions of his arms to the crowds delight during "Bartzabel". BEHEMOTH continued with "Conquer All" as lead guitarist Seth and bassist Orion traversed the pyro intense stage. BEHEMOTH finished with "Chant for Eschaton 2000" with Nergal addressing the crowd with a Terminator-like "We'll Be Back".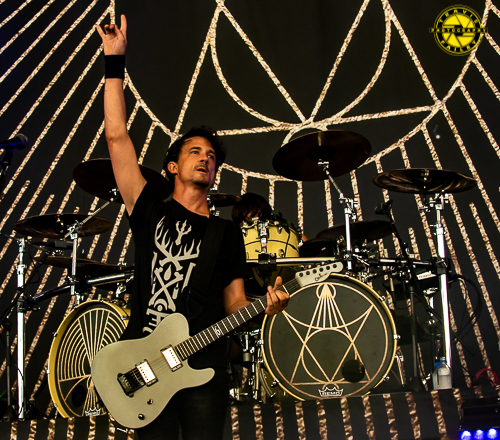 With a brief stage change and as more fans entered the amp, GOJIRA hit the stage with a no frills, maniacal set. Frontman Joe Duplantier snarled throughout the set ala Dave Mustaine and shredded through the opener "Oroborus" with guitarist Christian Andreau as his brother Mario flung drumsticks into the crowd. When he wasn't chucking his sticks, he was hammering his drums as even more pits opened on the concrete floor in front of the stage. With the security once again doing a great job helping to keep the chaos contained and the crowd surfers from bloodying themselves, GOJIRA continued their set with "The Cell" and "Silvera".
Prior to playing their finale for the night in "The Gift of Guilt", Joe Duplantier paid tribute to Tampa and Florida's Death metal pioneers "We would be nothing, and I mean fucking nothing, without MORBID ANGEL, DEATH, fucking CANNIBAL CORPSE, and all these fucking bands from Florida that inspired us so fucking much."
With another quick stage change, a change of pace was also on the agenda as VOLBEAT was up next and what a change it was. No bells or whistles, just straight ahead rock with some hillbilly and Johnny Cash rolled into a beautiful mix of rock radio tracks and some METALLICA-like shredding. VOLBEAT got the crowd into their set right off the jump by playing 3 of their biggest hits to date with "The Devils Bleeding Crown", "Lola Montez" and "Sad Man's Tongue".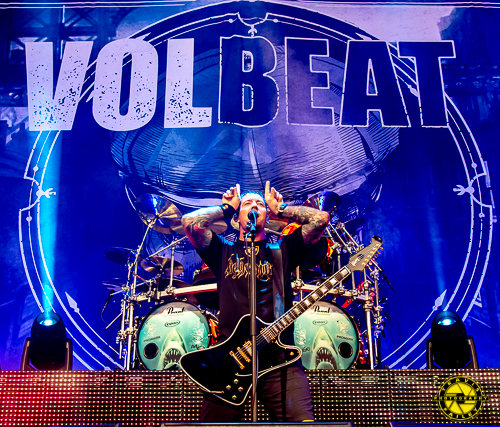 VOLBEAT was once again in top shape with guitarist Rob Caggiano ripping through solo after solo and performing with a huge smile on his face that reflected off the ones in the crowd. VOLBEAT and their music have that effect on people and that is why they are so popular. They are also not your standard cookie cutter band and they have developed their own sound that is like no other you hear on terrestrial or satellite radio. They also come across as good guys and they must be if bands like SLIPKNOT and METALLICA are taking them on world tours across the globe.
VOLBEAT continued with "Black Rose", then prior to the very metal "Slaytan", VOLBEAT played a segment of SLAYER's "Raining Blood" with singer Michael Poulsen teasing "Yeah, you wish". They then spun "A Warrior's Call" into a cover of Dusty Springfield's "I Only Want to Be With You".
VOLBEAT then introduced their new single, "Last Day Under the Sun", with the crowd blasting out the chorus and then VOLBEAT closed out their 12 song set with "Seal The Deal" and then "Still Counting". You might think that their inclusion wouldn't work with the rest of the lineup, but VOLBEAT was a perfect segue into the sonic beast that would take the stage 30 minutes later in Iowa's own SLIPKNOT.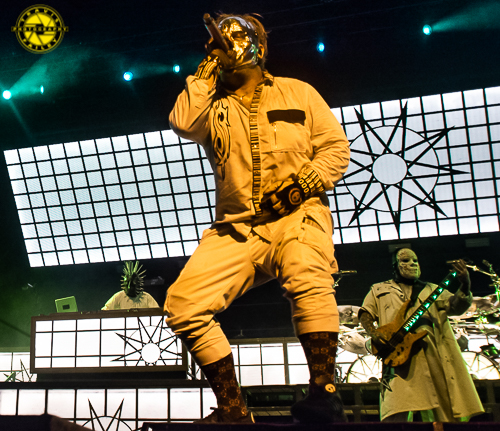 SLIPKNOT has been out on tour in support of We Are Not Your Kind, which is their 6th studio album and first to hit #1 in the US and UK. The show's production is on another level in league with a KISS or IRON MAIDEN show and that's the way Corey Taylor wanted it. He stated "The show looks amazing," (via Loudwire). "Not only is it interactive – there's video, there's fire – but the whole set looks like an industrial complex. This is our attempt to create some IRON MAIDEN stuff, which is something we've been trying to do for a while. Honestly, it's everything that we've wanted to do for years, and we just never had the budget, and we had also had a lot of people around us telling us we couldn't do it."
Prior to the curtain dropping or actually getting sucked in, which is a whole new process, the fans in face paint were everywhere. There were also plenty of fans spilling their beer or spilling themselves. It still amazes me how people get so bombed that they miss the band they came to see but as "For Those About To Rock" hit the speakers, everyone's focus was back on the stage.
Clown, Corey, Jim Root and the other 6 members of SLIPKNOT hit the stage and set the tone by opening with "People=Shit" and the sight and sound bonanza had begun. Nonstop flashing of lights, lasers, pryo and fog surrounded the stage as the members of the band all wore white jumpsuits and jackets along with their trademark masks. All of them had to be extremely hot but it probably added to an unbelievable performance from them and the best I've seen in the last decade.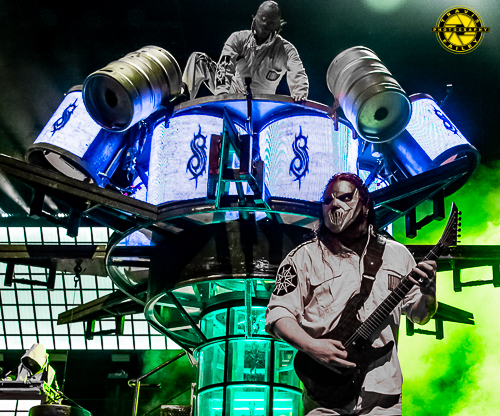 They followed up with "sic" and "Get This" before Corey Taylor addressed the crowd with "there wasn't any fucking way a goddamn hurricane was keeping us from fucking coming down here. I know a lot of people fucking chickened out because they weren't sure if the storm was going to be there," Taylor told the crowd. "You tell those motherfuckers what they missed tonight." Taylor then took off his jacket and SLIPKNOT went into their biggest hit off the new album in "Unsainted" and then into another well known track in "Before I Forget".
SLIPKNOT's use of multi-percussionists was in full use as Jay Weinberg crushed the skins as Clown and SLIPKNOT's newest member Tortilla Man, smashed the garbage can floor toms above the main stage that were illuminated by led lights and screens. They even smashed one with a flaming baseball bat during the last song of the main set in "Duality".
Taylor's vocals were powerful and solid throughout the night and he never let up as he switched from growling tones on "Vermillion" to harmonic melodies and chorus on "Wait and Bleed". He's one of the best front men out there whether he is fronting SLIPKNOT, STONE SOUR or his own solo project.
Taylor is also back in full heading banging mode as he has fully recovered from his past neck injury. The other members also took part in riding the conveyor from side to side and also made full use of the fireman's poles on the sides of the stages to maneuver the multi-tiered stage.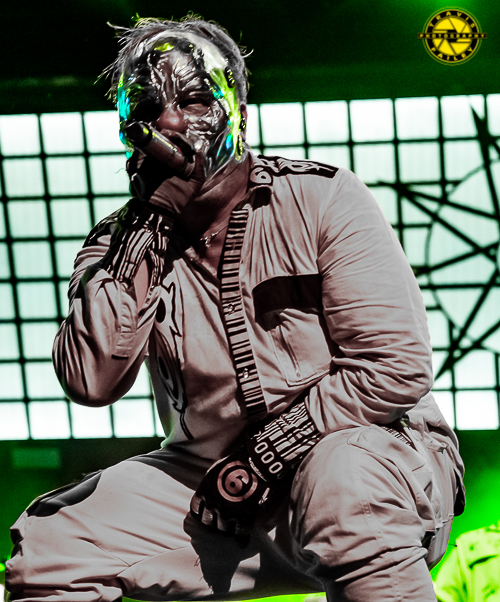 After "Sulfur", SLIPKNOT continued with another track from We Are Not Your Kind with "All Out Life". After "Duality", SLIPKNOT continued without a break for the encore with "Spit It Out", with Corey Taylor telling everyone on the floor to sit down until he tells them to jump up. It was complete chaos as they crowd followed his commands as flash bombs and pyro filled the stage. Once again Taylor was in complete control of the symphonic mayhem in Tampa as he has in years past.
As SLIPKNOT finished the encore with "Surfacing", Taylor and the crowd looked like they were soaked in sweat and exhausted from the performance. Once again SLIPKNOT put on a show that only a few bands can rival and with a four pack of bands that gave their all under the steam bath that is the Florida sun, Knotfest was the hurricane that succeeded in slamming Florida.
Check out some more photos from the show!
All Photos By Travis Failey/Rocket Sports & Entertainment