DIVINER Realms Of Time

By George Mihalovich, Pure Rock Patroller
Thursday, September 26, 2019 @ 10:28 AM

| | | |
| --- | --- | --- |
| | | |
DIVINER
Realms Of Time
Ulterium Records




DIVINER appeared on the scene in November 2015 with their impressive debut, Fallen Empires. They return with Realms of Time, another collection of streamlined classic heavy metal/power metal songs that propel the band to the next level.

The foundation of this disc is the excellent writing, complemented by the individual contributions of the band members: Fragiskos Samoilis' de rigueur technical drumming supported by Herc Booz (bass); the memorable riffing and dual guitar work of Kostas Fitos and George Maroulees (often reminiscent of JUDAS PRIEST via the alternating solos with an occasional added dual harmony section); and the excellent vocals of Yiannis Papanikolaou. His post-Dio style provides the commanding presence that is a prerequisite to take this style of music from pedestrian to world-class. While no one can surpass Ronnie James Dio's mastery, Yiannis is an example of someone who has learned from him and adopted the approach to good effect.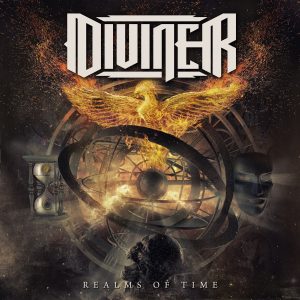 All of DIVINER's promo offerings — including the official video for "Heaven Falls" and the lyric videos for "The Earth, The Moon, The Sun" and "Beyond The Border" — position them as a top-notch outfit. A slight deviation from the winning formula is found on the acoustic intro and outro of "Stargate," which adds some contrast to close the record. Not surprisingly, the engineering and mix (Fotis Benardo), mastering (Henrik Udd) and production (Fotis Benardo and DIVINER) are entirely appropriate.
Realms of Time is a relentless and consistently melodic effort — all killer, no filler. Fans of DIO, PRIMAL FEAR, NIGHTMARE and other leading proponents of modern classic heavy/power metal should find this right in their wheelhouse.
4.6 Out Of 5.0