THE DEAD DAISIES Locked And Loaded


By Daniel Höhr, European Correspondent
Tuesday, October 1, 2019 @ 12:32 AM


| | | |
| --- | --- | --- |
| | | |
THE DEAD DAISIES
Locked And Loaded
Spitfire Music/SPV, 2019




If there is a contemporary rock band that seriously celebrates the joy of Rock 'n' Roll music, that is a killer live – and therefore best enjoyed lived – and that has counted illustrious names such as (in no particular order) Doug Aldrich, Marco Mendoza, John Corabi, Brian Tichy, and, as of late, the legendary former DEEP PURPLE vocalist and bassist Glenn Hughes amongst its ranks, it is – you guessed it – THE DEAD DAISIES. While this Australian/American all-star band continuously redefines itself line-up wise, it has always stayed true to its mission and that is playing true and honest rock music that never gets old and never loses its drive. Their 2017 live album Live & Louder is a true killer and, in my most humble opinion, one of the best live albums ever released. As with any band committed to timeless rock music with a heavy edge, covers have always been part and parcel both of their albums and their live shows. Locked And Loaded is a compilation of eleven covers, some recorded in the studio, some live on stage, where the DAISIES are best.

The selection of those songs reflects the diversity of the band. "Midnight Moses", originally released by Alex Harvey on Roman Wall Blues (1969), later re-recorded by The Sensational Alex Harvey Band for Framed (1972), is an integral part of any DEAD DAISIES show and I still remember the sonic kick in my balls when THE DEAD DAISIES, supporting WHITESNAKE in December 2015 in Utrecht, The Netherlands, opened their set with this classic. Heavy, straight-in-your-face and with a killer groove. "Evil" was originally released by HOWLIN' WOLF as a single called "Evil Is Going On" (1954) and then re-recorded for the The Howlin' Wolf Album in 1969. While retaining its dirty blues spirit, THE DEAD DAISIES totally adopt this song and translate it into their own heavy rock language. CREEDENCE CLEARWATER REVIVAL's "Fortunate Son", originally released on their 1969 album Willy And The Poor Boys, works extremely well when rocked by the DAISIES – you gotta love the fat recording sound.

It is hardly surprising that the DAISIES also seem to see themselves in the tradition of THE WHO. Now ex-vocalist John Corabi and guitarist Doug Aldrich are purportedly huge fans of the band. Anyway, their version of "Join Together" doesn't leave a shadow of a doubt that they dig THE WHO. As with any of the tracks on Locked And Loaded, it doesn't sound like a bunch of stellar musicians are playing other people's material with their own sound. No. The DAISIES really make the material their own and if one didn't know that these tracks were covers (which is, admittedly, difficult to imagine), they would think that the songs are DAISIES originals. THE BEATLES' classic "Helter Skelter" is still a regular feature of the DAISIES live set. They seem to enjoy it, which is evident in the bubbling studio version of the track.

As one would expect, the pantheon of bands represented by cover versions on Locked And Loaded also includes THE ROLLING STONES. Their song "Bitch" (originally released on the STONES' 1971 Sticky Fingers) was recorded for the DAISIES' most recent studio album Burn It Down. You gotta love the way the DAISIES give that riff an enormous amount of extra fire. At the same time, the track is also a referential bow to KISS because this is the very song that Gene Simmons ripped off the "Deuce" lick from. Next is the live version of "We're An American Band" (GRAND FUNK RAILROAD, 1973) from the DAISIES' Live & Louder album, an explosive testimony of the band's live qualities. Back to THE BEATLES, who are represented twice on Locked And Loaded: Naturally, the present cover of "Revolution" captures the hard rocking spirit of the version that was originally the B-side of the Fab Four's 1968 single "Hey Jude" rather than that of the more bluesy version on The White Album. Included on some selected versions of Burn It Down, this cover is now available for all on Locked And Loaded.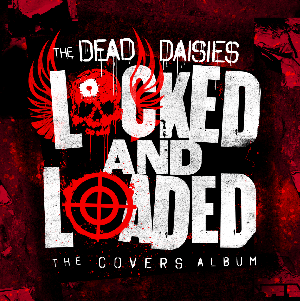 And now prepare yourself for something massive. Recorded live in front of almost half a million people and accompanied by a 60-piece philharmonic orchestra at the huge Przystanek Woodstock festival in Poland in 2017, Neil Young's 1989 classic "Rockin' In The Free World" sounds just enormously colossal, even though the actual sound of the recording is a bit muddy. Finally, DEEP PURPLE's "Highway Star" (originally released on their 1972 album Machine Head) has not been covered to death as badly as "Smoke on the Water" but there are quite a few versions of that classic DEEP PURPLE song by bands as different as ALTER BRIDGE, CHICKENFOOT and STRYPER, to name but a few. It is actually perfect composition for any band because it is energy driven song with a steady, hypnotic groove and gives the musicians plenty of room for solos and improvisation. THE DEAD DAISIES recorded the present version live in Zagreb, adding some extra high-octane gasoline to the riffing.
While Locked And Loaded doesn't contain much hitherto unreleased material, it highlights a vital aspect of THE DEAD DAISIES, namely their mastership at translating classic rock songs and making it their own. At the same time, it pretty much looks like this is the farewell release of THE DEAD DAISIES line-up with bassist Marco Mendoza and John Corabi after both of them left the band and were replaced by Glenn Hughes. So this is the end of a chapter in the DAISIES' history and it will be interesting to hear how they approach some of the material on this compilation with their new voice.
Bottom-line: A cool compilation of great cover versions that capture the spirit of true and timeless Rock 'n' Roll but nothing really new. This album, while not necessarily a must-have, will most definitely enhance your next party.
4.0 Out Of 5.0

Please log in to view RANTS