MUNICIPAL WASTE
The Last Rager EP
Nuclear Blast Records




Two years after releasing and relentlessly touring/promoting their last full-length studio opus Slime And Punishment, Richmond, Virginia-based crossover thrash dealers MUNICIPAL WASTE are back on the beat and ready to dump on their competition with their latest collection of fast and trashy tracks. Titled The Last Rager, the four-song EP may indeed appear at first as something of a proverbial uneven disparity of studio time given that MW's songs are about 2 and a half minutes in length on average. Luckily for both the quintet and its fans, knocking out a four-song EP such as The Last Rager may appear to sound like an effortless endeavor in theory but sounds nothing of the sort in reality.

From the chanting chorus of opener "Wave Of Death" to the closing chugging riff work of the EP's bravado-styled title track, The Last Rager showcases MUNICIPAL WASTE in all of its thrashtastic and speedy glory. Frontman Tony Foresta has the fiery pipes of his thrash idols from decades past as he channels the likes of Tom Araya, Rob Castronavy and Paul Baloff alone on "Car Nivore (Street Meat)", making the impact of the song even more imminent. Rhythm section Philip "Landphil" Hall (bass)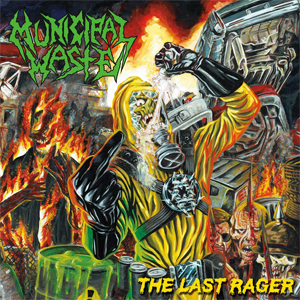 and Dave Witte (drums) are absolute beasts on their instruments. And credit also goes to guitarist Ryan Waste not only for his rhythm work but for his powerful chanting backup vocals on "Rum For Your Life".
In short – indeed in the literal sense here – The Last Rager not only celebrates the work hard/play hard aesthetic of MUNICIPAL WASTE's touring ritual but also is a neat teaser to tide over the fans until the next album is in production mode. Or whenever their post-touring hangovers subside. Either way, MUNICIPAL WASTE have effortlessly staked their beat and their trash talk does have some large game to back them up. As the band puts it: "They say it's over/But I still stand/With this bottle in my hand".
Catch MUNICIPAL WASTE celebrating garbage day on their co-headlining North American tour with NAPALM DEATH, SICK OF IT ALL and TAKE OFFENCE at a city near you!
4.0 Out Of 5.0
https://www.municipalwaste.net/
https://www.facebook.com/Municipalwaste/