AMON AMARTH, ARCH ENEMY, AT THE GATES, GRAND MAGUS In Portland, OR With Photos!


By Ruben Mosqueda, Contibutor
Tuesday, October 8, 2019 @ 7:14 AM


| | | |
| --- | --- | --- |
| | | 'Berserker North American Tour' Hits The Roseland Theater September 27th, 2019 |
All Photos By Mike Lewis Photography
Kicking the off night of this 'sold out' show was GRAND MAGUS, which wasn't all that 'grand', in fact the band was pretty much a 'run of the mill' stoner/doom metal band. Granted they have a 'cult' following in Europe, but then again so does the hipster playing 'Americana' music across the street. Openers in a bill with this many bands is always a crapshoot, this time around it wasn't any different.
AT THE GATES right out of the blocks went for the jugular, like a ferocious, hungry lion being let out of its cage. If you know AT THE GATES you know they're a hybrid of hardcore, death metal and thrash metal. The Swedish quintet kept the audience on the edge of their seats throughout their 30 minute set. It didn't take long for frontman TOMAS LINDBERG to have the 'warmed up' AMON AMARTH base hanging onto his every bark. Standouts of the AT THE GATES set were "To Drink From The Night Itself", "Cold" and "At War With Reality".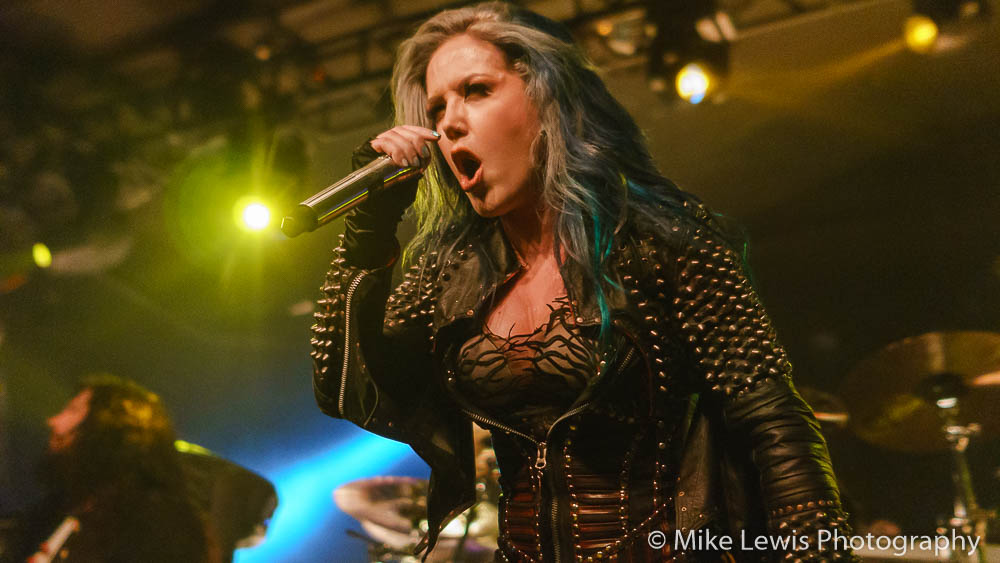 ARCH ENEMY could have stayed put and been working on new material, but they couldn't pass up this opportunity to tour with their friends in AMON AMARTH. In fact, they're so stoked to be doing this North American run of the BERSERKER TOUR that they'll be doing the tour across Europe as well. With the crowd broken in, ARCH ENEMY took the stage. After getting short changed on opening night in Seattle, where ARCH ENEMY scaled down their set list from 45 minutes to 30 minutes, they were eager to unleash their fury on Portland and that they did. ALISSA WHITE-GLUZ burst onto the stage, like she was shot out of a cannon, in her skin-tight body suit, complete with GENE SIMMONS circa 1976 batwings. The band opened with "The World Is Yours" from Will To Power, their 2017 studio album of original material, and then quickly launched into "Ravenous" from the breakthrough Wages Of Sin album from 2001. The dual guitar attack of MICHAEL AMOTT and JEFF LOOMIS thrilled the fans, while bassist SHARLEE D'ANGELO laid down the bottom end and DANIEL ERLANDSSON leveled the room with a bombardment of beats. Interestingly enough, there were no songs to be found in the set from their 2019 compilation Covered In Blood, a collection of B-sides/covers. In the end if they would have cut something like "Nemesis", that would have truly bummed me out. You could make a case that ARCH ENEMY were a couple songs away from running away with the show.
Like the Vikings that they are, AMON AMARTH stormed Portland, Oregon for the second night of their Berserker North American tour. If you're familiar with AMON AMARTH's music you're aware that it's based in Viking mythology. The production on this tour is even better than the last time around, we're not going to give away any spoilers, because this has to be seen to believed. While it's not an IRON MAIDEN size spectacle, for a theater tour it's pretty fantastic. I will just say this: There's a great light show, there's a Viking helmet drum riser, a Viking warrior complete with chainmail, a skull helmet with horns and a spear! AMON AMARTH are, JOHAN HEGG on vocals, OLAVI MIKKONEN on lead guitar, JOHAN SODERBERG on rhythm guitar, TED LUNDSTROM on bass and on drums JOCKE WALLGREN. By the time AMON AMARTH hit the stage the rabid crowd was chomping at the bit for some Viking metal. Fists were pumping and heads were banging as the band kicked into the opener "Raven's Flight" off their latest opus Berserker. The audience went into a frenzy…surprise! They followed that up with "Runes To My Memory" and "Deceiver Of The Gods" respectively.
As with most AMON AMARTH shows, beards, long ones are mandatory, Viking gear is welcomed and band concert t-shirts from shows past are preferred. As with most acts out promoting a new album, the band played a heavy helping of Berserker, which included "Raven's Flight", "Mjölner, Hammer Of Thor", the stellar "Shield Wall" and "Crack The Sky"". AMON AMARTH also performed fan favorites from Jomsvking, Twilight Of The Thundergod, With Oden On Our Side, Deceiver Of The Gods, and Fate Of Norns. It was an exhausting night, but well worth staying for the entire show. Skol!
Check out some more photos from the show!
All Photos By Mike Lewis Photography




Please log in to view RANTS

If you don't have a username, click here to create an account!