DREAM THEATER In Canton, OH With Photos!


By Geoff Ketler, Cleveland Contributor
Wednesday, October 9, 2019 @ 7:26 AM


| | | |
| --- | --- | --- |
| | | The Distance Over Time Tour Lands At The Canton Palace Theater |
All Photos By Geoff Ketler/Aces High Photography
Downtown Canton was buzzing with excitement as the sun began to set and shadows grew long on a beautiful fall Sunday. Everyone in sight was walking on air as we were mere hours removed from the Cleveland Browns taking control of first place in the AFC North and just moments away from the premier name in progressive metal, DREAM THEATER, taking control of the historic and eloquent Canton Palace Theater.
Touring in support of its fourteenth studio album, Distance Over Time, the always cerebral DREAM THEATER would celebrate the twentieth anniversary of the ground-breaking concept album Metropolis, Part 2: Scenes From A Memory as the "Second Act" of the evening by performing the album in its entirety. The band's fifth studio album follows the past lives of someone going through past-life regression therapy. Say that five times, fast. All of the troubled individuals are spelled out in song, including the powerful instrumental piece, "The Dance Of Eternity". This may seem deep for most music lovers, but fans of DREAM THEATER have come to expect the most thought-provoking, intense and musically limitless performances record cycle after record cycle.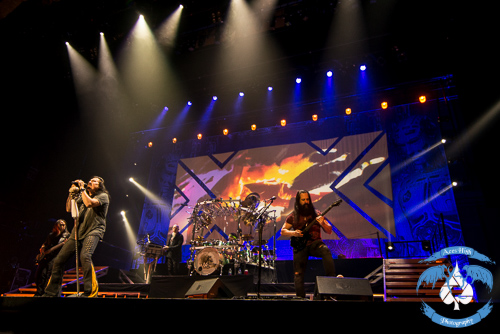 Speaking of the fans – the Palace Theater had packed them in such a beautiful setting. Every couple of years the theater will have other rock acts come to town, but they are few and far between. But tonight was less like a rock or metal show and more of a performance. For the most part, concertgoers stayed in their seats and I cannot begin to tell you just how many of them were air drumming, air keying or slapping a non-existent bass – clearly DREAM THEATER is a band for musicians to appreciate. Mike Mangini's drum kit was perched center stage, with just a pile of drums and cymbals. Where former drummer Mike Portnoy would build a kit outward – horizontally, Mr. Mangini chooses to go vertically, adding a massive rack just at arm's length above his head. Flanked to his right was keyboardist Jordan Rudess with his somewhat mobile setup.
Like clockwork, guitarist John Petrucci and bassist John Myung kickoff the evening with "Untethered Angel". It cannot be said enough just how fluid, controlled and calm this group of musicians perform some of the most technical, strenuous and dexterous music ever written in the genre. Precision is an understatement and to pull it off like clocking in for a day's work is almost ridiculous and makes me feel inadequate. I don't think John Petrucci even broke a sweat. Fighter pilots would be put to shame with this kind of timing and togetherness. Where John and John took the calm, collected approach, Mike Mangini was more frantic and chaotic. Mike looked like he had just hopped off his 10-speed with a blazing neon green headband, hair back in a ponytail and goggles. Like a white shark breaching on a seal, Mike would rise up above his kick and toms within my sightline; reaching for the top-rack-mounted cymbals and tom drums for the bruising fill. It was a sight to behold, just like the rest of the evening. Don't ever miss your chance to catch these prolific musicians live. Jordan, John, John, Mike and vocalist James Labrie have perfected their crafts – both individually and as an orchestral unit. Prepare to be mesmerized.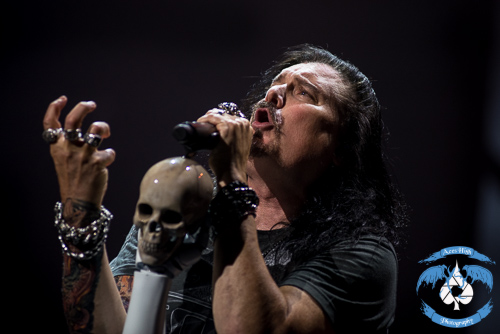 Setlist:
Act 1:
"Untethered Angel"
"A Nightmare To Remember"
"Paralyzed"
"Barstool Warrior"
"In The Presence Of Enemies, Part I"
"Pale Blue Dot"
Act2:

Metropolis, Part 2: Scenes From A Memory
"Regression"
"Overture 1928"
"Strange Déjà Vu"
"Through My Words"
"Fatal Trajedy"
"Beyond This Life"
"Through Her Eyes"
"Home"
"The Dance Of Eternity"
"One Last Time"
"The Spirit Carries On"
"Finally Free"
Encore: Check out some morephotos from the show!
All Photos By Geoff Ketler/Aces High Photography

Please log in to view RANTS




YNGWIE J. MALMSTEEN, GLENN HUGHES In Worcester, MA With Photos!

ALICE COOPER Road

RAT ROD Four On The Floor

GIRLSCHOOL WTFortyFive?

DANKO JONES Electric Sounds

AVATAR, ORBIT CULTURE, THE NATIVE HOWL In Houston, TX With Photos!

THE DEAD DAISIES In Hollywood, CA With Photos!

KILL DEVIL HILL Seas Of Oblivion

THE DEAD DAISIES In Ottawa, Canada

MAMMOTH WVH In Santa Ana, CA

UADA Crepuscule Natura

BARONESS Stone

KAMELOT, BATTLE BEAST, XANDRIA In Houston, TX With Photos!

CRYPTOPSY As Gomorrah Burns

RAY ALDER II

GHOST, AMON AMARTH In Houston, TX With Photos!

U.D.O. Touchdown

DETHKLOK Dethalbum IV

STEVE VAI In Ottawa, Canada

PANTERA, LAMB OF GOD In Houston, TX With Photos!