BMG And MOTORHEAD 1979 40th Anniversary Box Set Premiere


By Larry Petro, News Monkey
Wednesday, October 9, 2019 @ 10:27 AM


| | | |
| --- | --- | --- |
| | | At The Rainbow Bar And Grill In Los Angeles |
Review And Photos By Los Angeles Photographer And Director Diego Gonzales
@diegogonzalespictures

I arrived at the famous Rainbow Bar and Grill, on the legendary Sunset Strip, to the welcome signs of the home of true Metal legend Lemmy Kilmister. As the iconic frontman and Metal bass pioneer for MOTORHEAD, he was widely known to frequent the bar as his second home. The Rainbow has become a shrine and holy place of being for him and the music MOTORHEAD brought to the world. No better place exists for BMG to celebrate the release of an ultimate fan tribute to their music and image.

A box set in remembrance and celebration of the 1979 40th anniversary of the release of the albums Overkill and Bomber was being presented for its release to influencers, Metal personalities, friends and the Hollywood music community. I shared my first impressions with a BMG Manager, Simon Edwards. As a photographer myself, I was initially hit with the mass of photos and art from the band. It included unseen photos. The feel and look of the contents led us to discuss our appreciation of the days of hearing entire albums in one sitting surrounded by friends. The tangible appeal of holding vinyl, album covers, flipping through magazines, and feeling art in photo and pictures is what I lived for. I continue to appreciate these things throughout the years. This beauty in music and art has been missing for many of us in the digital age. There is absolute success and loyalty in what BMG and MOTORHEAD have put together here. A list of the specific contents of the 1979 box-set is below.
Further into the first room, I ran into Hollywood promoter and Whisky A Go-Go influencer Jessica C. Among her contributions to the LA music scene, she is responsible for a huge part of the renowned weekly Ultimate Jam Nights. She was accompanying standout guitarist Ira Black. Easily recognizable, widely respected for his stage presence and skills, and being as personable as one gets, he made clear his respect for what MOTORHEAD has influenced in him. I felt the appreciation he has for the music being celebrated and the reverence for what the landmark night represented. I asked him what he's been up to lately and he mentioned he has an upcoming album with his band DARK SKY CHOIR. They are going on tour with QUEENSRYCHE on the 15th of November. Also at his side was his son Ira Black IV. Ira is an upcoming guitar talent in his band SEIZURE.
Ira then introduced me to one of Lemmy's personal friends Andrew Bryniarski. Andrew is widely known as the actor who played Leatherface in the Texas Chainsaw Massacre, The Texas Chainsaw Massacre: The Beginning, Steve Lattimer in The Program, and a cult favorite of mine Zangief from Street Fighter. Andrew, shown in photos here, displays his connection and appreciation for his friend Lemmy and MOTORHEAD with tattoos of the band emblem of War-Pig/Snaggletooth and a portrait of Lemmy himself. Downstairs, later that night, he shared a tribute toast with the statue of Lemmy permanently fixed near his usual seat when he would frequent the Rainbow.
Across the way, I could see Dino Cazares. The super technical and lightning fast guitarist is responsible for creating FEAR FACTORY, BRUJERIA, ASESINO & DIVINE HERESY. He is known to be personable and gracious when he is not on stage destroying it. I managed to catch him in between fans taking selfies with him. Having to keep specifics under secrecy, he said big things are on the horizon for his fans. He was there to show his admiration and loyalty to MOTORHEAD and this milestone.
Spinning MOTORHEAD tunes at the celebration was DJ Will also know as Metal DJ Will (from KNAC.COM). In between hanging with Dino, and Ira, DJ Will posed with Sirius XM DJ and personality, from the Liquid Metal Channel, Scott C. I struck up a conversation with "Scotty" about the event and his show Corridor of Covers. Scotty's show is a special regular segment of Liquid Metal that features famous bands covering other artists iconic tunes. His show is on-demand or catch his schedule on the Liquid Metal website.
MOTORHEAD tunes have been covered by COREY TAYLOR, METALLICA, and PANTERA. As impressive, even MOTORHEAD has covered tunes like "Breaking the Law" and "God Save the Queen". There is something about the tribute provided by major bands to their influencers. Many times, I find myself appreciating a new take on a song I hold precious. Covers lend one to celebrate both the originator of the music and the band that continues to bring life to a classic. Time to renew my subscription to Sirius XM. Scotty and I's conversation went on to say that venues like the Rainbow Bar and Grill, events like the BMG 1979 celebration, and the box set release contribute to a new life for the LA Metal scene. MOTORHEAD was a juggernaut for the New Wave of British Heavy Metal but they became an honorary LA band just with their presence and belonging. Despite the passing of members, the presence has never left Los Angeles.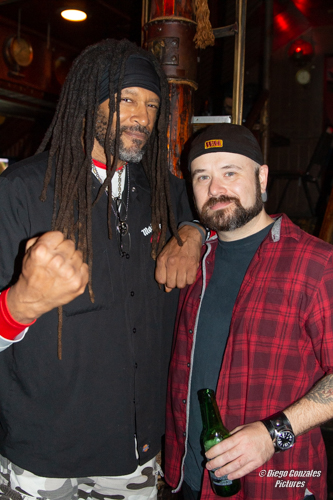 Events like the BMG MOTORHEAD 1979 40th Anniversary and box-set release celebration are reenergizing the Metal community while simultaneously honoring and remembering the fans who gave and continue to give MOTORHEAD music life. The beautiful box set is now available at imotorhead.com.
The 1979 Box-Set contains:
Both the original Overkill and Bomber albums half-speed mastered and pressed on 180 gram vinyl created from the original master tapes
Two double-live albums of previously unheard concert material from the '79 tours
A 40-page period-accurate "music magazine" featuring unseen photos and fresh interviews regarding the era
The Rest of '79 Vinyl, featuring B-sides, outtakes and rare tracks
"No Class" 7" single with gatefold art
The Bomber tour program
Overkill sheet music book
'79 badge set
All encased in black biker jacket box
Check out some more photos from the event!
Review And Photos By Los Angeles Photographer And Director Diego Gonzales
@diegogonzalespictures




Please log in to view RANTS

If you don't have a username, click here to create an account!