TOXIC HOLOCAUST Primal Future: 2019


By Francisco Zamudio, Metal X Candy 2.0
Thursday, October 10, 2019 @ 10:45 AM


| | | |
| --- | --- | --- |
| | | |
TOXIC HOLOCAUST
Primal Future: 2019
Relapse Records




The basic formula of Thrash is quite similar to that of Punk. Skank beats going from 95 bpm (beats-per-min) and up are the typical norm. You add groovy elements that slow down the pace but give it an attitude that of which you could only understand when physically defined in the pit of a thrash concert. Ahead of that are the vocals that sets the tone on what this Crossover experiment will put out. The line straddled between the early Old School Metal Genres is an easily palatable one. Well, at least for anyone with good taste in music.

One fellow who's made it a career of straddling this line is Joel Grind, sole mind of the "band" TOXIC HOLOCAUST. He and he alone brings the new album entitled Primal Future: 2019 (Relapse Records) to the ravage cult following he has developed since 1999. Whether or not Grind's tagline in his High School yearbook read "does not play well with others" could be a testament to his decision to BE TOXIC HOLOCAUST himself, making music to his own accord. Catering to no-one yet pleasing the large thrash masses is what makes his brand (of thrash) so exemplary. As Grind states, "I won't alienate my fans and I also won't just pander to them". He goes on to explain," …there's really nothing that will alienate the TOXIC fan base... I didn't want to throw a huge curve ball at everyone either. I wanted to maintain the sound and stay true to the sound".

You get what has become the norm for TOXIC HOLOCAUST. A blender (of which you forget to put the lid back on) of core elements from crust-punk, grind, thrash and death metal producing very energetic tunes. "Time's Edge" is great track with a bit more character, giving us some versatility with harmonics and some soloing that felt absent through much of the album. Over the gap of 6 years since Chemistry of Consciousness (Relapse, 2013), Grind had explained his venture into other avenues of musical expression, having released a couple of synth records and some soundtrack work. This bled into Primal Future: 2019 and gave the songs more life in the form of lengthier songs averaging 4 minutes, giving us more time to break our neck on this Head-banger of an album.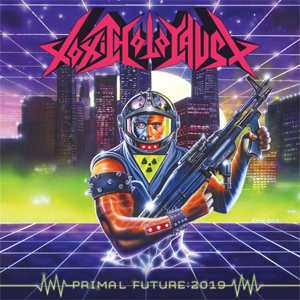 The riffage played out is the driving force and typical of TOXIC HOLOCAUST's sound without over-thinking anything, the onslaught is straight up the gut and makes you pucker up your face in anger (aka "Metal Face"). For those who crave a bit more complexity in guitars and drums, considering nowadays every band tries (and sometimes fails) to outdo each other with unnecessary and excess musicianship, so arguably the song-writing here has something left to desire. Despite a lack of eccentric guitar solos and drum fills that were a bit more present as in say, Conjure and Command (Relapse, 2011), Grind unloads a barrage of riffs that exude the epitome of who is TOXIC HOLOCAUST.
Don't you dare disregard the resurgence of thrash as the new found love that's been brewing again will help keep TOXIC HOLOCAUST relevant and gain many more fans for years to come. As he now influences a new generation of Thrashers, he gives homage to all the great groups he'd pick up on his treks out to music shops. "Once I was able to drive I was able to go to Philadelphia, Baltimore, New York, and other places with great record stores… It was then I started to discover bands like AUS-ROTTEN, NAUSEA and other crust-punk". Any well-read music fan can hear and appreciate the obvious influences laid out on Primal Future: 2019 and throughout Grind's career. 20 years later and still molding his music into his own creation and has not slipped an inch nor deviated from his primary objective.
3.5 Out Of 5




Please log in to view RANTS

If you don't have a username, click here to create an account!