ARIA, CHERNYJ KOFE In Cologne, Germany With Photos!


By Daniel Höhr, European Correspondent
Thursday, October 10, 2019 @ 10:48 AM


| | | |
| --- | --- | --- |
| | | At Kantine Club 08 October 2019 |
Photos: Silvius Breitenfeld
The predominant language that was spoken in and around Cologne's Kantine club on Tuesday evening was by no means German but Russian. For good reason: an impressive number of Russian rockers and headbangers had assembled for what was named "Rock Sensation 2019" – and sensational it was. Two heavy metal legends from Russia had teamed up for gigs in Cologne and Berlin: D. VARSHAVSKY CHERNYJ KOFE and ARIA have been at the helm of heavy metal in Russia since the mid 1980s and because there is quite a large Russian speaking community in Germany, the two bands came over.
ARIA have been a household name in the Russian metal scene since the Moscow-based five-piece started in 1985. Hardly noticed in the western world, the band released a string of outstanding albums and heavy metal anthems, which in their vast homeland and beyond have the same status as "Run To The Hills" and "Living After Midnight" over here. After the end of the Iron Curtain, ARIA slowly but surely gained something like an underground status in the west but it really wasn't until the release of their thirteenth studio album, Proklyate Morey (Curse of the Seas), in 2018 that blazing reviews started to mushroom in mags and on websites all over the world and real interest in the band sprang up in Europe, Australia and America. In April,
ARIA played Germany's prestigious Keep It True festival and quite recently the Russians rocked the Pyrenean Warriors Open Air in France. Now, with a new live DVD filmed at a colossal show in Moscow in April this year and amidst another well-deserved shower of praise worldwide, the shows in Cologne and Berlin have provided a rare opportunity to see the band live – albeit in a totally different setting. While the stadium show filmed for the Guest of the Shadow Kingdom DVD/2CDs impressively shows how the quintet master the huge shows in the big arenas at home, Tuesday's club gig in Cologne took the band back to the roots – very much to the delight of their fans, Russian and non-Russian, who had travelled from all over the place to catch this extremely rare show outside Russia.
Vocalist Mikhail Shitnyakov, guitarists Vladimir Holstinin and Sergey Popov, bassist and background vocalist Vitaly Dubinin, and drummer Maxim Udalov came on at precisely 20.00 hrs and immediately shook the foundations of the place with the opener of their new album, "Race for Glory". For the next 90 minutes, ARIA didn't leave a shadow of a doubt that they are – and what I am about to write is not the result of an overdose of endorphines caused by seeing and meeting one of my favourite bands ever – one of the best, if the not the best, heavy metal band in the world. Tight as a duck's arse, with unbridled energy and passion the band performed a stunning set of 15 songs including four from the new album. Drummer Maxim Udalov, always with a broad smile on his face, and bassist Vitaly Dubinin, always in motion, often singing along and providing formidable backing and harmony vocals, are the motor of the band. ARIA founder and guitarist Vladimir Holstinin on the right hand side of the stage was the pole of calm but providing premiere riffing and trading jaw-dropping solos with his colleague Sergey Popov on the left, who was at times pretty much in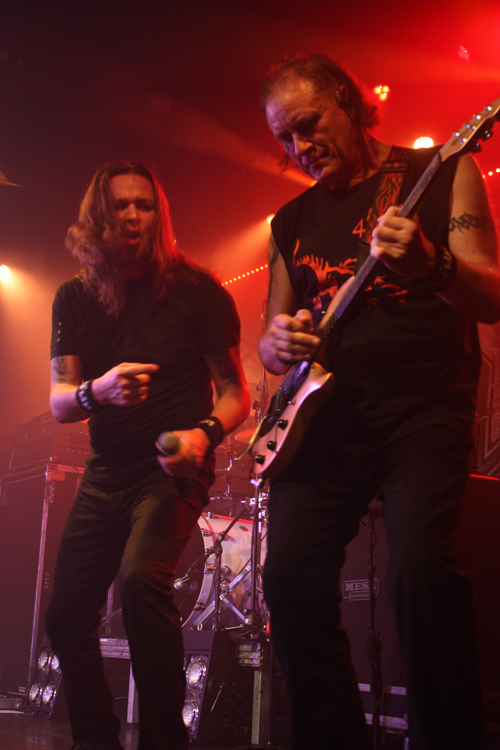 control of the audience's clapping along, especially during the classic "Torero" from their 1985 debut album Megalomania. Right in the centre was the band's charismatic frontman Mikhail Shitnyakov, whose passionate and at times highly emotional singing (e.g. on "Let It Be So", the power ballad from the new album) not only gave ARIA's increasingly enthusiastic crowd myriads of goose pimples but also showed his language skills speaking German, English and Russian to the fans. The mix of songs was perfect, there was something for everyone and by the time ARIA embarked on their classic heavy metal anthems "Hero of Asphalt" and their iconic song "Street of Roses", there was no holding the crowd back. There were Germans, who absolutely spoke zero Russian (including yours truly), singing along with the fans, whose native language was Russian. It didn't matter, it was party time and language barriers were easily overcome by everybody's love for ARIA's classic melodic heavy metal music. When ARIA left the stage while their outro was played, there was many a wet eye to be seen in the crowd – it was an overewhelming, incredibly intense concert.
Setlist ARIA (for conveniece, the English translation of the Russian song titles are given)
"A Race for Glory"
"Coliseum"
"Lucifer's Era"
"Torero"
"Deceit"
"Let It Be So"
"Serving Evil Force"
"Antichrist"
"Kill the Dragon"
"Baptism by Fire"
"Heaven Will Find You"
"Night is Shorter Than Day"
"The Calm"
"Hero of Asphalt"
"Street of Roses"
Whether it was a good idea to put D. VARSHAVSKY CHERNYJ KOFE after ARIA on the billing was questionable, as quite a few people left after ARIA got off the stage. However, the venue was still nicely filled when Dmitry Varshavsky and his band CHERNYJ KOFE (Black Coffee) came on. The number of fans may have decreased but certainly not their enthusiasm. The three-piece played a gig that was absolutely reduced to the very essentials: no backdrop, no gimmicks, just a drum kit, a bass amp, a guitar amp and a mic and that was it. The light was also reduced to the basics, the show was unpretentious and all about the music. As a friend of mine commented: "What you see is what you get". And what the diminished crowd got was the equisite musicianship of Varshavsky, his bass player and drummer. Alternating between hard rock, metal and blues, the trio was dynamic, spontaneous and captivating. There didn't seem to be a fixed setlist, some songs were played on request, others were played spontaneously and there was a fair amount of improvisation and jamming going on. The fans loved it and called the band back for encores twice.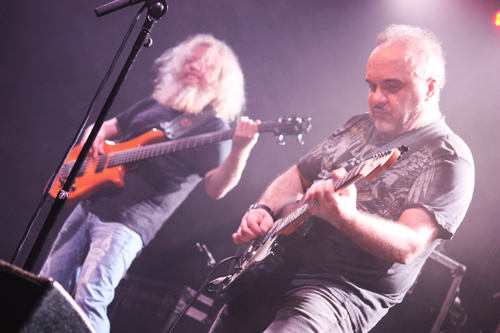 It was a great evening at Cologne's Kantine club on Tuesday. The motto "rock sensation" was by no means an overstatement. Back in 2001 I took a 35-hour train ride all across Europe to see ARIA live. Now, 18 years later, they played a few kilometers away from my hometown in Germany. An awesome experience, definitely one of the best concerts I have been to.
But it was not just the music and the great performance of the two bands that night that I will cherish for years to come, at least until I travel to Russia again to see ARIA there – and that's on my agenda for 2020. Back in 2001 I wrote in my KNAC.COM review of the show I had seen on December 1 in Moscow:
"ARIA are the best live act I've seen in my life and it is about high time they get the international recognition they deserve."
(Good to know that this is finally happening.)
"The best metal is probably to be found beyond the horizons of our western music industry."
(Still a valid point I guess.)
"Rock knows no borders indeed."
(Amen!)
Check out some more photos from the show!
Photos: Silvius Breitenfeld

Please log in to view RANTS