EXHUMED Horror


By Francisco Zamudio, Metal X Candy 2.0
Tuesday, October 15, 2019 @ 3:15 PM


| | | |
| --- | --- | --- |
| | | |
EXHUMED
Horror
Relapse Records




There has been too much talk as of late coming from pansies who can't handle violent, gore-laced themes in Metal. Posers whose mascara runs because they can't handle nor differentiate the difference between a band channeling rage into something entertaining, versus someone mentally unstable and ends up on the news. Too many "Metal Fans" have become content with mundane bands who prefer to play it safe. To me, Metal has always carried the stigma with a smirk because We understand all the intensity carried in the lyrics (and of course, musically) and for many bands, in their Live show as well. I want that violence, that blood and the gore, all the brutal truth that is ignored by the weak-minded and spineless. If history has taught us anything, it's that sick and twisted things happen every day.

Since the early 90's, the chainsaw wielding brutes known as EXHUMED have done their part in spreading the guts of their Gore-Grind infused Death Metal pleasing many, especially the Die-Hard horror fans. Now on their 7th release to date, HORROR (Relapse Records) is a package of blast-beats and grind that will pull your spine out from your mouth without warning. Short bursts of aggression will have your brain-hemorrhaging as track after track if full of intensity of solos, double-bass and drum-fills, and dual vocals.

For just under a half-hour and with tracks averaging only 2 minutes, you won't have time to breathe. That is of course, if you're not already drowning in your own blood when this is over. Every track is filled with abrasive, gore drenched content as they try to fit face-shredding solos and gut-pummeling drums, making every minute count. You have a track like "Utter Mutilation Of Your Corpse" that reflects the nature of early Grind. Short bursts songs, keeping with tradition (a funny one at that, I always thought) and reminiscent of vintage grind and crust punk. Then you have more laid out tunes like "Slaughter Maniac", one of the longest on the album that encapsulates all the Death-Grind goodness EXHUMED have to offer, starting out with a pit-revving intro before some blast-beats and screams rip your face off.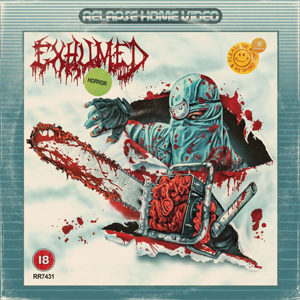 With the team effort of EXHUMED themselves and Alejandro Corredor of NAUSEA in producing the album, along with additional help from Joel Grind of TOXIC HOLOCAUST with mixing and mastering, the end result of everything that is packed in like a sack of hacked up torsos fed through a grinder, comes through with great clarity, really helping HORROR to maintain a healthy outcome. Especially good when the songs are shorter than (almost) normal for EXHUMED, they are able to successfully fit all these great things into every song. A lot of long-time fans will love this newest effort that resembles much of their old identity from that of earlier albums. Whereas the last couple of releases DEATH REVENGE and the game changing NECROCRACY were somewhat of a departure and could have been the result of the revolving and evolving list of musicians that came in and out of the band. Like amputated limbs getting re-attached and just like the appropriately named final track entitled "Re-Animated", HORROR is given new life to San Jose's EXHUMED.
Given the short length of the songs, buying into the "less is more" concept, I still wish they were a little longer because these songs kill! We didn't get to hear Dr Philthy's trademark chainsaw, but that's a treat you'll get when you catch them on tour. This horrific history lesson in Gore Fucking Metal put on by EXHUMED is certainly some of their best material to date.
4.0 Out Of 5.0




Please log in to view RANTS

If you don't have a username, click here to create an account!