TOOL, KILLING JOKE In Houston, Texas With Photos!


By Krystiee Lee, Editor
Thursday, October 31, 2019 @ 8:26 AM


| | | |
| --- | --- | --- |
| | | At Toyota Center October 27 |
Review By John Noonan
All Photos By Krystiee Lee Photography
TOOL returned to Houston Sunday night to perform at the Houston Rockets' arena, touring in support of Fear Inoculum, their first album in 13 years.
TOOL's latest album is one of enormous scope and depth, a staggering work that challenges and rewards even the most dedicated of TOOL's ardent fanbase. Every song on the physical version save for one runs past 10 minutes in length, with the album's final track pushing past 15 minutes. In typical TOOL fashion, the compact disc runs nearly to the 80-minute mark. This is what TOOL does: they take their time to carefully construct a masterpiece, as they did before on previous classics Lateralus and 10,000 Days. We wait patiently, and we don't mind the wait because we know they create something unlike anything else we've heard in our lifetimes.
TOOL's 2-hour set delivered on what they do best, creating their unique blend of grinding metal and metaphysical introspection. The band began their set partially shrouded from the audience by a screen extending several stories high as they performed Fear Inoculum, the title track from their new album. After classic cuts "Aenema", "The Pot" and "Parabola", the curtain retracted, allowing a closer glimpse of the band. "Pneuma" followed, another standout track from the new album showcasing drummer Danny Carey's incredible skills with a myriad of virtuosic drum fills.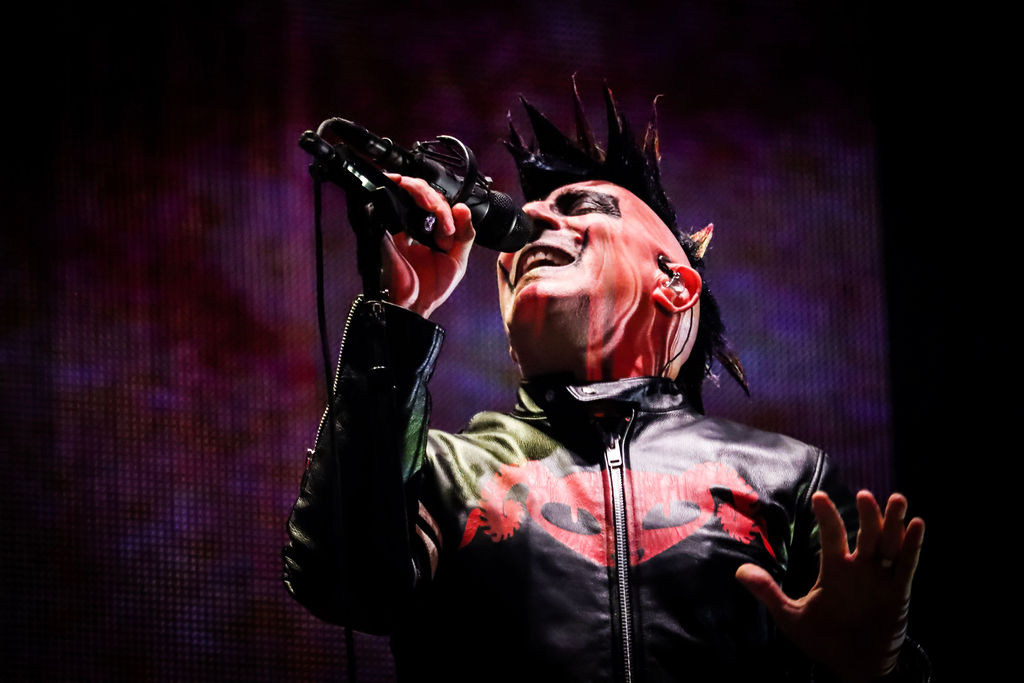 Maynard James Keenan, TOOL's enigmatic frontman, sported a mohawk, face paint, and plaid pants and performed primarily from two raised platforms on either side of Carey, sometimes migrating to the other platform mid-song during extended instrumental sections. Keenan has long preferred to stay in the shadows during his performances, immersing himself in the music away from the spotlight. Keenan's fascinating stage movements and powerful vocal delivery captivated the audience during a 14-song set that prominently featured songs from Aenima, Lateralus, 10,000 Days, and the new Fear Inoculum.
Adam Jones again proved his progressive metal guitar greatness, grinding out detuned riffs on his signature silverburst Gibson Les Paul. Even technical difficulties with his guitar rig during the crushing 10,000 Days cut "Jambi" could not deter him as he swapped for a backup guitar, the band never missing a beat during the switch. Jones' guitar tone during the show alternated between monstrously heavy and peacefully soothing as TOOL's extended compositions journeyed through a wide range of moods and textures, accompanied by stunning lighting and video artwork.
Justin Chancellor's bass rang loud and clear throughout the evening, and he and Jones showed their penchant for odd time signatures during the Lateralus classic "Schism", a song accompanied by video artwork that was at times beautiful, bizarre, and arresting.
Towards the end of their main set, Keenan asked the crowd to "raise your hand if you are under 30", stating "most of you were not even sperm yet when this song was written" as the band blasted into "Part of Me" from their 1992 EP Opiate. The pummeling "Forty Six & 2" concluded the main set, followed by a 12 minute intermission, the countdown showing on the screen on stage. It was not until the final song of the encore, "Stinkfist", that Keenan told the crowd "you can use your phones now", lifting TOOL's strict audio/video ban, a policy which many music fans appreciated throughout the show.
TOOL's latest album represents only their fifth album since their inception as a band in 1990. Five albums in nearly 30 years may not seem like much, but quality over quantity rings true with this band. TOOL demonstrated to a near packed crowd what makes them so special on Sunday night. There simply is no other band that creates music and a live experience like this.
Veteran English band KILLING JOKE provided an opening 10-song set of gothic rock, lead by vocalist Jaz Coleman clad in white facepaint and black clothing.
Setlist:
"Fear Inoculum"
"Aenema"
"The Pot"
"Parabol"
"Parabola"
"Pneuma"
"Schism"
"Jambi"
"Vicarious"
"Part of Me"
"Forty Six & 2"
Encore:
"Chocolate Chip Trip"
"Invincible"
"Stinkfist"
Check out some more photos from the show!
All Photos By Krystiee Lee Photography




Please log in to view RANTS

If you don't have a username, click here to create an account!